Home
/
Politics and Geopolitics
/
The future of Russia and the world: estimates and projections
/
Analytics
Pankratenko I. N. "The hot summer of 2017. Collection of topical reviews"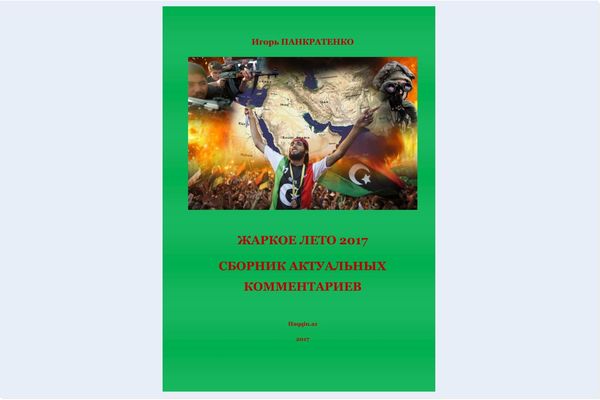 Earlier this summer we Eynulla Fatullayev, a brilliant journalist from Azerbaijan and no less talented organizer of information activities agreed to launch the project "Urgent review" on the resource haqqin.az.
However, rather different: Eynulla Bay, the friendship with which I am very proud of, and expressed willingness to put my comments on current events in the Middle East, as he put it "almost every day".
Of course, the "every day" failed, solely due to the tightness of my schedule, but something to write managed. And this "something" from June to August 2017-year made up the contents of the present volume. His appearance should not be considered a symptom of the author's vanity. Moreover, the author is fairly critical of everything he wrote.
The present collection is only a response to the requests of those who for some reason missed one or more publications in this category. How the author failed his chosen format to judge, of course, esteemed reader. One thing I can say – according to preliminary reviews, the project has generated interest and, without doubt, will continue.
I sincerely hope that with our joint Eynulla Bay decision according to the majority of the audience share haqqin.az.
Well, as required by the laws of different countries, the author just had to tell that to persons belonging to the sacred world leaders who sincerely believe the official propaganda, convinced of the selflessness of politicians and serious about diplomats is to read this collection is not recommended.
Pankratenko I. N.
---
Source :http://rusrand.ru/files/17/10/01/171001095356_%20Sbornik_A-4.pdf