Home
/
Politics and Geopolitics
/
The future of Russia and the world: estimates and projections
/
Articles
Security problems in Central Asia and role of India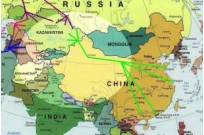 The interests of India and the problems in Central Asia are very well reflected in one of the reports of the Ministry of defence, which stated that "because of its strategic proximity to the Middle East and South Asia, Central Asia has been regarded as a separate geopolitical entity stimulating global attention and interest. The region has vast untapped potential of oil and gas and other strategic minerals. The battle for the CAR, therefore, is a critical component of our security." [1] closer cooperation with the republics of Central Asia matters to the national security of our country.
The situation in the field of security in Central Asia continues to influence events within it and its immediate surroundings, where the growth of instability is still a matter of deep concern. This, of course, attracts the attention of the leading powers of the world, and particularly India because of its close proximity. Instability and insecurity in the Central Asian region pose serious challenges to India's security. If Central Asia is known for its resources, it cannot do without security problems. The security of this region is very important for security in Asia in General and India in particular. This is based on the concept of "common security". Common security means that the state can not provide security at the expense of others. Any instability in this region will have implications for India. New Delhi cannot ignore the major security challenges facing Central Asia. Based on the concept of common security, India's security lies in the security of Central Asian States.
The main security challenges facing the Central Asian region are terrorism, drug trafficking, arms trafficking, organized crime, separatism, ethnic conflicts, etc. the Issue of terrorism has become a serious problem affecting all the Central Asian States. This has led to social and political unrest, chaos and instability in the region. The issue has become critical because of the common borders of Central Asian countries with Afghanistan and Pakistan. Central Asia is concerned about these two countries that have become launch pads for terrorism. [2]
Among the Central Asian States, Uzbekistan has accused Pakistani organizations such as Mezb-and-Harket-and-Jihad and Dundas-al-Irshad to provide training to hundreds of people from Central Asia in various training centres in Pakistan to carry out terrorist attacks in order to destabilize the country and overthrow the government. Uzbekistan is fighting with more than a hundred rebels in the South of the country, near its borders with Afghanistan, where war is raging. [3] With the problem of terrorism is closely linked with the problem of illegal drug trafficking facing the Central Asian States. It can also affect the creation of instability in the region. How serious is the problem of drug trafficking may reflect the fact that Kyrgyzstan is followed by Myanmar and Thailand as the main importers of drugs. More than four million people from Kyrgyzstan are involved in transaction, delivery, cultivation and processing of raw materials. [4] According to a source in Uzbekistan, the number of transported drugs from Afghanistan after the fall of the Taliban regime increased by 11%. [5] in General, security issues facing the Central Asian republics have their link with the weakness of the state. All these States are so weak that they have no obligation to deal with growing security challenges. This makes the region highly vulnerable to terrorist violence, ethnic crises and rampant corruption, leading to economic problems in the region. [6]
Role of India in Central Asia
What can India do to help solve the tasks facing our countries in the region? Role of India should be aimed at protecting the oil-rich Central Asian States from internal and external threats. This will require the strengthening of security and military cooperation with these countries. Central Asia still considers India a potential partner in combating the threat of terrorism. India has developed enough that she signed a number of agreements with the countries of Central Asia on the issue of terrorism. Both sides understand the need for closer cooperation to deal with terrorism issues. Central Asia, in particular, seeking assistance from India to combat this threat.
India can help Central Asian States in solving this problem: • Creating a joint working group on combating terrorism in the Central African Republic;
By developing mechanisms for exchange of information and intelligence;
Giving training to the armed forces of the CARS and equipping them with advanced weapons and equipment;
Helping them to eliminate the root causes of terrorism by fighting unemployment, economic underdevelopment, poverty, and so on [7];
Developing understanding with the countries of the Central African Republic on the question of stability in Afghanistan that will surely have a positive impact on the problem of terrorism. Security and stability in Afghanistan is key to peace, security and stability in the Central Asian republics. [8]
India took the initiative of creating a joint working group with Kazakhstan, Kyrgyzstan, Tajikistan and Turkmenistan to exchange intelligence, information and regular consultations. This step is very important for the future cooperation in the field of defence between India and Central Asian States. The most possible aspects of cooperation between the two sides is the exchange of arms and equipment needed to solve the problem of terrorism and related issues, and conducting regular exercises that could help strengthen the current understanding of security issues. India can also be an important partner when it comes to aiding militias of the States of Central Asia. [9]
[1] Nirmala Joshi, "India and Central Asia: Bilateral Dimensions", in V. NagendraRao and Mohammad MonirAlam, Central Asia: Present Challenges and Future Prospects (New Delhi: Knowledge World, 2005), p. 227.
[2] Vinay Kumar Kaul, "Terrorism in Asia: New Threats and Challenges", in A. S. Narang and PramilaSrivastav (ed.), Terrorism: The Global Perspective (New Delhi: Kanishka Publishers, 2001), pp. 117-21.
[3] Meena Singh Roy, "India's Interest in Central Asia", Strategic Analysis, vol. XXIV, No. 12, March 2001, p. 2277.
[4] P. Stobdan, "Central Asia: India's Strategic Approach", Strategic Analysis, vol. XVIII, No. 6, September 1999, p. 739.
[5] Meena Singh Roy, "Commonalities of India and Russian Interest in Central Asia", in V. D. Chopra, New Trends in Indo-Russian Relations (New Delhi: Kalpaz Publications, 2003), p. 213.
[6] Svante E. Cornell, "Military and Economic Security Perspectives", NBR Analysis, vol. 14(3), October 2003, p. 10, available at http://www.nbr.org/publications/analysis/pdf/Preview/vol14no3_preview.pdf
[7] Poonam Mann, "Fighting Terrorism: India and Central Asia", Strategic Analysis, vol. XIV, No. 2, February 2001, pp. 2047-48.
[8] Meena Singh Roy, n. 4, pp. 212-13. [9]Nirmala Joshi, n. 1, pp. 226-27.
Mohammad Samir Hussain
---
Source: http://www.geopolitica.ru/article/problemy-bezopasnosti-v-centralnoy-azii-i-rol-indii#.UcQHzWdBrYU