Home
/
Politics and Geopolitics
/
The future of Russia and the world: estimates and projections
/
Recommended
Rodin S. S. ""The Ukrainians". Anti-Russian separatist movement in Ruthenia 1847-2009"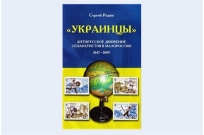 In the annotations provided by the publisher, it is noted that this is the only work that considers the entire history of the Ukrainian movement — from its inception in the early 19th century and up to our days.
"All the books of modern authors, is devoted to "the Ukrainian issue", suffer from one fatal flaw — whether directly, or indirectly (through the author's context) they make us believe that "Ukrainians" still constitute a single people, although very similar to Russian, but have in the past constituted a single whole with it".
"The author's concept of S. homeland devoid of any ambiguity and the resulting confusion, he considers samostiyna movement and "Ukrainians" and "Belarusians", the only correct, scientific and factual point of view, as an ordinary SEPARATIST movement".
In this respect, says the publisher, the book by S. homeland will be an important resource for anyone concerned for the future of historical Russia, from the Carpathians to the Pacific ocean.

Title: "The Ukrainians". Anti-Russian separatist movement in Ruthenia 1847-2009
Publisher: Publishing House Of The Russian Imperial Movement
Author: Rodin S. S.
Language: Russian
Year: 2010
Number of pages: 448
ISBN: 5-87774-063-4