Home
/
Politics and Geopolitics
/
The future of Russia and the world: estimates and projections
/
Articles
Russia and Turkey Azerbaijan will reconcile?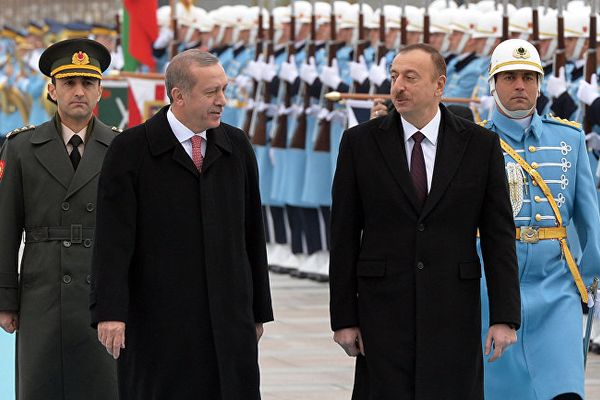 Azerbaijan tries to get out of a diplomatic trap in which it has appeared, having reconciled Turkey, the main strategic ally, with Russia with which Baku unites the general Soviet past. But experts consider that Baku has more chances to get bogged down in the growing Russian-Turkish opposition, than to achieve reconciliation between Moscow and Ankara.
After destruction of the military plane of the Air Forces of the Russian Federation by Turkey in November of last year Russian-Turkish relations go downhill. Russia made active bombardments of positions of insurgents supported by Turkey in Syria, and also supports to Kurdish insurgents as whom Ankara considers as terrorists. Recently even more often there are conversations on possible intrusion of Turkish military men to Syria for protection of strategic interests of Ankara. Consequences of a similar step are difficult for predicting, considering the hostile relation of Russian president Vladimir Putin to the Turkish colleague Redzhepu Tajipu Erdoganu.
It should cause all nervousness in Azerbaijan, tjurkojazychnoj to the country adjoining on Russia and supporting relatives economic and a cultural contact with Turkey.
«The current condition of relations of Turkey and Russia does not suit Azerbaijan, - the Minister for Foreign Affairs of Azerbaijan has declared in interview to magazine The Business Year Elmar Mamedjarov. - it is excessive to say that both Turkey, and Russia play an important role in maintenance of safety and stability in region of Southern caucasus and behind its limits».
During press conference in Baku on February, 3rd Mamedjarov has reported that Azerbaijan carries on negotiations with officials of both countries for adjustment of mutual relations. «We will use our best efforts to find a way out of this crisis», - the news agency of TASS gives of its word.
What particularly measures under the resolution of conflict between Moscow and Ankara are undertaken by the Azerbaijan officials, remains to unknown persons. By the time of the publication of given article the Ministry for Foreign Affairs of Azerbaijan has not answered questions EurasiaNet.org on aforementioned negotiations. Any additional information about it it was not published.
Azerbaijan has a set of economic incentives to try to reconcile Russia and Turkey.
Oil and gas pipelines and the railway of Baku-Tbilisi-Kars stimulate close communications between Baku and Ankara. According to the Azerbaijan fund of encouragement of export and investments, in republic work about 3 thousand Turkish firms that five times exceeds number of the companies with the Russian capital. Turkish firms also are involved in large building projects, including erection of the Olympic stadium for passed in Baku in 2015 of the European games.
According to the State statistical committee, Turkey is the fourth largest trading partner of Azerbaijan: turnover between the countries in 2015 has constituted 1,48 billion dollars. Russia on this indicator advances Turkey all on 379 million dollars.
Over the last ten years Russia has enclosed in economy of Azerbaijan over 1,8 billion dollars, and Azerbaijan, in turn, has enclosed in the Russian economy over 1 billion dollars. But one of the strongest links between Baku and Moscow are more than 2 million the Azerbaijanians living or temporarily working in Russia.
What will discuss Aliev and Erdogan? Putin and Aliev submit new heights? What did Aliev discuss with the Saudi king? About what spoke Aliev and Soros? The Azerbaijan political scientist Mubariz Ahmadoglu from the Baku Center of political innovations and technologies considers that a similar personal contact raises potential of Azerbaijan as the intermediary between Russia and Turkey. As he said, the Azerbaijan officials and experts already represent itself as advisers «in business relations between Turkey and Russia».
«If the intermediary it precisely there should be Azerbaijan» is necessary to Putin, - he has added.
Garet Jenkins, the Istanbul analyst on policy questions in the safety sphere, specialising to Turkey and caucasus, doubts capability of Baku to affect a situation.
«Now Baku can try to force to accept someone's party more likely, - he has declared. - I am assured that Azerbaijan sincerely wants to try to achieve reconciliation, but, in my opinion, neither Baku, nor someone another not in forces something to make. The situation, most likely, to change only after leaving of Erdogana or Putin».
Someone in Russia already shows anxiety concerning a position of Azerbaijan and hints that if Baku will not please the Kremlin, it does not remain without consequences. After the president of Azerbaijan Ilham Aliyev has taken in the beginning of February part in the conference which have passed in London on a theme of the international help of Syria, the large Russian edition Gazeta.ru has published article under heading «Moscow loses Baku».
The author of article Vladimir Zharihin, the deputy director of the Institute of the CIS countries connected with the Russian Duma, has noticed that «in Russia lives practically as much Azerbaijanians, how many in the Azerbaijan, and it is very serious factor [for the Azerbaijan government] not to do sharp movements».
ZHarihin has added that Aliev «the worthy son of the father», the late president Heydar Aliyev, able «to balance and carry out the to the policy» in this connection he «to the last will refuse to enter any coalition».
Feeling the isolation in the Syrian question, Moscow searches for allies among the country of the former USSR, the Azerbaijan political scientist Arastun Orudzhlu, the director of Baku Research centre "East-West" considers.
Meanwhile Turkey also tries to draw Azerbaijan on the party. Turkish prime minister Ahmet Davutoglu has declared recently that Russia poses threat for territorial integrity of Azerbaijan since is the ally of Armenia. The head of the Turkish government meant long-term struggle for Nagornyj Karabah. The Russian officials have subjected words of the Turkish prime minister to the criticism, naming them "neoottomanskim" behaviour.
Attempts to secure with fidelity of Azerbaijan considerably complicate a situation for Baku, aspiring to represent itself as «the fair intermediary» between Turkey and Russia.
«Azerbaijan will not manage to perform peace-making mission, - Orudzhlu has told. - it is impossible to believe In it».
Durna Safarova
---