Home
/
Politics and Geopolitics
/
The future of Russia and the world: estimates and projections
/
Articles
U.S. opens first plant for Autonomous 3D printing rockets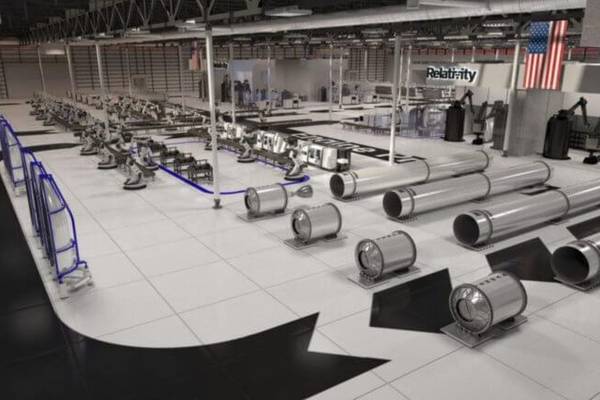 Space agencies and private companies are trying by all means to reduce the cost of sending cargo into orbit. While SpaceX makes its rockets reusable, the natives Relativity Space company wants to simplify the Assembly and reduce the cost. To this end, it intends to use an enormous 3D printer Stargate, who finally found the place — it will be installed inside a large industrial building in Mississippi, which for 30 years belongs to NASA and is not used.
Industrial building under number 9101 went to the space Agency from the us military, until 1990 it was conducted the production of munitions. With an area of over 20,000 square meters and a close distance from the fire tests, it is a great place to build rockets Relativity Space. How many companies do rent for the building is unknown, but her term is nine years and may be renewed for another 10 years.
Factory of 3D printers will speed up the Assembly of missiles
The building is equipped with several overhead cranes to move the huge components of missiles, and also has a 24-foot Bay for their vertical location. Instead of having to build a building from scratch, now the company can simply make to the leased premises 3D printer Stargate machine learning, after a few months to launch a standalone build cheap rockets Terran-1. The company will employ about 200 residents of Mississippi.
The large space will produce from 12 to 24 missiles Terran-1 per year, enabling greater flexibility and faster start-up time, — has declared Tobi of Dull, Vice President of operations Relativity.
3D printer means for printing rockets
Using the technology of 3D printing company wants to reduce the number of missile parts from 100 000 to 1 000. This will greatly reduce the cost of the build space rockets and, consequently, reduce the cost of launching satellites into orbit. It is believed that the seal of booster Terran 1 will take about two months, and its maximum payload will be approximately 1250 pounds. We can say that the missiles Relativity Space will be the largest parts in the worldprinted on a 3D printer.
3D printer Stargate
After printing of all components of the rocket, the company will be able to conduct fire tests in 2-3 kilometers from the plant — as mentioned, the test platform of the company is located close by. From there, the rocket will be sent to launch complex LC-16, located at Cape Canaveral. The agreement with the United States air force missile launch from this site was received in early 2019.
Test launch of the carrier rocket Terran 1 is scheduled for 2020, and the first commercial orders for 2021. Not to miss the latest news about the activities of Relativity, Space, subscribe to our Telegram channel with announcements of fresh materials.
---
Source: https://hi-news.ru/technology/v-ssha-otkroetsya-pervyj-zavod-dlya-avtonomnoj-3d-pechati-kosmicheskix-raket.html