Home
/
Politics and Geopolitics
/
The future of Russia and the world: estimates and projections
/
Analytics
Return geography. Review of the monograph Robert D. Kaplan, "Revenge of Geography: what can we say about the future map of conflict and battle with destiny"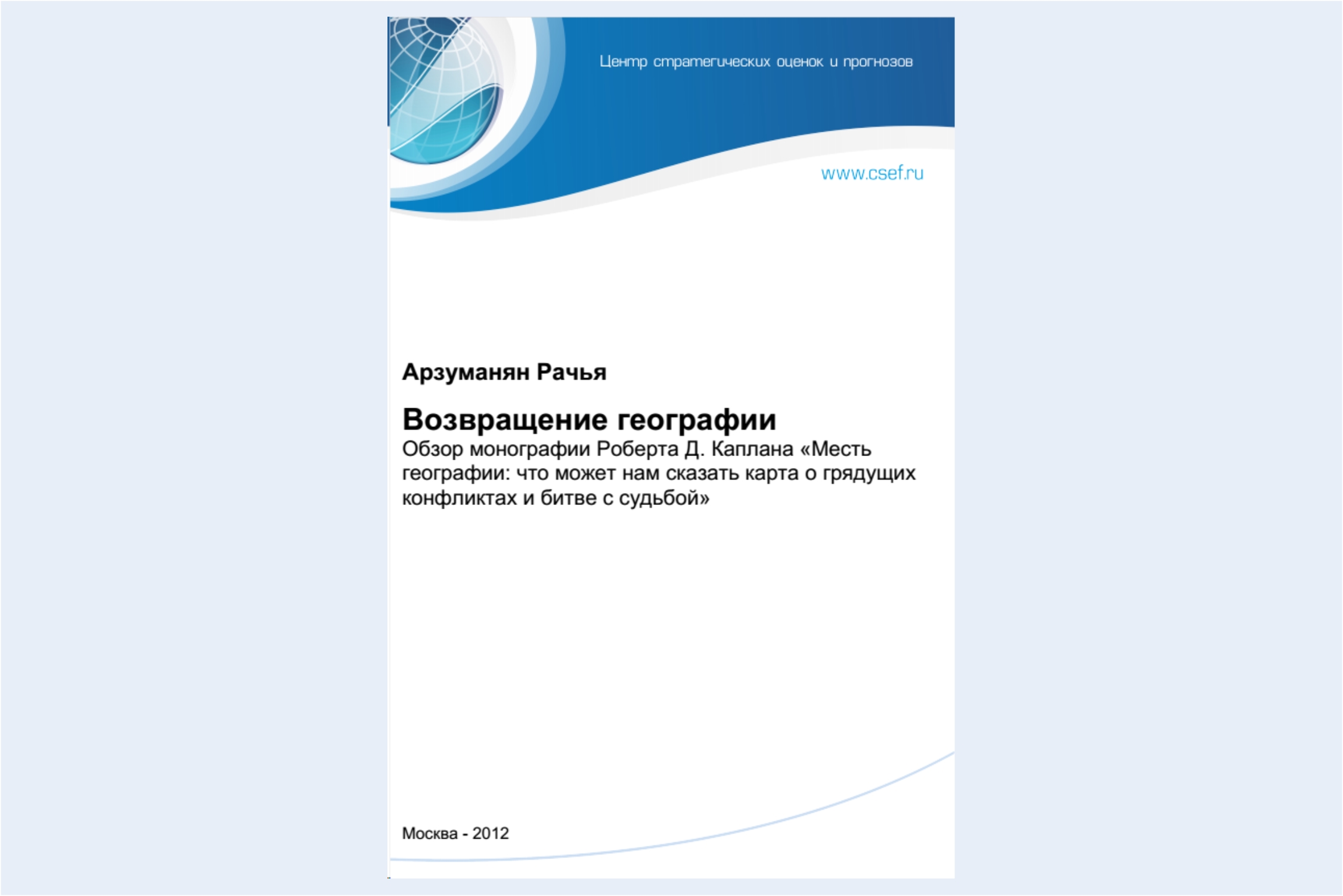 To understand how

to act

geopolitical actors

, regional

centers of power

sometimes

just look at the

map

.

Sometimes

geography

can tell you about

the strategy

and goals

of a state

, much more than

ideology

or

internal policies

.
The last decades thanks to globalisation processes it was considered to be that in destinies of the people and the state the economy which, becoming global is defining, has managed to "get rid" of geography [1]. However if you want to fathom, in what radicals of political instability of China or on the contrary a stability of Iran throughout millenia you to begin with should be approached to a card, Robert D.Kaplan [2] in the new book speaks.
Kaplan fathoms a card as «space representation of sharing of mankind» and assumes that the mankind in the core is divided. The accent on mankind "sharing" conducts it to realism in foreign policy when the geopolitical perspective is upbuilt on confidence that the human nature remains invariable, no less than the base of human motivation upbuilt on an immemorial triad of Fukidida - «fear, pride and advantage». Robert Kaplan removes the bulk of hypocrisy and the hypocrisy which is present at public and political discourses concerning global development and reaches the fundamental validity, - geography, - which as it was throughout all history remains to one of the most powerful drivers of world processes.« The geography, »writes Kaplan,« is a hum of the history of mankind.... A state rule on a card first that defines it, - even it is more than ruling philosophy ». Kaplan recognises that its accent on geography can lead to deterministic thinking. To recover dangerous rolls towards a geographical determinism, Kaplan for balance recovery puts arguments" in favour of the partial determinism in which all of us we need "(italics the original).
Kaplan does not have illusions concerning what controversies will be caused by its realism. "Cards", he, «writes reproach (reproach) to the concept of equality and unity of mankind as they remind us of a diversiform circumambient which does people by deeply unequal and disconnected so many methods, leading to the conflict in which almost exceptional and the realism» stays. Before the publication the book has caused the angry response of issuing «PublishersWeekly». The anonymous reviewer named Kaplan's book consisting mainly from «entertaining, but irresponsible fragments of history, cultural knowledge and economy», «overfatigued (restrained) by usage of cards» and «vanity of empty rational metaphors». «Kaplan's Ruthless realism», the reviewer, it writes «unconvincing repetition of out-of-date outlook».
Kaplan leans against the concept of a map of XIX th century, and its accent on "sharing" conducts to an output that the mankind in the core is divided, instead of connected. The geopolitical perspective leans against the thesis about a human nature invariance. Such judgement on human nature is old-fashioned (at least during an era of neurology and informative psychology) and very man's, Anna-Maria Sloter (Anne-MarieSlaughter) considers.
However why the map is perceived as unique, she asks. Social networks, mass-media and data streams of great volume have made possible visualisation of human interactings and creation of cards of social connections, emotions, requests and so forth We watch formation of new discipline - sotsiografii (sociography). «Today it is possible to trace and visualise intersections of million small worlds: these are the human Galactics which each bit is so dense and added, as spiders». Kaplan can state that multi-coloured sections of sovereign territory on a two-dimensional card shade the primordial design of the nature, but citizens have today stimulus to hide, darken the lines led by the governments, lines of demarcation of characteristic communities, - assumed and real.
Kaplan easy and vzveshenno reveals a radiant of such ratio to the book. The extremity of Cold war, he writes, has dazzled the western intellectuals tangently many rigid, unpleasant realities of the world. «Suddenly we have appeared in the world in which dismantle of artificial boundary in Germany has led to the supposition that all human divisions and disagreements are surmountable; that democracy will win Africa and the Near East as it is easy, as it was in the Eastern Europe; that globalisation - which soon became a fashionable word which other as a moral direction of history and system of the international safety at all on hearing - is not that, instead of what it actually was, - simply economic and cultural stage of development».
Thus, for a dominating political discourse of the USA the term "realism" became pejorative. American universalizm has enveloped even the American troops as «the latent arm which has allowed universalistskim to ideas to have much bigger value, than a landscape and historical experience of the people living on it». The policy is frequently propelled by analogies and historical lessons and is frequent enough throughout the last 70 years the western policy went an imperative «is not present to one more Munich». Malicious in the world should be stopped in a radical before it will rise, like Hitler to threaten global stability. Depositing of a class of "harm" in foreign policy justified implicating of the USA in the Balkan crisis in 90-s', and then irruption into Iraq and Afghanistan. However difficulties in Iraq and Afghanistan, are written by Kaplan, have generated the intellectual opposing force expressed in revival of analogy of "Vietnam" and idea that ethnic and religious hatred in the world it something bolshee, than is simple hindrances in missionary calling of the USA which can result last in loss. Iraq, on Kaplan, «has undermined a key element of views of some and a faith that projection of the American power always chases moral outcome».
Thus, in the USA hot debate between committers of Munich and Vietnam was tore. Kaplan considers the book as trying to discover balance between two camps. «Vietnam speaks about limits; Munich about their overcoming». Each of analogies separately, adds it, can be dangerous. «Only when both are perceived, given equally, there is the best chance of the correct policy».
Thus, for Kaplan the geography is an administration for understanding of swirl of forces, passions and interests which direct world processes. To muster justice of such sight, Kaplan is entrained in an object of research, leaning against the notional apparatus of classical geopolitics presenting a world history in terms collision between the Land and the Sea. Thus he is converted to operations of classics of geopolitics of past century and notifies that «people whom I am going to present, should give liberal to humanists the strong trouble» as ideas of classics will look today politically incorrect and even racist. A key figure in Kaplan's discourse is, Helford Makinder [3]. Uncovering and interpreting concept of Hartlanda Makindera of new conditions, Kaplan adds one more key concept of classical geopolitics - idea of Rimlanda Nikolosa Spajkmena [4] including Europe, the Near East, India and China.
Was possiblly, the best test of worth of classical texts is quality of characteristic geopolitical analysis of Kaplan upbuilt on their basis. It applies the approach to various regions of the world, doing a row of predictions and prognoses which occasionally run counter to the standard point of view.
[1] Robert D. Kaplan. The Revenge of Geography: What the Map Tells Us About Coming Conflicts and the Battle Against Fate. New York: Random House, 2012. 432 pp. The book has evoked a wide response also acquaintance to some of ideas and approaches of the author, actual for Armenia and the post-Soviet territory it is represented actual. Some of estimations, was possiblly, will need adjustment and even revising when there will be a possibility to get acquainted directly with the book text.
Survey is prepared on the basis of comments, reviews, papers and interview of the author in mass media. In particular.
Merry, Robert W. "Review. The Revenge of Kaplan's Maps," The National Interest, September-October, 2012. November 1, 2012 <http://nationalinterest.org/bookreview/the-revenge-kaplans-maps-7345>
Hay William Anthony. "The Map to Power," The American Conservative, September 13, 2012.
November 1, 2012 <http://www.theamericanconservative.com/articles/the-map-to-power/>
Kaplan, Robert D. "Geography Strikes Back," Wall Street Journal, September 7, 2012.
November 1, 2012 <http://online.wsj.com/article/SB10000872396390443819404577635332556005436.html>
Slaughter, Anne-Marie. "Power Shifts. ' The Revenge of Geography, ' by Robert D. Kaplan," THE NEW YORK TIMES 5, 2012.
November 1, 2012 <http://www.nytimes.com/2012/10/07/books/review/the-revenge-of-geography-by-robert-d-kaplan.html>
"Revenge of Geography: What the Map Tells Us," Publishers Weekly, 28 May, 2012.
November 1, 2012 <http://www.publishersweekly.com/978-1-4000-6983-5>
"The Revenge of Geography, by Robert D. Kaplan," Stratfor, 2012. Video: Robert D. Kaplan discusses topics from his new book
November 1, 2012 <https://www.stratfor.com/revenge-geography>
"Charlie Rose - Robert Kaplan on book" The Revenge of Geography, "Charlie Rose, October 11, 2012.
November 1, 2012 <http://www.charlierose.com/view/interview/12596?elq=80dcdefdf61c481f89731a69fc5b364e>
[2] Robert D.Kaplan the intellectual, the high employee of "Centre of new American safety» (Center for a New American Security), the travelled whole world the correspondent of "Antlantik" (The Atlantic), - the influential American log based in 1857 and focused on «foreign policy and economy, and also cultural trends», principal geopolitical analyst Stratfor. The author of fourteen books which are recognised in the West as important and defining for understanding of the world after Cold war.
[3] Helford John Makkinder (Halford John Mackinder) (1861-1947) outstanding English geographer and the father of the modern geopolitics. The author of well-known paper of 1904 «Geographical axis of history» (Geographical pivot of history), in which Makinder inducts concept of Hartlenda (Heartland) - (median or medullary land). Often the publication of this product is considered as the geopolitics beginning as sciences though Makinder did not use this term.
[4] Nicolas John Spajkmen (Nicholas John Spykman) (1893 - 1943), the American geopolitician of the Dutch origin. Has gone round the whole world in the capacity of the correspondent, then became the professor of Jelsky university where in 1935 has based Institute of the international researches. The Founding father of the concept of "restraint" and the approach of classical realism in the American theory of the international ratioes. A basis of its theory was the idea "Rimlenda" (arc land) as key territory in world politics. The author of two known operations «the American strategy in world politics» and «world Geography».