Home
/
Politics and Geopolitics
/
The future of Russia and the world: estimates and projections
/
Recommended
Y. Annunciation, Krechetova M. and G. Satarov "Scenario forecasting of the political situation in Russia — 2012"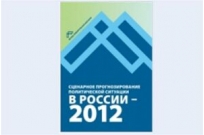 For the first time, readers are developed over seven years ago in the INDEM Foundation of the methodology of scenario forecasting, together with the results of its application.
In General, these results, as this brochure, are an intermediate result of a joint project of the Foundation "Liberal Mission" and the INDEM Foundation. The reader acquainted with the history of the method and mathematical foundations of the latter. In addition, he will be able to compare the results of medium-term and short-term forecasting, including those associated with the political events of the winter 2011/12
The book can be downloaded here.
---