Home
/
Politics and Geopolitics
/
China and its role in the new world order
/
Articles
China sees good prospects for shale gas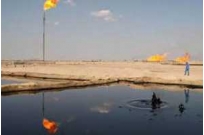 Major oil and gas companies of China see good prospects of shale gas production through lower costs, but do not predict a mining boom in the near future. So reported Reuters.
China has, according to expert estimates, the world's largest reserves of theoretically recoverable shale gas, hopes to replicate the U.S. success in this area, but experts warn that to realize our plans will not be easy because of the shortage of water resources, the complex geological structure of deposits and undeveloped infrastructure.
But this week the management of the largest oil and gas companies of China Sinopec Corp and PetroChina with optimism talked about the potential of shale gas, indicating a rapid decrease in the cost of drilling and increase gas prices in the domestic market, whereas two years ago the top managers most often mentioned the challenges facing them.
"It took US four years to reach full-scale production. We are at an early stage, but we will not need three decades. The cost will fall sharply. We found opportunities for cost reduction... gas prices are rising, and these two factors will contribute to the growth of investments", – told reporters the head of Sinopec, Fu Cheng Yu, after the publication of the interim results of the company.
He noted that the cost of drilling on the company-owned mine in southwest China has gradually decreased to 60 million yuan ($9.8 million) per well. It is twice more than in USA, but significantly less compared with 100 million yuan several years ago, analysts say.
According to Fu, in three to five years, the cost of the well will decline to 50 million yuan due to higher skills and experience.
PetroChina intends to spend this year 7 billion yuan in the development of shale gas, told reporters the company's President Wang Dong Jin. According to him, each well costs the company 55 million yuan, and it seeks to reduce the cost to less than 50 million yuan. The drilling time of each well was reduced from 80 days to 45, said Wang.
Both leaders ruled out the possibility of a sharp increase in shale gas production in the near future, as this requires further reducing the cost and increasing gas prices. In early August China twice lowered the forecast of shale gas production in 2020: up to 30 billion cubic meters planned in 2012 60-80 billion.
On the company-owned oil field Sinopec plans by the end of 2015 to be able to produce 5 billion cubic meters per year, and by the end of 2017 – 10 billion. PetroChina wants to have a production capacity of 2.6 billion cubic meters by the end of 2015 and around Sinopec on shale gas production in the next few years.
"We are confident that we will achieve a breakthrough in the development of shale gas in China" – promised the head of PetroChina Wang.
---
Source: UBR