Home
/
Politics and Geopolitics
/
China and its role in the new world order
/
Articles
Pilaf in Chinese. China is slowly absorbing the ex-Soviet Central Asia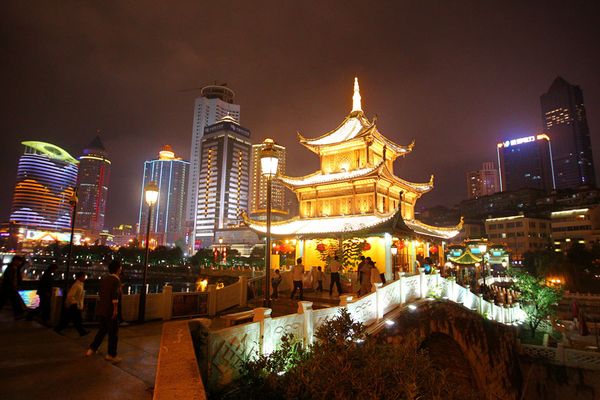 At the airport of Bishkek — Chinese "fences" with the characters before passport control, Chinese truck and taxi drivers in the Chinese cars. The capital of Kyrgyzstan travel hundreds of passenger buses production of China. Construction workers from China hastily erected complexes, flea markets (where they sell jackets and jeans sewn in factories Guangzhou), as well as a hotel for Chinese businessmen and tourists. Everywhere like mushrooms grown restaurants with Chinese cuisine, and they are never empty — it was full of visitors, missed their native foods.
In 2016, China has taken the (shifting) location of the main trading partner of Kyrgyzstan — now 25.8% of the import and export of a small Republic take on China. "I have a feeling that our country is doomed, — sadly says a businessman Oybek Tumens. — China just dissolves it, and we, without noticing, used to be a Chinese." Needless to say, we are at the Chinese place. Oybek eating beef in sweet and sour sauce and smiles: "I can Not resist. Still tasty".
Trucks with illegal immigrants
At the Osh Bazaar in Bishkek is easy to find on the shelves of tasteless cucumber, "plastic" garlic and apples, similar to cardboard, lightly sprinkle Apple juice. This product Chinese farmers renting lands in Kyrgyzstan. They grow fruits and vegetables in China do not deliver — sell here. People take, because they cost a penny. These farmers hundreds — not much, but their number is constantly growing. Similar "agrarian economy" with Chinese began to appear in full and in Tajikistan. On the road from Bishkek to Osh, I see many Chinese workers — they are building a new highway, connecting the North and the South. Only officially for the last year in Kyrgyzstan arrived 11 593 migrant workers from China — all with their families. In addition, in Bishkek and other cities during the same time settled 27 566 Chinese: businessmen, salesmen, construction workers, nearly 40 thousand visitors in one year. How much in General, Chinese citizens are already settled in the Republic after disintegration of the USSR? Nobody knows. Different sources name figures from 80 to 200 thousand people — 6 million of the local population. Journalist Turat Akimov has accused the government in the sale to China of the country, as "any Chinese over 5 thousand dollars. can obtain a passport of Kyrgyzstan, the trucks-the trucks every day carrying illegal immigrants from China. 30 thousand Kyrgyz entered into a sham marriage with a Chinese." Authorities have denied these words. But, as it says in the joke: stolen spoons-found, and sediment remained...
— Our debt to China is 1 billion 700 million. says financier Ruslan Kaldarov. Is 42% of all foreign loans. The Chinese do not give money just like that. They provide loans with low interest, but in harsh off — road conditions or large objects must be built entirely by Chinese companies and Chinese experts with high salary. This, of course, causes confusion and even anger among ordinary people — in fact 700 thousand Kyrgyz work in Russia, taxi drivers, cashiers in supermarkets and waiters, and those same builders, and we invite you to Kyrgyzstan of foreign workers. The people are hot, anything can happen. For example, during the coup in 2010 and the overthrow of President Bakiyev rumors about the possible massacres of Chinese and looting of Chinese shops. China immediately deployed troops on the border, making it clear — in which case the invasion to "protect our citizens" is inevitable. This is standard policy all over the world — African state of Djibouti is obliged to pay China the interest on the debt more than its own GDP. If we have something left in this case, only the last hope for Russia.
"Russia makes nothing"
China consumes not only active production of cheap garlic. As a result of treaties on "border demarcation" between 1996 and 1999, the Chinese got 161 sq. km of the territory of Kyrgyzstan. Interestingly, all such discussions (with Tajikistan and Kazakhstan) always end in favor of China. "Chinese "stamped" their factories on every corner, and they do not care about nature and the environment — tells me the teacher of the Russian language of Kara-Balta city Adilbek Batyrov (the name is changed. — Ed.). — When we started to build a refinery, we knew it was waste will be drained into the river, all the fish will die. Hundreds of people came out to protest, but the government wouldn't hear them. Now the Chinese factories are not uncommon strikes, workers demand the same wages as the Chinese, but in the wild unemployment owners is easier to dismiss "the protesters" and to gain new ones". In Kyrgyzstan, I was often asked ordinary people: why Russia is not doing anything? Is RF still that we engage China? You do not pour in investments here, did not build, and China is already engaged in hydroelectric power stations and a huge railway project. Incidentally, the government of China (unlike Russia) do not let yourself to Central Asian migrant workers — visa to China, Kyrgyzstan to difficult. But constantly knock the priority for Chinese traders in the markets, for workers, for business. No wonder — China protects its citizens, taking care of them.
We must learn from China?
— I always know if something happens, my state will surely intercede for me, — pretty good on the Russian language assures me comes from the Chinese city of Urumqi Lin, Senmao, decently and tastefully dressed businessman, owning several points in the market "Dordoi" in Bishkek. — Yes, I sometimes feel that in Kyrgyzstan domestic hostility to his countrymen, but a small country is always afraid of the big, albeit in vain. Please have a look on Mongolia, because China is still not captured. It seems to me that fear before the "China threat" in Central Asia is greatly exaggerated: the business in the PRC strengthen the economy of Kyrgyzstan. And the fact that China of all the benefits, sorry, and the meaning of life.
In the evening I'm sitting in a cafe "Peking duck" on Sovetskaya street and see a crowd of Chinese at the next table celebrating the birthday of the leader of the enterprise. In the menu there is "plov Chinese." "What is it?" "Well, our Kyrgyz dish — explains the waiter. — Only with soy sauce". That's what Russia should learn from China, is everywhere to defend their financial interests. We generously distribute "brotherly republics" money without the commitment (after all, brothers should help) and then pretend that we actually are not required, are not going to repay debts Yes, and "squeeze" the property of Russian companies. China does not allow so to do — and correctly.
At the same time Russia for a long time to see whether we are ready to give the state the ex-Soviet Central Asia, where they still speak Russian and consider Russian culture a loved, under the total control of China? If not, then it is urgent to come here with investments, construction loans and influence. And the main thing — to derive income in billions of dollars, as it is well able to do China.
Georgy Zotov
---
Source: http://www.aif.ru/money/economy/plov_po-kitayski_knr_medlenno_pogloshchaet_eks-sovetskuyu_srednyuyu_aziyu?utm_source=smi2