Home
/
Politics and Geopolitics
/
Russia and Belarus: estimates and projections
/
Articles
Lukashenko made a turn towards the West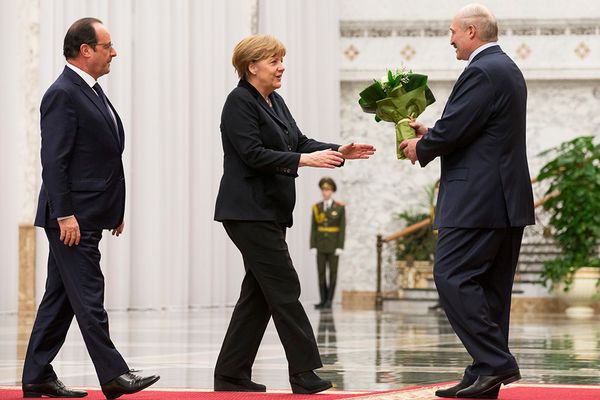 President of Belarus
unexpectedly
pardoned
and ordered
the immediate release of
all known
political prisoners, including
the most popular
ones
-
presidential candidate
Nikolai Statkevich
2010
.
It
looks like
the release of
chess move
in the political game
-
it
was
the next day
after
it became known
who of
the opposition
will be able
to take part
in the presidential elections
,
and who
has withdrawn
.
To release from political prisoners the direct presidential order on Saturday evening became some kind of tradition in Belarus - in the same way issued from colonies of political prisoners and last years.
And this time along toward evening Saturdays the state news agency "БелТА" referring to Presidential Administration has reported:
«Proceeding from a humanism principle, the president of Belarus has made today the decision on pardon and exemption from places of imprisonment of Nikolay Dedka, Igor Olinevicha, Nikolay Statkevicha, Evgenie Vaskovicha, Artema Prokopenko, Yury Rubtsova».
Thus still recently (as well as repeatedly before) Lukashenko declared to journalists that cannot pardon Nikolay Statkevicha and other political convicts as they did not recognise the fault - are not present their statements for pardon which could be signed. But on Saturday when pardon nevertheless has taken place, all six released have instantly removed from colonies and prisons and have planted on buses to their native cities.
Despite prompt succession of events, in the same evening to meet Nikolay Statkevicha on road service station the big crowd of journalists and supporters under the prohibited Belarus national colours has gathered.
Released contender Lukashenko rose in applause also shouts «the Hero!».
At once, directly at station, Nikolay Statkevich has declared that did not write addressed to Lukashenko the application on pardon and also that intend to continue political activity and to achieve non-recognition by the West of present presidential election.
Let's remind that election results 2001, 2006 and 2010 when won Lukashenko, also are not recognised by the international community.
Has declared Statkevich and that the Belarus democrats should not support the unique opposition candidate on these elections.
«At dictatorship money has ended, and it will imitate democracy. I also will work further as that did for free, normal Belarus. But in the nearest some days I want to have a rest simply. At the same time I will meet heads of the oppositional organisations, we will discuss what to do, - the oppositional politician who has left on freedom has told. - intrachamber agents all time asked me one question: whether I am going to leave Belarus? No!»
Who these people
Nikolay Statkevich on elections in 2010 was one of Alexander Lukashenko's the most appreciable contenders. Him have arrested at once, in the evening in the election day.
In a pre-trial detention centre of KGB he has refused evidence and has gone on hunger strike, having ceased it only in 23 days. Statkevicha charged of the organisation of mass riots, but in court he did not recognise the fault.
In May, 2011 Statkevicha have condemned for six years of imprisonment in the conditions of the strengthened mode. In January of 2012 condition of serving of punishment have changed to more rigid and have translated it from a colony in prison.
On freedom it should leave on December, 20th, 2016.
Then, in December of 2010, right after elections, in prison there were seven from nine contenders Lukashenko. A little from them have been condemned «for the organisation of mass riots» to different imprisonment terms.
As a result of Statkevich it has appeared the unique candidate for presidents which, having got to prison, has disagreed to recognise the fault and to write Lukashenko the application on pardon.
Nikolay Dedok has been arrested on September, 3rd, 2010 and has received 4,5 years of imprisonment in the conditions of the strengthened mode for malicious hooliganism. In November, 2014 on Dedka have got new criminal case - for malicious disobedience to requirements of administration of correctional facility - and have extended the conclusion for one year.
Igor Olinevich has been arrested on November, 29th, 2010 and condemned for eight years of imprisonment in the conditions of the strengthened mode for malicious hooliganism and property damage obshcheopasnym by method and in especially large size.
Actually Nikolay Dedok and Igor Olinevich were active workers of anarchist movement. Fault it have made a number of attacks on buildings of the state departments. Among them - the unauthorized share near the Joint Staff in 2009, zabrasyvanie bottles with an incendiary mix of territory of embassy of Russia in Minsk and prison buildings in the street Okrestina in 2010, attempts of a setting fire of departments of Belarusbank and bank "Moscow-Minsk".
But, according to legal experts, participation in peace manifestation of protest near the Minister of Defence against joint Russian-Belarus military doctrines became the present basis for a sentence.
The inhabitant of Gomel Yury Rubtsov has been sentenced on October, 6th, 2014 to one and a half years for an insult of the judge. New criminal case on Rubtsova have initiated in March of this year. On May, 28th the court has sentenced Rubtsova to two years of a standard regime penal colony.
Evgenie Vaskovich and Artem Prokopenko have been detained in January, 2011. In May of the same year the court of Bobruisk has sentenced them to seven years of imprisonment in the conditions of the strengthened mode. The court has counted their guilty of a setting fire of a building of KGB in Bobruisk on the night of October, 17th, 2010.
Turn to the West
Till now availability in Belarus political prisoners, as well as reprisal against independent mass-media, served as the main reason of that EU and the USA refused to recognise legitimacy of presidential election - and, accordingly, Lukashenko.
One of consequences of it is that, as entrance to the European Union, the USA and a number of other countries is prohibited Lukashenko, and the majority of officials surrounding it.
«Lukashenko has removed an obstacle in a way of normalisation of relations with the West on peak of efficiency of this step.
Now to it will not show any additional unconditional claims for normalisation, - the political analyst of Belarus service "Radio" Freedom »Yury Drakohrust considers. - That is remain both elections, and freedom of expression, and many other things, but these are themes for negotiations within the limits of the normalised relations, instead of a normalisation condition. Plus of Russia nothing to object on this step and in something Lukashenko to reproach. Not it put them».
Now and the West - first of all on behalf of observers of OSCE, - and Belarus opposition lose powerful argument for benefit of the next non-recognition of the Belarus elections.
«Exemption of political prisoners - a concrete signal I Will sink down from Lukashenko that he counts on acknowledgement of these elections by the legitimate.
And it means very serious turn in foreign policy, - the Belarus politician, head of civil campaign «Our house» Olga Karach considers. - Lukashenko, as an izba from a fairy tale: to the West it now turns the rehouse, and to Russia - other parts of a body ».
The best method to set at variance opposition
Nikolay Statkevich has appeared on freedom exactly next day after it became clear, who will present democratic opposition on presidential elections on October, 11th.
Leading opponents Lukashenko - Anatoly Lebedko and Sergey Kaljakin - have withdrawn, without having managed to type on 100 thousand signatures for the promotion. There was Tatyana Korotkevich, which else back in general nobody knew half a year also which as the opponent is very convenient for Lukashenko.
Today Statkevich - the ideological leader of those opponents Lukashenko who supports ballot strike. It having appeared on freedom and defending the position, Statkevich for certain considerably will reduce number of those voters which were ready to come on sites and to vote for opposition. It will give overweight to supporters Lukashenko - traditionally more disciplined part of electorate.
«In spite of the fact that Statkevich has not supported participation of Korotkevich in elections, it is not necessary to expect that it somehow will affect a command which on it works. That is campaign will be conducted according to the initial plan, - Victor Evmenenko, the expert of analytical project Belarus Security Blog speaks. Is an exemption - a curtsey of the power towards the West, as well as that Korotkevich for certain will register as the candidate is does not cause doubts».
Denis Lavnikevich
---
Source: <http://www.gazeta.ru/politics/2015/08/23_a_7713011.shtml>