Home
/
Politics and Geopolitics
/
Russia and Belarus: estimates and projections
/
Articles
Area. 'Revolution'. The program script of the meeting. 19-31 Dec 2010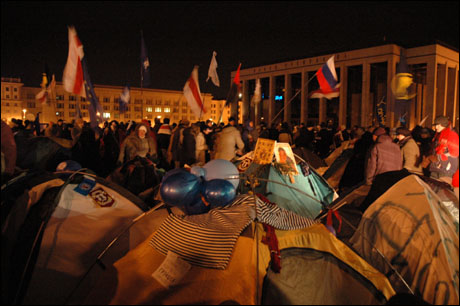 Material posted: -
Publication date: 06-12-2010
For the past two weeks, as I'm trying to achieve from Pro-Western opposition politicians (including, and "leading") and experts, as in the "headquarters", and free agents, the answer to one question. Only one, not more. In a different modification, it reads: "Why Square? What will You do in the Square? Why have You decided that access to the Area will decide something?".
These are simple, I would say even basic questions from a textbook on political science for third year students. Which are any more or less a professional politician, not to mention the scientists-the experts-strategists, should know the answers as our father. So that from teeth jumped aside. Moreover, the examples are far to seek. Even special books were released in Ukraine and in Yugoslavia, in fact, by-the-hour timekeeping, with detailed answers – what, when, where, and why.

Even in Belarus, at the time, a year or so ago, under the editorship of highly respected people came this book. At home in the library worth it. Beautiful, landscape format, with tables and graphs, in a color cover. All people should know what I'm talking about. However, then all the team razderbanit, but the fact remains – the process is described very professionally and in detail.

It would seem that literate people should know all this. Especially the Belarusian book. However, as it is not so. One for two weeks and the word liaison was not able to say on the subject. Are made very round and important eyes, inflated cheeks (like – well, you don't understand how we "are" skoberne?), and pronounced a phrase, or a number of phrases, after which you realize is not that no one trait does not understand that "there" should be, no one is going to do as the resources that no one. With one small exception. I mean an article on the website of AFN Only chance for unity of Lukashenka's opponents, which, despite the fact that some things in the article, of course, utopian and naive (particularly the third paragraph from the end), is at least some attempt to predict what and how can be in the Square.

I hope you understand that I don't want to "showdown". But the steps, the psychology of people standing day and night in the cold, events, etc., etc., should be computed in advance. Not one throat to keep people on the street for two weeks. Because the opposition have only two weeks until January 1 to do what they want.

People think that EU and USA will give them "flag in hand" (will make Lukashenko to resign) just because they lead to the area of 30-50 thousand people (just note, very little for this area). Arrive theirs diplomats to the Area to look at them, the people on what is happening and I say "Handsome! Just handsome. Here you have the flag in hand, because You are handsome, we've already got a hookup, you can go to take the premises". Some kind of logic of display of a reality common to all who were able to speak on this subject. But on this subject there is a good old joke about the Nightingale the Robber Alyosha Popovich and Ilya Muromets.

It is clear that all is not serious. And to the people, not to mention its credit, especially young students, school children, which once again just become a political meat, which the leaders will strew your way to the Western grants, is impossible.

And as all that to this day makes the opposition in the presidential campaign, including the notorious Area, by and large, not serious, I decided to give her, but also not a serious scenario that can occur 19-31 December Square. Maybe I will this time.


1. 19.12. The whole night will stand. Waiting For Milinkevich.

2. 20.12. Will stand all day and all night. There will be a rally. There will be songs. Would be, like, independence. Waiting For Milinkevich.

3. 21.12. Again, are the leaders. There is no music. Th do not know. Maybe to keep warm, start to get closer to Riot? – Roses in the buttonholes of daisies in the barrel of a machine. Girls, vodka, sandwiches, tents, General. Waiting For Milinkevich.

4. 22.12. Standing in the cold 4 tide day. Soon begin to get frozen in the hospital. Silence. No leaders in the Western ambassadors. Came leaders. The case took a firm hand Seviarynets. Together, we are about 1000 times said "long live Belarus", 500 times "step down", 800 times "shame". Sweet in the mouth did not. Waiting For Milinkevich.

5. 23.12. We left a little bit. For the tenth time in front of us are the leaders. Everything is frozen. No one even claps. In the Square there are 2-3 thousand people. Separately is a group in Bel-Chervona-and-white swimsuit. All Russian valenki, the Russian fur hat and Russian coats. In the hands they are cut off, without the asterisks, the American flag and posters – "Smerznak, but Razia maskall will not addadi". Came Kozulin. But Milinkevich's all there.

6. 24.12. Begins to catch up with major artillery – presidential candidates. Onet play, we warm up. Finally goes on stage Sannikov. "Say, NAV. Only – wait for my mom". Hearing a painfully familiar refrain, the crowd are loud, cheerful and fun answers – "Wait your mother...". Sannikov liked. But still he was confident in the effect, and that is exactly what he needs. In the spirit of Sevyarynets, raising his hand upwards, he reiterates – "Wait my mom!" – The crowd starts to go into rage – "Wait your mother!". And here to Andrey Olegovich begins to realize his calling in life – DJ. Gradually the people began to sing the famous song. Strained for a time subsides. Waiting For Milinkevich.

7. 25.12. The ambassadors arrived. Dressed in Russian boots and coats. Theirs Mercier too. Finally voiced figures of victory. Are Western diplomats. Threaten the regime, they say, it's time to give up. Everyone is waiting for Milinkevich.

8. 26.12. West increases pressure. The power in the shock and hysteria on TV is lawlessness. Waiting For Milinkevich.

9. 27.12. Finally the authorities nerves. And the square, finally there is a messenger from the government (say, like, Mackay), which announces the readiness of the government to start negotiations. Milinkevich is not.

10. 28.12. Rally. On the contrary the negotiations. Tinder. We do not know. Waiting For Milinkevich.

11. 29.12. Negotiations. Go hard. Our reserves are coming to an end. Hospitals are inundated with frozen. Little we have left, but we do not touch. Waiting For Milinkevich

12. 30.12. Negotiations. Go hard. They are on the verge of collapse! We still gather around the last campfire. The last bottle of vodka indulges in a circle. Drove up to the residence of the ambassadors. Everyone is waiting for Milinkevich.

13. 31.12. No information. The power type, I think. Stupidly sitting in the square. Ready to go to the next dimension in 2011. Everyone is waiting for Milinkevich.

14. 31.12 23.45. New year's greetings. Looking at a screen on October square. We and riot police. He. All. Defeat. Tears in my eyes. And suddenly, "Dear Russians... Sorry, Belarusians. In this difficult time for the country I have made an Executive decision...". Someone somewhere took firecrackers and made the first fireworks. Starting to catch up with our leaders and congratulate us on the victory. Riot police gives flowers a favorite of the girls, all embracing, business drives the car with vodka and sandwiches, we are entering a new era. Look BA, all the familiar faces... And that pan Milinkevich tightened...

What's not to like? Me too. It won't be. Not without work to keep the people on the street in the cold for two weeks. Not without food, without music, without toilets, etc. But the main thing is not to do all this without any serious arguments. Do not confuse the script and the performance. A play without a script, the detailed script, with the safety net every day, will end in complete failure of its Directors. This can only be done together. All. Together.

Not the freedom to just simply for what brought people to the area. This is extremely small, it is only the final match. But the final round of the match can not be. But so far, judging by what happens, everything will be exactly. Only in the end will be different. It is a tale, a tale, as we know, there are no bad end, because good always triumphs over evil. Everything in life will be different, tough, and concepts. Maybe, finally "our" "leaders" will Wake up, put their ambitions in the back pocket of his pants and begin to work together. The time is running out.
---