Home
/
Politics and Geopolitics
/
Russia and Belarus: estimates and projections
/
Articles
The Federal government and the new Rzeczpospolita - two mutually exclusive geopolitical project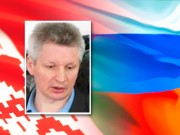 Belarusian and Russian officials say, and its commitment to the Union project, and the implementation of the Treaty on the Union state construction virtually stopped. This was stated on November 18, held in Minsk a round table "Actual problems of the post-Soviet space," Belarusian political analyst Nikolai Sergeyev, the correspondent of IA REGNUM news.
"In the construction of the Union state was formed, at first glance, absurd position. Although the economic benefits from the reunification of two brotherly Nations are more than evident. Apparently, the reasons for this situation must be sought in the humanitarian sphere. The embodiment of any large-scale political project is possible only with his active support in society. And if not there, then even the most good undertakings will remain empty dreams," said Nikolai Sergeyev.

The analyst believes that the construction of the Union state of Russia and Belarus pronounced the influence of the foreign factor: "for a Long time in the Belarusian society formed deliberately, a sceptical attitude towards the Union and distrust of the Russian Federation. In the interest of those external and internal forces that intend to comply with adopted by the government of Poland the programme for the construction IV of the Commonwealth".

"The Federal government and the new Rzeczpospolita are two mutually exclusive geopolitical project - focused participants Nikolai Sergeyev. - "And I must say that the Polish side, in contrast to the Russian paying special attention to the formation in Belarus advantageous to public sentiment, especially among the humanitarian intelligentsia, which is the main distributor of distrust towards Russia and reluctant towards integration projects with Russia".

According to the expert, "so that the Federal government has become a reality we need systematic work in the humanitarian field, which should be based on the premise that Belarus and Russia belong to the East Slavic civilization, the Russian world, and Belarusians and great Russians form (as distinct branches) one people. And, on this basis, should be based both politics and the economy, and other relations.

The analyst drew the attention of roundtable participants to the imbalance between the indicators of foreign trade of Belarus with Poland and Russia and the actual influence of these countries on the socio-political situation in the Republic, the humanitarian sphere in Belarus.

As reported a REGNUM news, 18 November Minsk hosted a round table "Topical issues of post-Soviet space". The event was attended by representatives of the Belarusian intelligentsia, representing the faculty of Minsk universities and NGOs. Belarusian participants of the event supported by the organizing Committee prepared the Manifesto of the Movement For the Union of Belarus and Russia".
Nikolai Sergeyev
---