Home
/
Politics and Geopolitics
/
Great Arab Revolution
/
Recommended
Egorin A. 3. `Unknown Gaddafi, brotherly leader`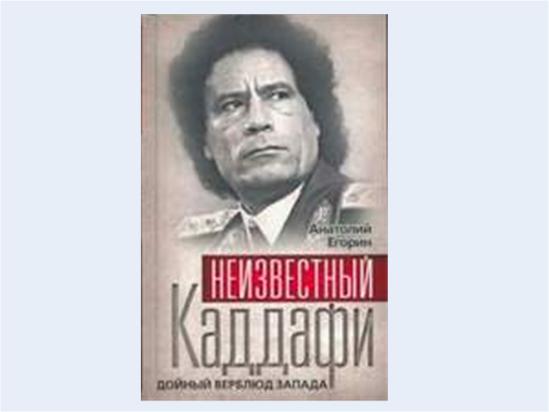 The tragic events in Libya, military intervention of NATO in a civil war stirred up worldwide interest in the figure of the Libyan leader Muammar Gaddafi. The book is academician of RANS, Professor of the Institute of Oriental studies of the Russian Academy of Sciences A. 3. Egorina — portrait and simultaneously a story about the activities of Muammar Gaddafi — "the Bedouin of the Libyan desert", as he calls himself, the leader of the Arab States a new type of socialist Jamahiriya. Prior to the mutiny of the opponents of Gaddafi and NATO bombing of Libya was one of the prosperous countries of North Africa.
Gaddafi is not just a charismatic national leader, he is the author of the so-called "third world theory" outlined in his "Green book". It provides for the implementation of direct democracy — popular participation in the management of politics and the economy without the traditional institutions of power.
Why Gaddafi turned against NATO allies and elites of the Arab countries depending on the West? The answer we find in the book of A. 3. Egorina. The author is well aware of Libya, worked for six years (1974-1980) in the Jamahiriya counselor of the Embassy of the USSR. This was the first fundamental publication about Muammar Gaddafi and the current political situation in North Africa.
Publisher: Eksmo Algorithm
Year: 2011
Pages: 240
ISBN: 978-5-699-49909-0
Series or Release: Geniuses and villains