Home
/
Politics and Geopolitics
/
/
Articles
Ankara and Tehran: Conflict or partnership?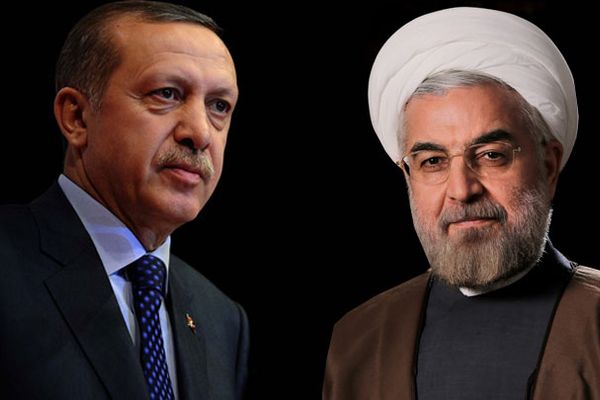 The exchange more than strong statements between Ankara and Tehran in December of the past and at the beginning of January of this year raised a question of whether not to increase to already existing list of the conflicts connected with the Middle East also opposition of Iran and Turkey. Relevance of this question especially increased after act of terrorism on January 12 in Istanbul which the USA and NATO already try to present to Erdogan and Davutoglu as argument for expansion of cooperation of Ankara with the West in Syria.
And, this point in question has for Teheran and, in a certain measure, for Moscow, quite applied value. The next splash in intensity in relations with sauditami forces the Iranian management to observe attentively of maneuvers of Turkish politicians - whether they use succession of events as a pretext for let and tactical, but enough rapprochement unpleasant to Teheran with Riyadh. Than that here it is more - aspirations of Erdogana to take from confrontation of Iran and sauditov a maximum of benefits for economy of Turkey? Or all is more serious, and it is a question of the time alliance, displacing balance of forces of region?
Immediate prospects of irano-Turkish relations are not less actual and for Moscow which decision as much as possible to "punish" Ankara while remains invariable. Eventually, for the Russian politicians it is important to have adequate idea about to what borders its position across Turkey will get support in Iran to avoid recent disappointments, such, for example, as a position of China across Crimea or reaction of some state members of EvrAzEs in a question of reciprocal antiwestern sanctions.
With what all has begun this time?
Naive would be to assert that the conflict has arisen for no reason. The position of Ankara concerning a situation in Syria was always perceived in Teheran with irritation. Also was paternal - war in this country has dissolved two states relations between which always were in a corridor between partnership and a competition, on the different parties of barricades. Support of Damascus manages to Iran since 2014 in irretrievable expenses on the sum over ten billions dollars from the budget, that is - almost 2,4 % of nominal gross national product. Bringing, thereby, expenses of Islamic republic on maintenance of foreign policy potential to dangerous line of an overstrain. But the main losses of Teheran in Syria - people, elite KSIR, selflessly betrayed to ideals of Islamic revolution.
And, these losses put including those whom Turkey supports, arms and finances. In such conditions to divide a policy and economy, than, actually, long time in bilaterial relations Ankara and Teheran, difficult enough also are engaged, sooner or later - will break through. Besides Iran within last year with the maximum suspiciousness observed of flirtation of a Turkish management with sauditami and Qatar. And though through official, semi-official and absolutely informal channels the Turkish side convinced Iranians that is a question exclusively of the decision of economic questions - crediting by money of monarchy of Turkish economy needing financial injections - it did not cause special trust. As a result, pressure has reached such point that has appeared enough information leakage in mass-media of details of telephone conversation of Erdogana with Rouhani in the beginning of December that the mutual claims which have accumulated at the parties were splashed out in public space.
Allegedly, in conversation with Rouhani Erdogan has demanded to bar performances of the Iranian mass media and the statement of some politicians for participation of persons close to it in trade igilovskoj oil. Moreover, under the statement of some sources, Erdogan Rouhani that is perfectly known to the Iranian party that this oil belongs to the Iraq Kurdistan has ostensibly told and it is not necessary, say, to the Iranian president to repeat theses of the Russian propagation.
Mentality of Iranians is that that if want problems in relations with this country - talk to it haughtily, and the request state in the form of the requirement. Reaction will follow immediately, particularly and rather unpleasantly can surprise. As, actually, also has occurred already on December, 4th when the official representative of Iranian Ministry of Foreign Affairs Hosejn Dzhaber Ansari has urged Turkey to behave more adequately, «to abstain from adventures and to bear responsibility for the chosen political position».
For mass media and politicians of Iran this statement has served as an original signal to the discussion beginning about an original role of Turkey in region. Already on December, 5th the adviser of the Supreme leader for foreign policy of Ali Akbar Velajati, a key figure in relations of Iran with an external world, has reminded a Turkish management that attacks of Erdogana «to what, except intensity forcing, will not result». It was supported by other "heavyweight", the head of the parliamentary commission concerning a homeland security and foreign policy Alovuddin Borudzherdi. Which, having rejected suspension so inherent in it, backhand hlestanul «on the patient» − has recommended Erdoganu «to deal with internal problems of the country, instead of to create new complexities in foreign policy». Moreover and naming thus the big error as the decision of Ankara to attack Russian Su-24, and input of a battalion of Turkish armed forces to Iraq.
It is natural that after these performances avtoritetnejshih in Iran politicians the local press has not refused to itself possibility to lay out everything that has already accumulated - from charges in support of terrorism to mercenary intrigues in the Iraq Kurdistan. Without having forgotten, certainly, and about strange telodvizhenija Erdogana towards Qatar and Saudi Arabia.
The Turkish president in a debt that is called, did not remain. After the events connected with capture of embassy sauditov in Teheran, he has directly charged the Iranian authorities that they have not accepted necessary measures for its protection, and, has made it so ambiguously that from implied sense, at desire, it was quite possible to draw a conclusion that as though the Iranian authorities and have organised this capture. And trace has made the statement which in general can be treated as rupture, - has charged Iran that fueling tension with Saudi Arabia, Teheran forces conditions in region. That, in general, it is conformable enough with those angry declarations which sounded on January, 9th in Riyadh, at an extraordinary meeting of Ministers for Foreign Affairs of monarchy of Persian gulf-members SSAGPZ.
Crib for Erdogana
At the unsophisticated observer and after so loud statements of the Turkish president, and after mutual public fights practically does not remain doubts that, «the great Turk», first, has decided to tear with Teheran, and, secondly, in the conflict of Iran with sauditami has definitively sided with Riyadh.
After explosion in Istanbul has appeared and thirdly: now Ankara will refuse the «a special position» in the Syrian question and completely «the international terrorism», and on the future of Syria, and a role of Kurds in all these plans will agree with sights of an international antiterrorist coalition headed by Washington and at this most. And, having agreed with last point, Ankara should recognise justice of the subsequent compensation of Kurdish efforts and the victims suffered by them thus, better to say - to agree with origin of Kurdish state formation in the Syrian territory.
To accelerate process, to Erdoganu and all Turkey have decided to explain a current political deal more in detail. As it looks in practice - the selection of the freshest citations offered more low illustrates.
The inhabitants of the American political Olympus first here, certainly. The USA support Turkey in the face of acts of terrorism and will continue support of Ankara in fight against terrorism, the representative of National Security council of the White house of Ned has declared on Tuesday the Price in connection with act of terrorism in Istanbul: «We support Turkey, the ally on the NATO and the firm partner, a valuable member of a coalition against YOKES in the face of an attack. We promise support in proceeding cooperation and the help in fight against terrorism».
Observing a subordination, the senior partner is followed by Europe.« In the circumstances demanding care, president Erdogan carried out extremely ambiguous to the policy in relation to IGIL, and only act of terrorism in Suruche in the end of July has forced Ankara to enter struggle against «the Islamic state» seriously. The act of terrorism made on Tuesday in Istanbul, has struck in the heart of economic and cultural capital through tourists, basically Germans. Logically, it should force to produce «a great Turk» revaluation of the threats which have hung over its country », writes influential French Le Figaro in the editorial stand. −« its hatred to Basharu Asadu, probably, is proved, but on it the policy cannot be under construction. Its approach to the Kurds, caused by fear before their state ambitions in region, probably, has helped it to strenghten the power on November elections, but it does not cross out that fact that Kurds are the main bastion of struggle with IGIL in Iraq and Syria ». The exit which the western mass media offer Erdoganu, is quite obvious: «the Unique method, which Erdogan can escape from this trap, − it really to join struggle which is led already by its allies on the NATO, and to refuse the illusions and compromising transactions».
Well and how without Israel? «In whole, Turkey should change today a priority sequence and to understand that the main enemy - DAISH, instead of Kurds. It is not necessary to forget that Ankara saw in DAISH and the tool of struggle against the Kurds, capable to help to torpedo an embodiment of Kurdish dream of independent Kurdistan - a nightmare for Turkey», − writes Israeli Israel Hayom. - «Today all seems to others, and the terrorist organisation« Islamic state »became the main enemy. The act of terrorism made the day before in the tourist centre of Istanbul, should force to understand Ankara that, paradoxical image, yesterday's enemies (Kurds) become tomorrow's partners in struggle against DAISH».
This original political crib is constituted extremely professionally. All accents in proper places are placed, the whip and spice-cake are present - business behind following step of Erdogana and Ankara, and, all is arranged so that this step will be only in one direction.
So what will be a choice?
But in a reality all not so is unequivocal, as also quarrel of Ankara and Teheran, and a position of Erdogana, Davutoglu and other Turkish elite are saturated by nuances. On the one hand, all looks beautifully and even is decorated by pastes. Support of the USA, gratitude of Europe, it is possible even - the demand line of credit on favourable terms from monarchy of Persian gulf. Here only Erdogan, Davutoglu, and a Turkish management as a whole at all those people who is tempted with external shine of offers. As, owing to the pragmatichnosti and healthy cynicism first of all pay attention to their wrong side.
And it persistently makes the way through iridescent light and frankly climbs in eyes. Financial injections from sauditov for needs of Turkish economy, tell? And where they money take in a slump of prices on oil? Him it is necessary to reduce the budget almost twice and the big question, whether they will give so much, how many it is really necessary for Turkey. Gratitude of Europe? It as? Suddenly will solve a question with the introduction of Turkey into EU?
Support of the USA? Remarkably, fine. But in exchange for it Turkey should go on that the hands to create scale threat of own homeland security - to agree to creation in Syria the Kurdish state, moreover and with representatives of the party of the democratic union (PDS) / Groups of national self-defence (ONS). Americans who see in them shock group of a coalition against «the Islamic state», Erdogan has told About cooperation with them still on September, 24th, 2015: «the Statement of the USA has disappointed me as we consider PDS/ONS as the terrorist organisation». Moreover, them consider closely connected with the Workers' party of Kurdistan (RPK), making acts of terrorism in Turkey throughout last 20 years.
At all disagreements of Turkey with Iran concerning Syria there is one interesting moment. What for today is strategic interests of Ankara? The first: not to admit formation of the Kurdish state in Northern Syria. The second: to constrain groups of radical Islamites. The third: to promote formation of the new government in Syria which will be under the control of Turkey. If to clean the third point, or at least to make its subject of dialogue with Teheran positions of two countries do not look so antagonistically. Anyway - there is a certain corridor of possibilities where it is possible to agree taking into account own interests. But here refusal of Turkey of the first point - means for it strategic loss on prospect. Without variants. And if to it to add potential of irano-Turkish economic cooperation, prospect of achievement of a trade turnover in 35 billion dollars, 10 mlrd cubic metre of the Iranian gas annually and still set of strokes - that the choice of Erdogana and Ankara for benefit of confrontation would look at least not logical and is exact not the pragmatic.
*******
Attracts attention that during the most dramatic moments of present quarrel between Teheran and Ankara the parties nevertheless do not cross certain «red lines» behind which return to partnership becomes impossible. Both in Turkey, and in Iran perfectly realise both mutual nuzhnost, and responsibility for preserving of labour relations as stability guarantees in region. Both there, and there to go on the serious conflict, apparently, do not intend. Behind a word, as required, as they say «into a pocket will not get», but thus keep limiting adequacy and a pragmatism: the public rhetoric is one, and here thin business of mutually advantageous partnership - absolutely another.
---
Source: http://www.iran.ru/news/analytics/99793/Ankara_i_Tegeran_Konflikt_ili_partnerstvo#prettyPhoto