Home
/
Politics and Geopolitics
/
/
Articles
Iran is ready to bring down the price of oil to $20 per barrel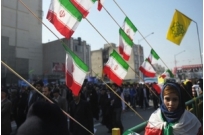 The members of OPEC left the target for oil production unchanged - it will be in the near future 30 million barrels a day, this means that Iran and Iraq have very little information about their interests just forgot. Vengeful Iran immediately promised to make price war, even if this will bring down oil prices to $20 per barrel.
On Wednesday Iran and Saudi Arabia entered into open conflict over increasing oil production, writes the Financial Times. Iran wants to increase oil production, despite OPEC left production targets for next year unchanged at 30 million barrels a day.
The oil cartel controls about a third of the global oil market.
OPEC is one of the few sources of spare capacity, and therefore has a significant impact on prices.
But OPEC now have to cope with the growth of oil production in the USA, and also with the ambitions of Iraq and Iran - these two members of the cartel want to increase oil production, despite the aims of the group.
Inspired Tehran agreement on nuclear programme, which the government concluded with the countries of the West 10 days ago. Now the authorities hope that they will be able to make a deal and completely remove imposed on the country sanctions. Iran hopes to increase production from the current level of 2.7 million barrels per day. Iraq also plans to increase production next year by 1 million barrels per day to 4 million Iranian oil Minister Bijan Zanganeh in Vienna said that the country is ready to unleash a price war to increase oil production even if the price will fall.
"We will reach 4 million barrels a day, even if oil prices fall to $20," said Zanganeh. Other participants of the OPEC have to cut production to support prices on the market, where it will back Iran. Strong statements from Iran are that it prepares the ground for future negotiations with Saudi Arabia, the real leader of OPEC. Saudi Arabia will have to cut production to enable Iran and Iraq will return to the markets. The Kingdom increased production to a record 10 million barrels per day to offset the decline in production from other OPEC members. While in Saudi Arabia do not believe that Iran and Iraq will be able quickly to increase production and return to the markets.
"You know what will happen if prices fall to $20 per barrel? Do you know how many countries will have to cease production, including shale oil, oil Sands from Canada and pre-salt sources. All this will be lost," - said the Minister of oil of Saudi Arabia Ali al-Naimi.
The average price for Brent crude this year is $110 per barrel, which is higher than informal OPEC target. The growth of shale oil in the US was offset by disruptions in production in Nigeria and Libya. On Wednesday, Brent crude rose to the highest level in two months - $113 per barrel. After OPEC's decision oil prices fell slightly, but quickly recovered. While in OPEC believe that the main threat to oil prices is the slowdown of the economy rather than increase the supply. However, there are signs that OPEC is considering the possibility of supply reduction next year, if the U.S. will continue to take a share of the oil market, as Iraq and Iran can increase production.
---
Source: FINMARKET