Home
/
Politics and Geopolitics
/
/
Articles
Iran and Russia closer together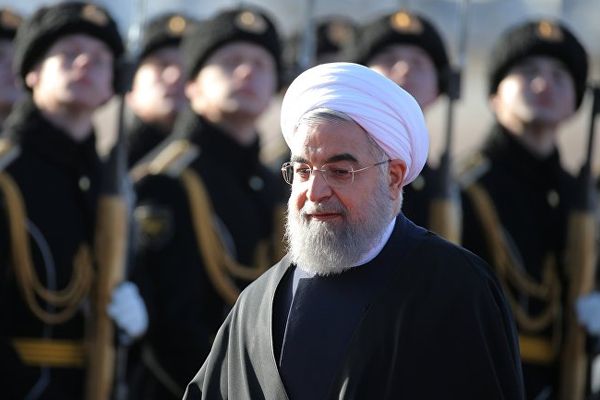 Istanbul — amid declining influence of the United States in the middle East, Iran and Russia join forces to strengthen its position in the region. They enhance political and diplomatic ties as well as to strengthen joint operation in Syria.
On Monday, Iranian President Hassan Rouhani arrives in Moscow to meet with Russian President Vladimir Putin that can be considered a sign of closer relations between the two countries. Apparently, this will be the last important visit to, Rouhani is scheduled for may re-election.
Russia and Iran fight together against the Syrian rebels. They are trying to oust the United States from regional diplomacy, and themselves together, acting as a bulwark against the West.
At the meeting on Tuesday, Putin and Rouhani, according to official information, will discuss projects in areas such as energy, infrastructure and technology. However, according to unofficial sources, the main topic on the agenda, apparently, is their tacit Alliance in the middle East.
"The upcoming visit underlines the important place Russia occupies in the Iranian foreign policy. For Russia, Iran is one of the most important political allies," said Mohsen Milani (Mohsen Milani), Executive Director of the Center for strategic and diplomatic studies University of South Florida (Center for Strategic and Diplomatic Studies at the University of South Florida).
Iran "plays a key role in the long-term strategy of Putin's efforts to become a major player in the middle East," said Milani, who is also the author of the book "the Islamic revolution in Iran: From monarchy to Islamic Republic" (The Making of Iran''s Islamic Revolution: From Monarchy to Islamic Republic).
However, Iran and Russia, konkuriruyushchie with each other on global energy markets and publicly arguing about the slowdown in transactions in the field of weapons, has never been traditional allies. For decades they were suspicious of the intentions of the other, and their leaders have been cautious against expanding ties.
However, the level and extent of cooperation — including Russia's use last year of an Iranian airbase for operations in Syria are, according to analysts, is unprecedented. Their partnership is underpinned by shared objectives in Syria, where rebels are threatening Syrian President Bashar al-Assad, an ally of both Iran and Russia.
"Since Russia is heavily involved in Syria, relations between Moscow and Tehran are in a new phase," said Geranmayeh Ellie (Ellie Geranmayeh), a specialist in the field of politics and senior fellow, European Council on foreign relations (European Council on Foreign Relations).
When in Syria in 2011 began an uprising in this country was the only Russian military base in the middle East. And for Iran, Syria has provided a stable corridor through which it was possible to send weapons and cash to the Lebanese Hezbollah.
When the Obama administration considered the question of intervention to help the Syrian rebels, Iran and Russia stepped up support for the Syrian regime by sending arms and their military. Russia has provided air cover for Iranian military advisers and his henchmen on earth. As a result of this coordination, the rebels in Aleppo were defeated, which gave the opportunity to Iran and Russia — together with Turkey — to organize peace talks, which were supplanted by the United States.
"If you look at Syria, and also on how different the situation is there, we can say that it has become a melting pot of cooperation between Tehran and Moscow have moved their political relations to a new level of military cooperation"," — said Geranmayeh, which focused on Iranian foreign policy.
According to Geranmayeh, the various power factions in Iran have long advocated for closer cooperation with Russia. However, the moderate government of Rouhani insisted on a more balanced foreign policy, which eventually facilitated the conclusion of the nuclear deal, which was lifted the UN sanctions and other sanctions.
However, the turn to the West was not as fruitful as expected, and Rouhani at home is under fire due to the fact that he was unable to achieve economic progress.
On the eve of elections in Iran, "Rouhani is trying to strengthen its position and to show that, wanting to continue negotiations with the West and with the United States, it is also intended to strengthen ties between Iran and Russia," said Milani.
In addition to possible consequences at home, Iran is also concerned that Putin may normalize ties with trump administration, which, it seems, is more friendly towards Russia. About Iran the President trump took a tougher stance than its predecessor, and has twice acted as a "warning" to Tehran.
"Tehran is very concerned that Moscow can use Iran as a bargaining chip to improve relations with Washington," said Maxim Suchkov working in Moscow editor for coverage of Russia relations — middle East online portal Al-Monitor focused on the middle East problems.
This is a question about which "Rouhani may need if not a solid guarantee, then at least some confidence" that Putin will not undermine Iran's position, said Knots.
The same fears exist among Iranian leaders about Russia's relations with Israel, which strikes on Hizbollah, and Iranian ground forces in Syria.
Rouhani wants to persuade Putin to persuade him to ensure that he refused to help Israel in its actions against Iran and "from the provision of tel Aviv sensitive information" that could damage the position of Iran in Syria, stressed Knots.
Although the Israeli factor, according to Geranmayeh, limit Iranian-Russian relations, Moscow is unlikely to be "to even consider the idea of marginalization of Iran in Syria, especially at a time when the Iranians show that they are quite effective partner on the ground."
"Russia is not without the bases considers itself a global player and sees Iran as an important regional player, which should be taken into account, she said. — Iran, however, is not necessarily superior in its impact on such important regional players like Israel." Some members of the administration trump believe that "for the United States it will be possible to take a tougher stance on Iran and maintain good relations with Russia in Syria, said Milani. But you need to have exceptional talent in order to carry out such a diplomatic coup," he added.
Cooperation between them is developing successfully not only in the world — "the relations between Iran and Russia are much more comprehensive and not limited to only the future or the future of Assad's Syria," said Milani.
Erin Cunningham
---