Home
/
Politics and Geopolitics
/
/
Articles
Iran will move "Turkish stream"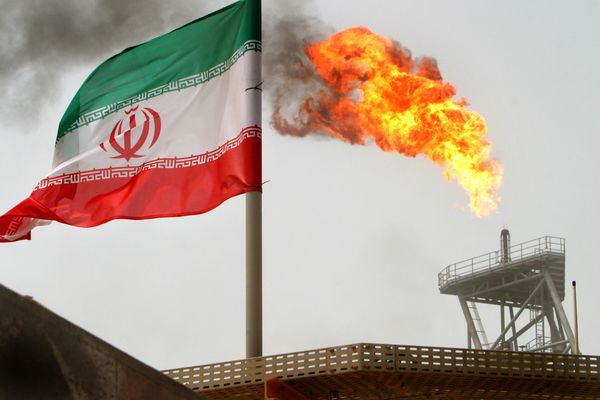 Iran wants Turkey to supply gas to Europe. The Islamic Republic is a direct competitor to Russia on the market of both the EU and Turkey, which Moscow has resumed talks on Turkish stream". Ankara uses Tehran as a bargaining chip in negotiations with "Gazprom" — the threat of a potential supply may force the Russian company to give the Turks a discount.
"We have the political will to continue cooperation. We are ready to work together on energy issues, electricity connection and gas transport to Europe", — said the Minister of foreign Affairs of the Islamic Republic of Iran Javad Zarif following the talks with his Turkish counterpart Mevlut Cavusoglu. He added that Tehran is ready to consider the possibility of increasing gas supplies to Turkey and even considered this topic a priority.
Currently, Iran supplies Turkey with about 9 billion cubic meters of gas per year via the pipeline, with a capacity of 10 billion cubic meters. A large part of Turkish gas consumption (about 60%) provides Russia. According to "Gazprom export" in 2015, Turkey has purchased 27 billion cubic meters of Russian gas, ahead of Italy (24,42 billion) and becoming the second largest European contractor of "Gazprom" after Germany, which purchased of 45.3 billion cubic meters.
According to British BP, the Islamic Republic of Iran has the world's largest gas reserves (33 trillion cubic meters, 17-18% of the world). Gas reserves of Russia, according to BP, is at 32.9 trillion cubic meters. Russian "Gazprom", however, private reserves are estimated at 36 trillion cubic meters.
Iran since the days of the Nabucco gas pipeline project is going to deliver its gas to Europe. But this project failed at that time the President of Iran was Mahmoud Ahmadinejad (left the presidency in 2013), and with it the European Union to deal not wanted.
Previously, Iran has stated that it intends to supply Europe with 30 billion cubic meters. However, the pipeline infrastructure for this yet, and at the moment Iran focuses on liquefied natural gas (LNG). The Iranians intend to build 60 million tonnes of liquefaction.
"Technological corridor for supplies to Turkey (and Europe) from Iranian gas is already there, and you can extend it, — commented a leading expert of the Union of Industrialists of Russia Rustam Tankan. But we should not forget that this corridor passes through the territory of the Kurds, which in fact nobody, except themselves, are not controlled. While Iran had something to do with them agreed to supply to Turkey."
According to Tankaev, Iranian gas in any case will come to Europe, where they will make a serious competition "Gazprom" on the markets of South-East EU.
"Iran will supply 30-35 billion cubic meters (about 1/5 of the European supply of "Gazprom" taking into account Turkey. Last year they amounted to 158 billion cubic meters. — "Газета.Ru") — says the expert. — Europe still not too fond of Iran, but Russia too. And two competing provider is always better than one."
Deputy head of the national energy security Fund Alexei Grivach believes that talking about the supply of Iranian gas to Europe too early — there's no infrastructure, no concrete agreements. "Iran now chooses to orientate him to the markets of Europe or Asia, — says Grivach. — At the same time we should not forget — and the Iranians have in mind, that Western sanctions were lifted only in early 2016. At any moment they can be restored."
Turkey is becoming a popular route for gas supplies to the EU, and this can cause a conflict of interest. More recently, in connection with the improvement of Russian-Turkish relations, Moscow and Ankara returned to the project of the gas pipeline "Turkish stream".
Initially it was assumed strip of four lines with a total capacity of 63 billion cubic meters, and one branch (14-15 billion cubic meters) was to ensure the consumption of Turkey, and the rest — to serve the supply of gas to Europe.
But now we discuss only two branches (31-32 billion cubic meters), and, according to Russian energy Minister Alexander Novak, second will be only subject to the interest of Europe in Russian gas.
All this is happening against the backdrop of the intensification of energy cooperation between Russia and Iran, including gas. So, in early August it became known that "Gazprom" has sent to the Iranian authorities ' request for participation in projects for liquefied natural gas. And on Friday, RIA "Novosti" with reference to the Russian Ambassador to Iran Levan Canarana reported that Gazprom and Gazprom Neft agree on the text of Memorandum of cooperation on developing oil and gas fields in Iran with the National Iranian oil company (NIOC). In addition, according to Canarana, in entering the Iranian market is interested in "Rosneft" and "LUKOIL".
"It is not excluded that Russia and Iran will coordinate their actions to dictate the terms of gas supplies to Europe," — says the Professor of the Higher school of Economics political analyst Nikolai Petrov.
But also, in his words, it seems that Turkey is using Iran as a bargaining chip in negotiations with "Gazprom". The threat of potential supply of Iranian gas through Turkey (and her) may force the Russian company to give the Turks a discount.
Aleksey Topalov
---
Source: http://www.gazeta.ru/business/2016/08/12/10122737.shtml