Home
/
Politics and Geopolitics
/
/
Articles
Rapprochement of Azerbaijan with Saudi Arabia will cause anger of Iran and Russia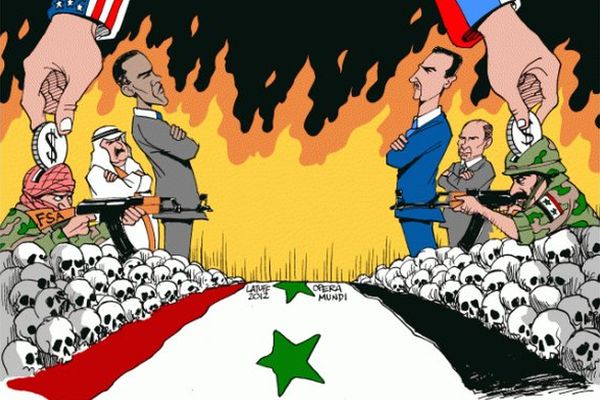 Aggressiveness of Saudi Arabia in its relations with the Islamic Republic of Iran reached a new boiling point. What new problems will be introduced by the extending opposition of Riyadh and Tehran in a difficult situation in the world? What new challenges will be thrown down by this opposition to politicians of the region and to all other interested parties?
The factor of king Salmana
All this geopolitical mess becomes more interesting in connection with accepting consequences in reviving Saudi Kingdom so-called «Doctrines of king Salmana». On January, 23rd year will be performed exactly from the moment of the introduction of Salmana ibn by Abdul-Aziza Al Sauda on a throne of Saudi Arabia. On a basis of its doctrine last year the coalition from more than ten countries with a goal of the struggle in Yemen against movement husitov and returnings in the power of president Abd-Rabbu Mansura Hadi has been generated headed sauditami.
Yemen which is in original soft podbrjushe the Saudi states, has important strategic values for Kingdom safety. In the end of the last year «the Doctrine of king Salmana» has been renewed and added. On December, 15th, 2015 the son of king Salmana, the assistant to the crown prince and Minister of Defence Muhammad ibn Salman Al Saud declared creation Islamic sunnitskogo a military alliance.
The doctrine of king Salmana thus extends for limits of Yemen. King Salman and heads of Saudi Arabia begin the following stage of advancement of interests of Riyadh on international scene, showing unity and resoluteness in region and before those international figures who have the interests in the Near East. In other words, the Kingdom amplifies to resist to extremism and terrorism in its forms, and for the sake of consolidation of the Islamic world against those who aspires to subvert religious values and political imperatives, it is natural how heads of Saudi Arabia understand them.
The assistant to crown prince Muhammad ibn Salman Al Saud has conducted on December, 15th, 2015 unusual night press conference only for the Saudi journalists. He declared creation new «an Islamic military alliance» for struggle against "Daish", i.e. «the Islamic state» as it name in region, and al Kaide. Declaration as Muhammadom ibn Salmanom of idea of creation of this sunnitskoj religious force, this grandiose project, has rather puzzled politologists, diplomats and the experts who are taking up the problems of this difficult region. Many ask a question: what stands up for similar step of the son of the king of Saudi Arabia? About what he thinks?
There is one main answer: Muhammad ibn Salman approves that rendering of the mutual antiterrorist help «on all Islamic world» will be the purpose of an Islamic military alliance, in particular, in Afghanistan, Egypt, Libya, Iraq, etc. Muhammad ibn Salman also approves Syria that «Today each Islamic country struggles with terrorism individually».
Besides, the assistant to the crown prince declares that the new alliance «starts with eagerness of the Muslim world to struggle against this illness which has harmed first of all to the most Islamic world, and already then to the international community as a whole». This Islamic aspect is important, as Muhammad ibn approves Salman that the belief prohibits «corruption and destruction in the world», and that the terrorism is «gross infringement of human advantage and the rights, in particular, rights to live and rights to security».
It is necessary to notice that anywhere in its statements there were no direct mentions of Shiits. Certainly, short of that fact that Iran, Iraq, and, of course, Syria, have not been included in a railroad train of a new coalition. Thus Lebanon has been for some reason declared sunnitskoj by the country and is included in a new alliance.
Iran has sharply reacted to actions of Saudi Arabia, especially in the light of execution by the authorities of Kingdom of Shiit preacher Nimra al-Nimra and the followed rupture of diplomatic relations. The boss of Iran ajatolla has warned Ali Hamenei that Saudi Arabia is threatened with "immediate divine revenge». The Iranian public also has reacted roughly enough. The newspaper «Vatan Emruz» considers that murder al-Nimra «has resulted weak bases of the blood-thirsty government of Saudi Arabia more close in its definitive crash». In the newspaper "Hemajat" approve that the authorities in Riyadh should understand that supporters of the executed cleric in region "will revenge". Even reformist "Shark" declares that «this irresponsible act can aggravate religious intensity in region» and warns Teheran «not to be retracted in dangerous game of Riyadh».
Again big opposition
The world again on a threshold of the big opposition sunnitskogo and Shiit Islam. Riyadh wants to reboot a regional order through isolation of Iran and to force Islamic Republic to recede, having opened it «malicious intentions» not only in region of the Near East and the North Africa, but also all over the world. For many years Riyadh and Teheran were contenders in struggle for hearts and minds Muslim ummy. Davat (Muslim prozelitizm) is the main weapon in this struggle.
Nevertheless, in a combination to a policy Riyadh sees that Teheran moves ahead more successfully and quickly because in its house the order reigns. Thus, Riyadh tries to rally sunnitsky the house which sees a number of threats for the organisations not only from «the Islamic state» and al Kaide, but also from Islamophobia in Europe and in the West. In other words, the Kingdom wants to meet crisis inside sunnitskogo communities, to unite all countries for a new wave of protection of values and belief, against more and more becoming complicated ummy which aspires to overcoming of the new conflict between sunnitami and Shiits. Now according to the Saudi point of view time for the keeper of two relics has come to represent itself as the regional and global leader.
Direct, basic influence of considerable religious split can be observed on an example of diplomatic initiatives in Syria and Yemen. Saudi Arabia sees that its policy and desire gradually fade into the background at these major international negotiations. Concerning Syria sauditam it was necessary to endure a failure organised by them in Riyadh conferences on consolidation of all Syrian opposition for negotiations. All hopes of Riyadh have been literally buried, when as a result of the Russian aviablows head of movement "Dzhejsh al-Islam" Zahran Allush along with five other high-ranking heads of this group, affilirovannoj with al Kaide was lost.
In addition to all saudovtsy in fury of that Russia and the United States have agreed among themselves that the president of Syria Bashar Asad remains in a post till 2017 for the period of a transition period. For Saudi Arabia it means that America was completely disconnected from the Syrian political process, and new priorities of a policy of Washington in region will be determined by already following administration.
On the Yemen front Saudi Arabia still sees that Iranians completely support revolt husitov. Because of proceeding failures of military operation by the headed Saudi Arabia «the hope Renaissance», and more and more frequent rocket attacks and military expeditions husitov in southern Saudi provinces of Dzhizan and Nadzhran, Riyadh considers negotiations fruitless in this supercharged atmosphere. At once after rupture dipotnosheny with Iran Saudi Arabia has cancelled the mode of a cessation of fire established during the Geneva negotiations between the parties of the Yemen conflict. Now the former president of Yemen Ali Abdalla Saleh in revenge threatens to get more deeply on territory of Saudi Arabia with those armed forces which it controls. As a whole, these key combat zones still for many years will not see the world.
The most dangerous in this religious confrontation is that it directly interferes with direct participation of Iran in struggle against «the Islamic state» and al Kaide in Levant. Teheran is the integral and extremely important participant of struggle on destruction of this infection which is the main threat for form's sake and safety in the Near East. The Saudi actions against Iran only encourage «the Islamic state» both al Kaide to attack Riyadh and its supporters. From the very beginning of the saudovsko-Iranian contention about weeks ago salafitskie extremists began to call for attacks on the Saudi purposes, including policy stations and prisons. While saudity are occupied by struggle against Shiits, salafitskie extremists will try to expand the influence in the Saudi Arabia.
On the other hand, it is known that supporters and agents of Iran within several years harboured designs on an attack to Saudi Arabia and interests of its allies in this connection in a southern unit of Iraq they had been massed a considerable quantity of arms for use in purposeful campaign to sweep.
That is, we deal with a paradoxical situation in which salafitskie extremists and Iran have the same opponent. Some my interlocutors from Gulf States already enough frankly say that the rash actions a dynasty Sauditov practically commits suicide and can lead to Kingdom disorder.
Saudi Arabia against Iran outside of the Near East
Outside of region of the Near East and the North Africa interests of Iran and Saudi Arabia also face in a number of the key countries. For example, in Tajikistan saudity through the Center of king Salmana on the humanitarian assistance direct to Dushanbe of hundred millions dollars as the help to this country. Iranojazychnyj Tajikistan - the former Soviet republic, and nowadays member ODKB - becomes now an original outlet for Riyadh. On a twist of fate the president of Tajikistan Emomali Rahmon has discussed with king Salmanom and his son cooperation questions in the areas representing mutual interest, including and fight against terrorism. Telodvizhenija Rahmona who has own problems with «the Islamic state» and distribution of the conflict from the next Afghanistan, guard not only Iran, but also Russia which observes how saudity aggressively push the interests on their own backyard. Besides, Tajikistan has declared that considers the offer to join the Islamic military alliance proclaimed Saudi Arabia. Time will show, whether external forces, such as Russia will allow, to occur to it, considering flowing geo-konfessionalnuju struggle.
While Saudi Arabia is consolidated in the south of Central Asia, Riyadh, seemingly, also intensifies the forces in the Pakistan province Beluchistan for the organisation of an attack of local insurgents-separatists on the Iranian policemen in the Iranian province of Sistan-Beludzhistan. This mainly sunnitskaja a province was a source of excitements and attacks of Islamic insurgents against the Shiit authorities of Iran. Bomb explosion in the beginning of December, 2015 has led to death of several policemen and three civilians.
This event foretells that saudovtsy can intensify the support for blows across the Iran. "Dzhejsh al-Adl" (justice army), radical grouping which struggles for the rights sunnitov in the southeast of Iran, most likely, will get secret support from Saudi Arabia, is similar to support of extremists by Riyadh in Syria. Other groups which also can participate in this game, it is probable "Ahl-e-Sunnat Vaj Dzhamaat", supporters of a rigid line from "Dzhamiat Ulema-e-Islami-Nazrijati" (Жуй-N) and "Dzhamiat Ulema-e-Islam-fazal" which are about-dzhihadistskimi groupings.
Problem prominent aspect is how should lead itself Azerbaijan in an opposition situation between Saudi Arabia and Iran. Formally Azerbaijan is considered the Shiit country, but any keen observer knows that this definition is cultural, instead of religious. Baku does not have any real religious affinity with Islamic Republic. Instead in relations between two countries more significant role is played by ethnic friction. The Azerbaijan relations with Saudi Arabia are based on cooperation in the field of power and fight against terrorism.
The energy factor has crucial importance for long-term objectives of the country in the field of investigation and oil and gas transportation, but at the same time suffers from the low prices for oil. Nevertheless, the idea of the introduction of Azerbaijan in an Islamic military alliance headed by Saudi Arabia also is fraught with danger. Though Baku also knows that some hundreds Azerbaijanians struggle in numbers of "the Islamic state» in Levant and Afghanistan, rapprochement with Riyadh at the given stage can cause anger not only Iran, but also Russia. Azerbaijan has again got to a vice between neoimperial and religious conflicts.
As a whole, religious confrontation between Saudi Arabia and Iran does not foretell anything good on variety of political arenas. 2016 most likely becomes year of new dangers behind which the countries of region of the Near East and the North Africa should watch closely and try to undertake all necessary actions to remain neutral how much it is possible, simultaneously supporting the economic growth. Tasks on the future not so are simple.
Teodor Karasik
---
Source: <http://haqqin.az/news/60861>