Home
/
Politics and Geopolitics
/
Present and future of Europe
/
Recommended
Fomin A. M. `War. Great Britain and France in the struggle for the "Ottoman legacy". 1918-1923`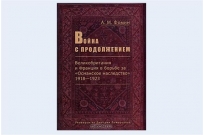 The monograph highlights the important aspect of forming a new international order after the end of the First world war. The parameters of this procedure depended largely on the relations between great Britain and France - only the great powers of the victorious coalition, participated in the war throughout it.
Anglo-French relations were complicated by a large number of contradictions, and the question of the postwar fate of the peoples and territories of the vanquished Ottoman Empire caused no less controversy than the process of peaceful settlement in Europe. It was at this time the political map of the Middle East with the active participation of the great powers become more close to modern. In the work on the basis of a wide range of sources (diplomatic documents, parliamentary debates, press, journalism, memoirs and diaries of political figures) detailed coverage of the middle East post-war aspect of the existence of the Anglo-French Entente. Shows the impact of the "Ottoman legacy" in the process of gradual weakening of the Anglo-French Alliance.

For historians, Orientalists, students, postgraduates, academics and anyone interested in the history of international relations and the middle East.
Publisher: Russian Fund of Assistance to Education and Science
ISBN 978-5-91244-041-0;
2010
Buy in Amazon: