Home
/
Politics and Geopolitics
/
Arctic and Antarctic in modern geopolitics
/
Events
The Arctic and the national security interests of Russia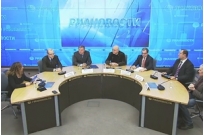 Multimedia round table on the theme: "the Arctic and the national security interests of Russia".
14 January 2014 the Ministry of defence of the Russian Federation stated that one of the major challenges for the Russian military will be the development of infrastructure in the Arctic. Earlier the President of Russia Vladimir Putin has repeatedly emphasized the high priority of development of Arctic regions. The Arctic is an integral part of the Russian territory, where rich natural resources. Climate change, accompanied by the melting of the polar ice caps and foreshadow a growing interest in the Arctic region by other Arctic States, primarily the USA, which has already announced about increasing its military presence in the region.

What awaits the Arctic in the future? What challenges will have to be Russia? How Russia should defend its interests in the Arctic region? These and other questions were discussed by experts – participants of the event:
— first Deputy Chairman of Committee of Federation Council on defense and security Nikolai FEDORYAK;
— Director of the Institute for political and military analysis Alexander SHARAVIN;
— General Director of the Center for strategic estimates and projections Sergey GRINYAEV;
— Vice-President of the Academy of geopolitical problems, Konstantin SIVKOV;
— leading researcher of the Institute of international security problems Russian Academy of Sciences Alexey FENENKO;
— head of Department of disarmament and conflict resolution Center for international security, IMEMO ran, RIAC expert Andrey ZAGORSKY.
---
Source: http://pressria.ru/pressclub/20140123/948905563.html