Home
/
Politics and Geopolitics
/
Arctic and Antarctic in modern geopolitics
/
Events
The Arctic: defense of Russian interests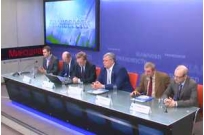 Multimedia round table on the theme: "Arctic: defense of Russian interests". The President of Russia Vladimir Putin on 22 April at a meeting of the Russian security Council ordered the creation of a new state body for Arctic development. Also the meeting discussed issues of ensuring security in the region, aggravated on the background of increased attention of the countries concerned to the development of energy resources on the Arctic shelf.
What are the achievements and perspectives of Russia in this area? What are the key areas of international cooperation?

The event was attended by:
— Deputy Chairman of the Committee of State Duma on natural resources, environment and ecology Mikhail SLIPENCHUK;
— Deputy Director of Institute of geography RAS Arkady TISHKOV;
— Deputy Director of Institute of oil and gas problems of the RAS, corresponding member of Russian Academy of Sciences Vasily BOGOYAVLENSKY;
— Vice-President of the Russian Association of international law of the sea Alexander VYLEGZHANIN.
— General Director of the Center for strategic assessments and forecasts, military expert Sergey GRINYAEV.
---
Source: http://pressria.ru/pressclub/20140425/949213354.html