Home
/
Politics and Geopolitics
/
Arctic and Antarctic in modern geopolitics
/
Articles
DCF will develop a technique to deep-sea mining in the Arctic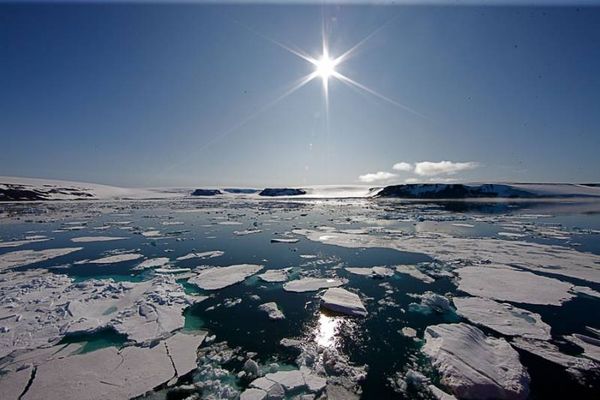 The Foundation for advanced studies (DRF) in the framework of the project "iceberg" will seek technical solutions for the extraction of deep-sea deposits of solid minerals on the shelf of the Arctic and the World ocean, reports FPI.
"Synthesis of proposals of Federal Executive bodies and organizations on the creation of technical-technological solutions of the development of tight oil and deepwater deposits of solid minerals in the World's oceans, including the continental shelf, we will be systematized and offered for consideration at the next meeting of the Fund in October," said project team leader direction physico-technical research of FPI Victor Litvinenko.
As noted the head of Fund Andrey Grigoriev, the international community stands on the threshold of developing the World ocean as a space in which concealed large reserves of mineral resources, comparable and even surpassing a similar resource potential of the continent. According to him, it is not just about hydrocarbons, which first attracted the attention of state and mining companies, but also about rare earth minerals.
"According to the experts, the continental shelf of the Arctic contains up to thirty percent of all offshore hydrocarbon reserves in the world. But the development of the Arctic is not only a vital priority for our state, but also serious technological challenge. To get the richest resources of this, years of ice sealed emergency ration of mankind, can only one who will have a revolutionary to date knowledge and technologies", — said Grigoriev.
He also added that the advanced research Foundation and the Central design Bureau for marine engineering "Rubin" with participation of the Ministry of defense, Gazprom, Rosneft, Rosatom and the United shipbuilding company (2013) conducted a study of the possibility of creating technology for subglacial development of hydrocarbon fields in the area year-round ice cover in the Russian Arctic.
"Stocks of raw materials on land is intensively developed, increasing their cost of production, and at some point, the development of deep sea minerals will be comparable from the point of view of costs. And at this point it would be good to prepare to have the legitimate right to develop mineral resources, at the moment, which is the province of all mankind, to have reliable information and efficient technology for their production", — said Grigoriev.
The advanced research Foundation (DRF) was established in 2012, by analogy with the U.S. Agency DARPA, which is responsible for the promotion of innovation in the U.S. Armed forces. Currently, the Foundation runs more than 50 projects, they set up a laboratory at leading universities and research institutes of the country. At the end of 2015 in the structure of FPI was created by the national center of technology development and the basic elements of robotics.
---