Home
/
Politics and Geopolitics
/
Arctic and Antarctic in modern geopolitics
/
Recommended
Zotikov, I. A. "the Antarctic subglacial lake Vostok"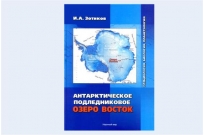 This is the first book in the world dedicated to the history of the discovery and exploration of lake Vostok, one of the largest, only several times smaller than the Baikal, the freshwater lakes of the world located under four-kilometre thickness of ice in Central Antarctica.
The discovery of this lake is an important geographical discovery of the second half of the twentieth century.
Publisher: world Scientific
ISBN: 978-5-91522-170-2