Home
/
Politics and Geopolitics
/
Arctic and Antarctic in modern geopolitics
/
Articles
China and the Arctic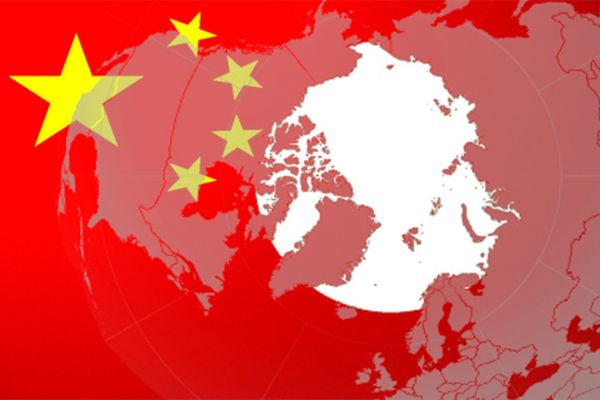 Although, China is neither a part of the Arctic region nor a member of the Arctic council, but, has a status of an observer state. For last few years it is increasingly focussing on the region and trying to integrate itself with the region through its near Arctic state policy. Its recent initiative "Polar Silk Route" presents a new dimension of the new Arctic Sea Route or North Sea Route of Arctic. Ever since China declared its one belt one road (OBOR) policy under the new silk route strategy to expand its geo-economics power, it has been is working to connect itself with the different parts of the world through different projects as well as sea and land connectivity in different stages, like China Pakistan Economic Corridor (CPEC).
Now, through a white paper on Arctic, China has shown its ambitions and intention to integrate itself with the region. Though, China has overtly accepted its interests in Arctic to develop energy resources, tourism, shipping routes, global infrastructure network, and Arctic digital connectivity, but most of these goals are a part of its long term strategy. But, its immediate ambition is to exploit oil and natural gas resources of the region if it able to successfully convince the Arctic region states (ARS) including Russia. China's successfully presence in Arctic region will also give it leverage in areas lying north of Japan, North Pacific Ocean and more importantly near Alaska.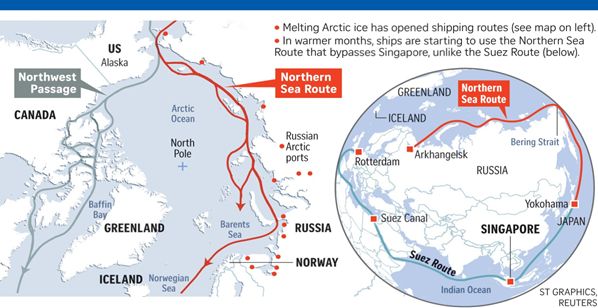 Figure: Map of Northern Sea Route of Arctic
Source: Straitstimes, Singapore, available at http://www.straitstimes.com/singapore/how-arctic-developments-affect-singapore
Recently Russia has also announced its policy for investment in its Far Eastern Region, and in present scenario China is only potent investor in the region. Americans and European investors may not invest in this region because US has already put economic sanctions against Russia therefore, China's investment in the region can give it a geostrategic advantage for its Arctic policy also. Unlike in the past, navigation in the Arctic is not impossible now, only in 2013; seventy one heavy ships sailed through its Northern route. There is strong possibility that in future this rout will open in all seasons of the year. China will certainly be its beneficiary because currently a Chinese ship to reach Northern Europe has to travel longer distance, for instance to reach Hamburg from Shanghai will be 2,800 nautical mile shorter then Suez Canal. China also wants reduce its dependency on Malacca Striate for security reasons. Therefore, opening of this route it will save lot money and time and bring a big market of Europe much nearer to China.
In the current situation and in immediate future also it may not be possible to navigate through northern route of the Arctic throughout the year. But, China's policy to establish its facilities like oil and gas exploration centres, research centres and tourist centres it will give it a leverage whenever navigation is possible. Therefore, northern route of Arctic is an important part of Chinese Arctic policy.
Another important part of the China's Arctic policies is control and governance of the route. For this China will be dependent on Russia and other states as well as other stakeholders to operate its Arctic policy.
In South China Sea, China has refused to follow the United Nation Convention on Law of Sea (UNCLOS) decision, but, in the Arctic it has promised and shown its willingness to follow the UN charter, UNCLOS decisions, treaties on climate change and environment and relevant rules of the International Maritime Organization. But, if the China follows all international obligations including the decisions of UNCLOS, it may have clash with US and Russia because US has not totally ratified the UNCLOS, and many other Arctic states also do not recognise Russian claims over the Arctic region.
Only future will tell about the success of the China's Arctic policy and is actions in the region, but it is sure that its success will largely be dependent on Russia's cooperation because it is not only most powerful state of the region but has de facto control over the region. It will also be difficult for China to challenge Russia's position in Arctic because for different other issues at the global level China needs Russia.
Dr. Javed Zafar has done Ph.D in Geopolitics from Jamia Millia Islamia, new Delhi. He is expert in Political Geography, Geopolitics, Geo-strategy and Energy