Home
/
Politics and Geopolitics
/
Arctic and Antarctic in modern geopolitics
/
Recommended
Lukin Y. F. "the Russian Arctic in a changing world"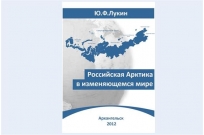 In his new work deals with the current issues of the Russian Arctic in the modern changing world. Presents the author's interdisciplinary model of the multilayered space of the Arctic, performance ethnocultural landscape.
Analyzes current issues of geopolitics and evolution trends of Arctic space. The article examines the stages of formation and implementation of policy of the Russian States, Arctic breakthrough Vladimir Putin is strategically important practical steps of Russia on the revitalization in the Arctic in 2012. As a national transport communication considers the Northern sea route. Performed SWOT analysis of the agreement concluded between Russia and Norway, shows the Arctic ambitions of neighbors.
The publication is aimed at experts, politicians, University professors, graduate students, undergraduates, students, anyone interested in these issues. It will be useful for those engaged in geopolitics, regionology, the history of development of the Arctic zone.
---