Home
/
Politics and Geopolitics
/
Arctic and Antarctic in modern geopolitics
/
Articles
Medvedev gave the Norwegians a sea of oil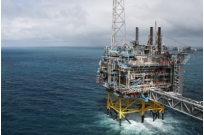 In Norway – national euphoria. On the part of the Barents sea shelf, which yielded the Oslo Dmitry Medvedev in 2010, found hydrocarbons at 30 billion euros. This follows from the report of the Norwegian petroleum Directorate (NPD).
Only in the depths of the territory ceded Norway, hydrocarbon deposits estimated at 300 million cu m of oil equivalent is about 1.9 billion barrels. According to forecasts, the estimated amount of minerals may be even more than 565 million cubic meters, of which the share of oil not less than 15%, the report says NPD.
The Minister of petroleum and energy of Norway Ulu shoulder MoE has enthusiastically commented "great news." "The results of exploration show that the South-East of the Barents sea - the most interesting of the new areas of the Norwegian continental shelf", - quotes the Minister Barents Observer.
Enthusiasm Burten MoE all the more understandable that in the Norwegian North sea oil production is from the 1960-ies, and the oil reserves are gradually diminishing. Therefore, the gift of Moscow came in very handy. To delay the development of new fields of Norwegians are not collected. A shelf of the North sea has distilled oil rigs and on shore quickly create the necessary infrastructure.
What we can only be happy for our Northern neighbors. And to remember the words that in 2010 then-President Dmitry Medvedev said after signing the contract with the Norwegian Prime Minister Jens Stoltenberg. "This event should affect the overall situation in the region, strengthening international and regional security, on deepening of interaction of the Arctic countries," - said the then head of our state.
We will remind, negotiations about the need for the demarcation of the disputed territory in the Barents sea area of about 175 thousand square kilometers were between the USSR and Norway from 1970-ies. But it was Mr. Medvedev managed to put them in a very fat point.