Home
/
Politics and Geopolitics
/
Arctic and Antarctic in modern geopolitics
/
Recommended
"Ensuring national interests of Russia in the Arctic"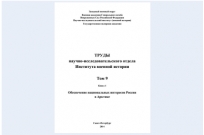 The beginning of the XXI century was marked with a sharp actualisation of the complex problems of the Arctic region. This encourages researchers to address not only the analysis of the current situation but also to attempt to forecast its development.
To offer readers a collection of articles covers a wide range of topics: military activity in the region of the Arctic powers (Russia, USA, Canada, Norway, Denmark), NATO, the security of the Northern sea route and legal-political aspects of the regulation of freedom of navigation, the formation of infocommunication infrastructure, etc. in Addition to the issues related purely to the sphere of state security of the Russian Federation and its national interests, the attention of the authors of the book are aimed at economic development of the Russian Arctic: implementation
innovative technologies, prospects of the Northern single-industry towns, the organization of the transport system, the fixing of the limits of the continental shelf, etc. in Addition to specialists, the volume will be of great interest to a wide circle of readers. The publication was produced with the support of the state institution "Russian Academy of rocket and artillery Sciences".
---
Source: http://history.milportal.ru/2014/05/obespechenie-nacionalnyx-interesov-rossii-v-arktike/