Home
/
Politics and Geopolitics
/
Arctic and Antarctic in modern geopolitics
/
Other
The first floating nuclear power station in the world in operation. In Russia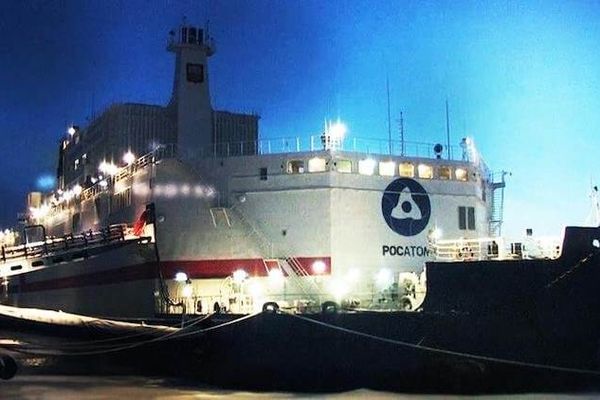 Heard about the nuclear plant? It sounds cool and they give us very much, but now there is a new type of these energy sources. Imagine this: an insane amount of energy that can be delivered anywhere and with minimal cost. No need to pull wires or to prepare the infrastructure and ad-hoc substation.
Just energy will come. Even Tesla wanted to transmit energy without wires over long distances, but then it never came. Now it's time for something new — something no one in the world. What am I doing? Ah Yes, floating nuclear power plants.
The world's first floating nuclear power station
Frankly, when I was faced with this news, it seemed to me that someone is justified just for the fact that he spent billions of rubles and made just a barge with a nuclear reactor. A little understanding in the subject, I realized that this idea is indeed very promising. To this we shall return below, but for now let me remind you that ever happened.
May 22, 2020 in Russia was put into commercial operation the world's first floating nuclear power station. It is not self-propelled and for transport she needs a tow. There is nothing to worry as such facility is still unlikely to move without an escort.
The full name of the new type stations sounds like "floating nuclear power plant" — abbreviated as FNPP. The object about which we are talking, called "Akademik Lomonosov" and is currently in Chukotka.
While the station is working at full capacity, but gradually it appears and will not just a battery on the water, and the main source of energy networks Chukotka. All in all, the station was the eleventh of the nuclear power plant in Russia and the first floating.
The importance of the event was recognized even by foreign experts. So international journal of Power included the construction of the station in a list of six key eventsrelated to nuclear energy in the world.
And now you can talk about what is this object, as it is planned to exploit it and whether other stations of this type.
What is floating
If you do not complicate, the floating nuclear power plant is a little different from the one that is located on land with the exception of the support on which it is built.
NPP consists of a floating power unit, onshore infrastructure for the issuance of electric and thermal energy to consumers, as well as hydraulic structures, which are responsible for the safe mooring in the waters.
The unit has not less, and even more levels of protection, as potentially it can be more effects and engineers have tried to foresee everything. First of all, it concerns a very powerful floating foundations. All parts of it, bilayer, that is, even a collision with something should not greatly harm the FNPP.
IGN Lomonsova has two nuclear reactor type KLT-40S. Electric power is 35 MW. This gives a total maximum electrical power throughout the plant at 70 MW. This is enough to cover the energy needs of the village, which is home to 100 000 people.
In addition to generating electricity, the plant can produce and heat. Maximum heat capacity of 50 Gcal/h. But this is not limited to the use of FNPP Akademik Lomonosov.
To the station was more like a Swiss army knife, it is equipped with system of desalination of water to desalinate up to 240 thousand cubic meters of sea water per day.
The academician Lomonosov, started in 2007 and just now he was put into commercial operation. Although the first power to the grid it started to transfer in December 2019.
Why the need for a floating nuclear power plant
In fact, if you look, it is floating nuclear power plant is a very convenient means of energy production. Now it is possible to ask, why not build a normal station. Share logic in this question is, but if somewhere need the energy station can be transported there.
Not even necessarily that the consumer was on the shore. You can simply stretch the high-voltage line and power supply even distant objects. It will still be convenient. Especially in terms of temporary use. For example, when there are problems with electricity after a natural disaster or repair work at local power plants.
Also, this station is very useful for military purposes. For example, to ensure the work of Autonomous anti-missile systems, which are stretching the power line simply will not work. When the object is relocated, the station can go after him or to move to provide energy for other places.
Simply put, the mass of options. You can lead slightly absurd example with external battery for smartphone. Can be charged from an AC outlet, but what if its not?
The prospects of floating
I'm not saying that this station will solve all the problems with energy, but learn to make them before the others can be a very good idea. If the station will work properly, it can prove to be very promising and it can be very good money.
Already have a draft of the second generation NPP. They will have a more compact unit that will issue is not 75, and 100 MW. Also Rosatom claims that talks with potential buyers in Latin America, Africa and Asia.
Criticism of NPP
Well, in the end I will add some negatives. Not to mention that the cost of producing energy from this plant are substantially higher than the stationary counterparts. Criticism of the cost of a kilowatt in 2007, played even by the Minister of economic development and trade German Gref.
In addition, there is the standard service, which does not allow the station to be the only source of energy in the region. According to the rules, she needs time in 12 years on the year to go to repair the port, which will be carried out necessary maintenance work and reload fuel. The term for such works is one year. Leave 100,000 people without electricity for a year is impossible. Maybe this will solve the problem the construction of new stations, which will rotirovatsya and replace each other, but to talk about it before.
If solving this problem is to build a local plant, then why do we need floating?
Turns out floating is not so good? It is difficult to say. First, we need to solve some issues related to new technology. After that, everything should be sorted out. It would be nice to get a new source of energy until we came to thermonuclear fusion in tokamaks. The main thing that it was safe.
Artem Sutyagin
---
Source: https://hi-news.ru/technology/pervaya-plavuchaya-atomnaya-stanciya-vvedena-v-stroj.html