Home
/
Politics and Geopolitics
/
Arctic and Antarctic in modern geopolitics
/
Events
The problem of transporting hydrocarbons through the Northern sea route discussed in Krylov state research centre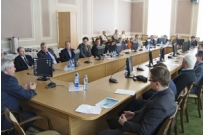 11-12 April in St. Petersburg hosted the international conference "Northern sea route: state, problems, prospects". The conference participants discussed the issues of effective functioning and attractiveness of the NSR for shipping, and also prospects of development of the Arctic territories of Russia. The second day of the working programme was entirely devoted to the visit to the Krylov state research centre.
The delegation of the conference participants, including representatives of various departments of Russia, administrations of the Northern regions, the key shipping and mining companies, shipbuilding firms, design offices with interest got acquainted with the unique experimental basis of the Krylov research center.
During the tour around the centre, the guests visited the circulation and deep-water pools of the enterprise, visited the site of the slipway of resource and static tests (ERSI). The test structures on the special equipment allows to optimize technological solutions, to substantiate the guarantee of durability and reliability of engineering structures of different types and purposes.
Special interest of participants of the conference caused a new, research training complex, which includes two of the simulator is "Universal" and "Interaction". Both simulators provide a wide range of possible areas of training, modeling of different emergency situations in the conduct of Maritime operations.
After familiarization with the test stands of the participants of the conference heard the reports of the experts of the Krylov center complex, as well as the development of vessel designs for the transportation of hydrocarbons in the Arctic; drilling ship.
Deputy Director General of Krylov state research centre Evgeny Appolonov presented the concept of creating an Arctic engineering center on the basis of the Krylov SSC.
To the Krylov centre joins CDB "iceberg" leading Bureau for the design of icebreakers. The center already includes CDB "Baltsudoproekt" is the oldest design Bureau in the field of civil engineering.
"We add these project forces to the opportunities scientific support any project of complex equipment that you already have in Krylovskiy center" - says Evgeny Appolonov.
The construction of ultra-modern new ice model basin, commissioned training complex computer modeling. All of this unique experimental facilities together with highly skilled support and research staff allows Krylov state research center to take a leading position in the field of icebreaking technology and ice-resistant offshore structures not only in Russia but also in the world.
Future Arctic centre, which will include the shipyard and the business structure must enable the construction of complex offshore structures "turnkey", according to the press Secretary of FSUE "Krylovskiy state scientific centre".
---
Source: http://www.nord-news.ru/news/2013/04/15/?newsid=47108