Home
/
Politics and Geopolitics
/
Culture and art in the geopolitical context
/
Articles
Future technologies: AR/VR in design and design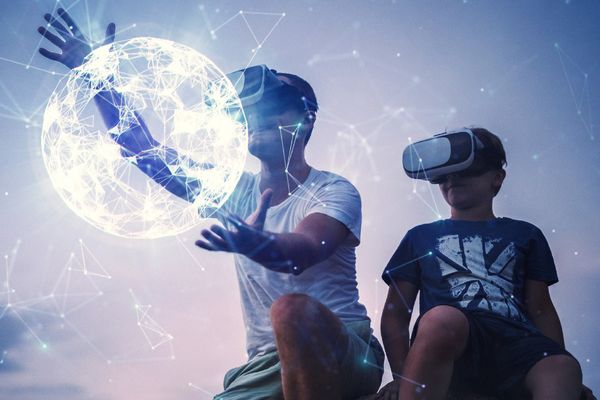 In 2017, Dell and AMD conducted a poll analyzing views 147 artists from different spheres. The company wanted to get an idea about the technical issues faced by planners and designers to look into the future and build a picture of what might bring next year.
We will share the results of this survey and show the views of leading industry experts. In addition, we will discuss a new technology that is slowly penetrated by a large company specializing in the design and design.
VR & AR: new technologies in service businesses

According to the survey, 41% of respondents are already implementing virtual (VR) or augmented (AR) reality within the strategy of doing business. Another 53 percent plan to do so over the next fifteen years.

Practice shows that the VR tech is already gone from just being a fad specialists, and some companies gain competitive advantage through their implementation.

One of striking examples — Area SQ, a famous British company that is engaged in design and renovation. Virtual reality technology allowed her to give customer service a new dimension and to showcase their work as it was impossible to imagine even a few years ago.

"VR has a huge impact on the way we work throughout the life cycle of the project, explains Daniel Calgary, design Director of Area SQ (London). — We are proud of how Area SQ advances in technology design. One of the foundations of our strategy is innovation, and VR is perfect as it fits". Calgary notes that the Area SQ is very important to be able to "overcome existing and future challenges." And virtual reality has become for the company a great opportunity to introduce new developments.




The company is working with virtual reality technology at various levels depending on the type of project. Sometimes a static picture with a 360-degree view, sometimes the whole virtual space, in which you can move (in this case the game Engine Unreal Engine). But technology will never replace the creative process.

"It's important for us to have systems VR-ready, "ready for virtual reality," said Gary hunt, head of the visualization Area SQ. — Thus, we can simply use for the creative piece of equipment. We don't want to think about what is inside the system, how it functions, we want to connect accessories VR and work with it".


Shooting in Ultra HD

With the increasing resolution of screens of monitors and televisions to the people of creative professions constantly have to reconsider your workflow and the quality of the products. According to the survey, photos and videos with a resolution of 8K already become part of the strategy business for 40% of respondents, and 51% planning to implement in the next year and a half.

However, with increasing resolution requirements are growing graphics (GPU) and Central (CPU) CPUs: software must cope with large projects, and the larger monitors require more powerful graphics cards.


40% of respondents said that 8K video – part of their business strategy

Here is what Paul Wyatt (Paul Wyatt), a Director of short documentaries and commercials about the challenges he faces when working with high resolution videos.




How do you see the most significant technological achievements in the production of videos in the next year?

A couple of years ago 4K video at a decent bitrate and with a normal frame rate was something out of reach for most professionals not to mention ordinary consumers. Needed expensive external recorder and "dancing with tambourine" to make friends with him a program for nonlinear video editing. But now such cameras as Panasonic Lumix DMC-GH5, and the APS-C sensor with lens LUMIX DMC-FZ2500 really raise the bar when you want to shoot 4K video with no limitations on recording time. This incredibly simplifies the task of the filmmaker or videographer, because you carry with you a smaller set of equipment and not sacrificing the quality of the material. We have also seen the emergence in recent cameras 10-bit color space 4: 2: 2. Video contains more information about colors, allowing you to actively apply color correction or possible, enhanced halftone (in case of 8-bit colors 4: 2: 0 image may slightly fall apart when applied to intense shades).

What challenges do you face?

The biggest problem of all these achievements is that they require a reorganization of work processes and additional capacity for processing content of high resolution. Fortunately, non-linear editors such as Adobe Premiere Pro, initially working with 4K. They can even create proxy clips are low resolution, if the system does not have enough power to work with full 4K resolution.

How has your work changed over the past few years with technical and creative points of view?

Technology has liberated creativity, and the opportunity to do more with less budget. I still like to work with a team and use superior cameras (e.g., Sony FS7 or the Canon c400), but all that equipment is expensive and requires a lot of time. Compact mirrorless cameras allow me as a Director to maximize the use of limited budget. I can use the Sony A7s ii, iii, RX10 or Panasonic GH4 and know that you are getting the required resolution of 4K, the tools of focus and exposure-you don't need to have additional equipment. I'm tired of seeing all these terrible camera, clunky setup with lots of cables, monitors and external recorders. This is now much less necessary, which frees up time producer and Director. So, in terms of creativity you can do a lot more. It's simple.




What problems causes an increase the video resolution? How do you plan to solve them?

This year there is a real demand for 4K, so my system needed to upgrade for video processing such permit speed up to 250 Mbit/s. Some systems NLE handle 4K better than others. If I edit the Assembly on the laptop, it will use the proxy process in Premiere Pro. This allows you to create files with a lower resolution to work, which reduces processor requirements. Then, if I move it all on my Dell workstation, I can change the working clips on a version with a higher resolution.

It is also important not to lose sight of the level of acceptance of the work. I usually ask to present the result in 1080p. Usually the 4K video resampled to 1080p, and then output. However, the plus is that you can later open this project with a reference time scale 1080p to 4K timeline and re-scale the video to 4K. In Premiere and Final Cut is done very easily.


51% of respondents plan in the next 18 months to start to work with 8K video

When it comes to capturing 4K video on the camera are very important tools to assist in working with the focus because the slightest flaws of the image will be immediately visible to the audience. At 4K it is easy to evaluate the availability of tools that allow you to zoom the image in the viewfinder. And the home audience when viewing material on a 4K TV it will give a higher level of control.




What technologies are you currently using?

I worked for many years in the creative studios, where the video was always in the background: a set of technologies that we used, always lagged behind, and the rendering was very slow. When I began creating his own films, I wanted to work did not interfere with all these compromises, so I bought a Dell XPS 8300 system. At that time it was equipped with a processor Intel Core i7-2600, a SATA drive with a 1TB and a 28-inch Full HD monitor from Dell. With this system (with multiple updates), I worked five years, when filming HD movies. And even made a half-hour documentary on TV.

However, there is a need to create movies with higher resolution and higher bitrate, so I went back to Dell —I like the way the company works with customers. Specialists gave good advice on the configuration that I need to work with 4K. I chose the Dell Precision Tower 7000 with memory upgrade and monitor UltraSharp 27. This is a serious investment, but I'm sure with a few upgrades workstation will last a long time — the same as the previous model.


Interactive touch displays

Touch screens have gone from mobile phones and tablets to hybrids, and now interactive devices, large format become viable tools for creative professionals in many industries.

Most of the studios are using tablets to showcase their work. However, companies such as Adobe, Autodesk and AVID, to create separate versions of their apps for touch interfaces, and devices with touch screen can not only view, but also to create content.


70% of respondents hope to include in their business processes interactive devices over the next fifteen years

Area SQ has based its business on innovation, considering them as a key success factor. Analysis of what competitive advantages will provide a new technology is an important part of the philosophy of the company.

We believe that touch interfaces will be a breakthrough, explains Andrea Williams Wedberg, creative Director at Area SQ. — When you need to show your customers something new, useful for a product like Dell Canvas. You can easily move the image around on the screen to increase the scale of the CAD models and view files for which working together with colleagues".

Virtual reality technology and the increasing video resolution is forced to change your workflow. There is a constant search of compromise between the implementation of technical innovations and rational approach to budget allocation. The majority (63%) of survey participants stated that the rendering using the GPU plays a role in their current approach to doing business. 80% of these respondents noted that reduced the render time by more than half. However, it is important to find a balance between price and performance.


The future of the industry of special effects

The company MPC (Moving Picture Company) is one of the world's leading studios in the industry of special effects. She worked on the films "the Survivors", "the jungle Book" and the series "Harry Potter".

For effects, the award "Oscar" in MPC use a variety of hardware technologies, including mobile workstations Dell. It is interesting to discuss the technical challenges faced by a world leader in the industry of special effects. That's what tells Damien Fagnou, chief technical specialist for MPC Film.




What are the main technical challenges that you already face or will face in the coming year?

Such a large Studio like ours, it is not easy to cope with growing demands for data storage and rendering. Therefore, we continue to invest heavily in the optimization process. Stay in the forefront, we help technology Universal Scene Description, and VR.

How significant the role VR will play in the industry of special effects in the next year?

We are already experimenting with a very interesting workflow, where VR is an attractive platform for viewing and even creating virtual environments. This increases the demand for a full "interactive experience" virtual reality that complements the films created with the participation of the Studio.

What changes would you need to work with VR?

In order to use virtual reality in our industry, we need to solve a few problems. Take game engines: even though they are over the last few years and have been improved, but still not able to cope with the effects. Moreover, most special effects are done in Linux where the game engine a bit — like VR headsets, which they need to be integrated. We invest in various workflows, as well as conduct research and are confident that the next year the situation will improve.




What are the problems with high resolution video? How do you overcome them?

Increasing resolution affects the amount of detail and texture, but in General, we found good solutions and applied them for many years. The most difficult task of the final rendering. Its cost in ray tracing almost linearly grows with the number of pixels, and rendering 4K video is 4 times longer. This requires efficiency both from the point of view of workflow and speed.

We are also working with our partners, the research group of Technicolor on algorithms for noise reduction and scaling, specially adapted for special effects.

What division is facing the most serious technical problems?

In fact, everything. For animation you need more pixels on the screen and more details, the special effects Department wants to use a more powerful modeling faster rendering with higher detail, etc, who are engaged in the work, want the technology as much as possible freeing them from restrictions.

What excites you the most from a technical point of view, if we talk about the future next year or two?

Various technologies, especially cloud, has reached the level of maturity and is able to transform the industry of special effects. Now we have not just more features of the computer or server on demand and more distributed and dynamic workflow. On the other hand, technologies such as deep learning, is changing the approach to solving problems.

What were the main difficulties when working on "the jungle Book", and what has changed over the last 15 years?

In "the jungle Book" we had to create a lot of photorealistic environments, an incredibly complex and rich in details, over 80 minutes of special effects. The world is "populated" with hundreds of realistic animals that were supposed to act and behave absolutely naturally. It was nearly impossible in 2001. Over 15 years of computing and data storage has progressed so much that now we are using ray tracing can completely simulate the environment, creating billions of polygons, and curves. Software Pixar and Autodesk functioning on these advanced computing platforms is also highly evolved.


The results of the survey
Overcoming barriers: AMD transformerait the entertainment industry through technology cards and SSG series WX

The results of a recent survey underscore a growing need for a GPU, and a new line of products Radeon Pro AMD demonstrates the commitment to set new benchmarks. "We announced a partnership with AMD Radeon technology to optimize Nuke for OpenCL and to enable users to work with a new product," — says Alex Mahon, CEO of the Foundry.




Due to the line of Radeon Pro, AMD provides a set of tools from WX Series graphics cards to SSG technologies that meet the entire spectrum of needs of people of creative professions. "The goal of the WX series — creating accessible workstation for training content, virtual reality, says Raja Koduri, senior Vice President and chief architect RTG (Radeon Technologies Group). — We added graphic processor systems with terabytes of memory. And with our SSG technology you can edit 8K video in real-time. It allows you to work at a speed of 90 fps and 45 Gbit/s directly on Radeon Pro SSG".


For 63% of the respondents GPU-rendering — part business strategy

Every company working with visual effects, experimenting with VR, and it imposes certain requirements on the GPU. "Game engines become more powerful and widespread in many industries. In fact, they may not be called "games," says Roy Taylor, Vice President of AMD. — We create the tools that will help to create and tell their story artists and Directors."

The performance of the older model Radeon Pro WX7100 with 2048 stream processors exceeds 5 teraflops. This card is equipped with 8 GB of GPU memory on a 256-bit bus. Effective frequency is 7 GHz.

The GPU is designed to handle huge amounts of data. However, at the system level it can not instantly get access to large arrays. Solution Radeon Pro SSG (Solid State Graphics) aims to take another step in this direction.




3D-card is equipped with two slots for M. 2 SSD to PCIe 3.0 x4. Drives can be used for storing data that is processed by the graphics adapter. SSDS connected to the PCIe bus via the bridge PEX8747.

SSG — suitable option for designers and developers, since the card is able to significantly increase the performance of heavily loaded systems. In addition to design, she can help in those areas where it is required to render images in real time: for example, in medicine for 3D animation work of the patient's heart, in the oil and gas industry and other industries.