Home
/
Politics and Geopolitics
/
Culture and art in the geopolitical context
/
Other
Svetlana Marich: What's happening on the contemporary art market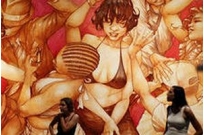 International Director of the auction house Phillips told "Snob" about which artists and works are now popular among collectors and buyers, what creates the price of the product and how to start collecting.
There are several ways to buy works of contemporary art. They are sold through galleries, where the buyer can come himself and buy something, at art fairs, where the stands are galleries, art dealers who sell individual works of art. Sometimes something you can buy in the Studio with artists or with art funds and, of course, at auctions, and more recently — and via the Internet. Especially successful examples are the portal Artsy Dasha Zhukova and Maria baybakovoy Artspace.
In contemporary art, as in any other art, rise, and eternal themes such as love or death, and topical, socio-political, etc. However changing approach to the use of materials, and it's interesting to watch. Today artists work a lot with textures, we can say, with flesh works with its cloth: use complex combinations of paper processed in the various solutions, cardboard, metal, paint, corroded by acids. This can be seen, for example, Ryan Sullivan (Ryan Sullivan), of the tribe of Dan (Dan Colen), young star of the Venice Biennale Given In (Danh Vo), Voled (Walead Beshty), Riley Anselm (Anselm Reyle), Kaseya Jacob (Jacob Kassay) and classics by Gerhard Richter (Gerhard Richter).
In new media art now too, interesting things happen. Media installations are Julian OPIE (Julian Opie), Bill viola (Bill Viola), Thomas Hirshhorn (Thomas Hirschhorn). Latin American school makes outstanding compound the illusion. For example, the Chilean Ivan Navarro (Ivan Navarro) uses in his neon works Gazella mirrors, creating the effect of a bottomless well. The pool of Argentinian Leandro Erlich (Leandro Erlich) seems to be filled with water, but actually it is empty and there can go a spectator. In the window-painting by the same artist is the real rain. The hyperreality of these works, their sensory fullness fascinate today's collectors.
Collectors in our day, are increasingly becoming patrons, opening funds of private collections intended for public display of works. They conduct a competitive program for artists, organizing art residencies. For example, Paris works Fund SAM Moye Sandra (Sandra Mulliez) and the Donetsk Fund "Isolation" Lyubov Mikhailova.
Among collectors of this type of popular work nepremicnine, not the object in the usual sense, that is, sound and visual installations. Since these collections are not limited to residential space and the space of store, their owners can afford to collect elegant installation. In General, the transition from the figurative to non-objective — one of the most important contemporary trends.
If we talk about the authors of classical figurative art, popular among buyers of all records in American youth: Nate Loman (Nate Lowman), Adam McEwan (Adam McEwen), Tauba Auerbach (Tauba Auerbach). Also in demand "young British artists" Damien Hirst (Damien Hirst), Marc Quinn (Marc Quinn), Gary Hume (Gary Hume), trace Emin (Tracey Emin). Stable and great excitement is caused early works of the classics of modern art — Kabakov, Bulatov, Vassiliev.
Our contemporary Gerhard Richter has achieved in Europe incredible market success: his large paintings go for more than $ 10 million. The American Jeff Koons, famous for its expensive smart objects, continues to give two shows a year, despite the difficult market situation with his "toys". Anyway they all cost 2 to 5 million and below to fall in the near future will not be.
Russians while modern art is not very interested. But their interest will grow exactly, because any thinking person at some point comes to modern culture through a variety of its manifestations, be it painting, music, cinema, architecture or synthetic forms. Today Russian support and buy contemporary art much more readily than in the recent past. But yet to the level of American or European culture of collecting and philanthropy we are still far.
The logic in the choice of works for the collection can be very different: someone collects the best — for example, the works by renowned artists, some of the stars in any direction (Young British Artists, for example), someone decorative logic, someone investment.
The price of the product mostly consists of the parameters is known and constant over the centuries: exhibition history (if the work has been repeatedly selected different independent curators, museums and institutions) sales history of the artist's works on the market (what, when, how much, how many), the rarity of the work (many works in this series), raspadaemosti edition (when it comes to photography, in this case, the last copies of the first edition more expensive), "servicenote" on the market (if the job was repeatedly offered at auctions and in galleries or resold many times, such a thing is not desirable to the collector).
After analyzing all these parameters, it is possible to understand the real price of work. For a beginner, maybe it's not easy: it requires too much research, you need a lot more information and contacts in the art world, to understand what, when, to whom and how much was offered. Therefore, to determine the prices works better to turn to the experts.
But to understand what you need, you first need to ask yourself.
To admire and understand the outstanding work, don't need any special education or comprehensive information. The main thing is to be open to themselves, and then the art will reveal itself.
---