Home
/
Politics and Geopolitics
/
Sea policy
/
Articles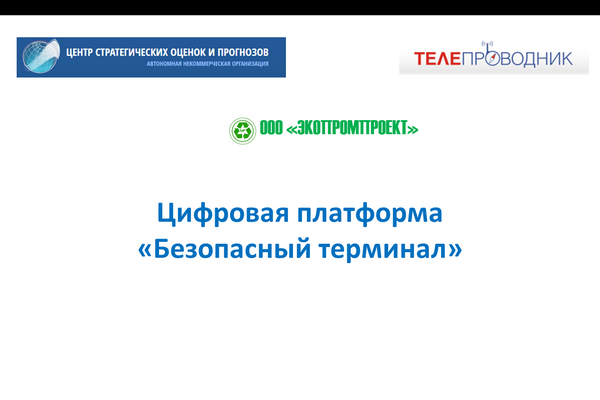 Within the framework of the Digital Navigation direction, four projects were presented, two of which were supported. One of such project initiatives was a digital platform for providing management and monitoring tasks of the port terminal in the ecosystem of integrated port security - "Safe Terminal". The project initiative is a technological partnership of three organizations-LLC "Teleprovodnik", ANO "Center for Strategic Assessments and Forecasts" and LLC "Ecopromproekt".
"As part of our Safe Harbor project, the Safe Terminal technology implies that as part of the integrated digitalization of the port and water area system, there is such an important element as the digital transformation of the activities of the seaport terminal. The creation of this platform includes several technological developments from a number of organizations that have joined in a technological partnership.
Thus, the company Teleprovodnik LLC offers a unique navigation system that allows you to display in real time on a navigation-capable map not only the movement of vehicles related to the liquidation of emergency situations at the port terminal, but also other objects, including the statuses of objects, according to the threats that have arisen – fire, discharge, accident, etc.
The second important element of this system is the systematization of challenges and threats to integrated security, which is carried out by the Center for Strategic Assessments and Forecasts – CSOP.
And the third participant of the technological partnership – the company "Ecopromproekt" LLC, within the framework of a secure terminal, creates a unique intelligent digital platform that provides not only prompt responses to security requests, but also analyzes Big Data, identifies security threats based on a neural network and simultaneously processing the stream from video cameras, identifies potential statuses associated with possible emergency, etc. Emergency situations and ensures the integration of all this digital interface with the navigation-capable Teleprovodnik platform, "he told Marine News of Russia Daniil Kofner, General Director of Ecopromproekt LLC, who was a speaker on this project at a meeting of the Marinet expert subgroup.
"The intensity of the production activity of modern large ports obliges us to conduct comprehensive on-line monitoring of a wide range, including a system for preventing environmental incidents of a man-made nature, emergencies in the field of maritime safety, terrorist, natural and other threats. Digitalization of the processes of eliminating the consequences of transport and industrial accidents and rapid response to emissions in the water area of the port and on its land part is currently a necessary component of the state's environmental strategy. The public significance of the Safe Terminal project has increased due to the recent sensational events in Norilsk and Kamchatka. Progressive digital technologies significantly increase the efficiency and transparency of monitoring systems, make them compact and convenient, eliminating the corruption factor of influence. The technological solution of the Secure Terminal project includes the latest domestic developments in the field of cyber defense. The platform is harmoniously integrated with the National Ecology Project on the tasks of ecomonitoring, "Anna Gornova, coordinator of the Marine Policy project of the Center for Strategic Assessments and Forecasts, commented to Marine News of Russia.


A source: Sea News