Home
/
Politics and Geopolitics
/
Sea policy
/
Articles
Pilots of "Rosmorport" held a LNG carrier Eduard Toll in the sea port of Sabetta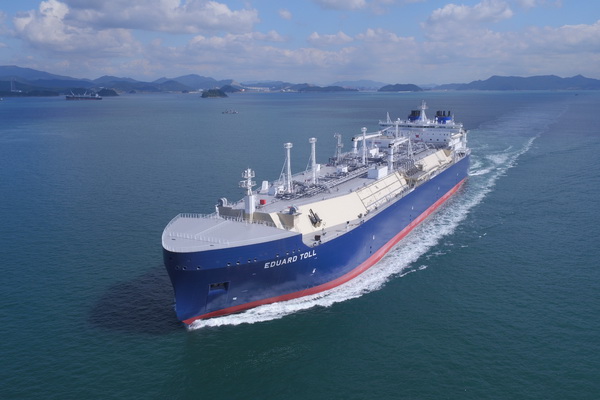 Ice pilots of the Arkhangelsk branch of the FSUE "Rosmorport" Sergey Fokin and Alexander Kalimantan performed ice pilotage in the Northern sea route tanker-liquefied gas carrier Eduard Toll (Bahamas flag) flying from the sea port of Nakhodka in the sea port of Sabetta.
LNG carrier Eduard Toll class Yamalmax with ice class ARC7, Dec 24, 2017 was included in the Arctic waters in the Bering sea, was off Cape Dezhnev and went out on the Northern sea route. After 17 days of transit transition of LNG carrier in four sea the ship arrived safely in the waters of the Ob Bay near the island of White, where he was taken under the wiring icebreaker "50 let Pobedy" for further following along the sea channel to the outer roadstead of the sea port of Sabetta.
For the first time in the history of the transport ship carried out an independent transition for the Northern sea route in winter navigation from East to West without icebreaker escort.
Ice pilotage of LNG carrier was carried out in difficult hydro-meteorological conditions of the polar night with established and growing ice cover of the Arctic seas, in the drifting ice fields with significant toroidally and the presence of icebergs, frozen into new ice.
The most severe areas was met on the approaches to the Strait of Sannikov and immediately after its passage.
Factors that also impede the movement of the vessel was ice compression and huge fields of hummocks, sometimes reaching 1.5-2 meters in height.
It should be noted that the tankers Yamalmax have higher icebreaking capability during motion astern, especially when passing hummocky areas and parts of the grip ice. Therefore, in the transition of the vessel Eduard Toll in the sea port of Sabetta, on these sites, following the recommendations of the ice pilots, the captain of the tanker-liquefied gas carrier took the decision to sail stern first.
Currently, LNG carrier picked up a shipment of liquefied natural gas in the sea port of Sabetta and headed to the sea port of Montoir (France).
---