Home
/
Politics and Geopolitics
/
Sea policy
/
Other
On the consumption of fish and fish products (data research VTSIOM)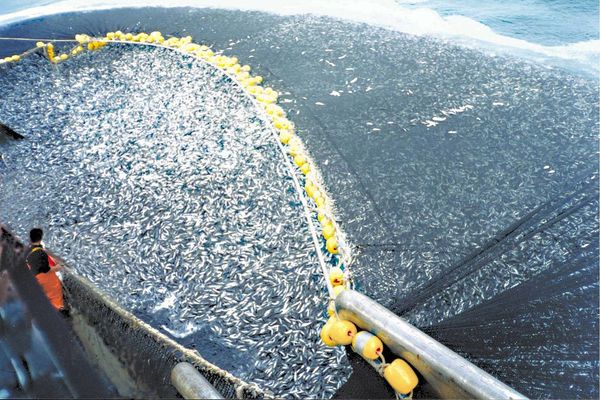 The majority of Russian families to buy fish at least once per month, with half of the respondents would like to eat fish dishes more frequently.
All-Russia centre of studying of public opinion (VTSIOM) presents data of a study on the consumption of fish and fish products conducted for "all-Russian Association of fishery enterprises, entrepreneurs and exporters" (VARPE).
The survey data is fixed high consumer demand for fish and fish products – 81% of respondents buy fish at least once per month. Among residents of the far Eastern Federal district the number was higher – 90%, whereas the lowest percentage of fish consumers in the southern Federal district (73%).
Almost half of Russians (48%) say that would like to eat fish more often, while 36% think that fish products of good quality is difficult.
Two-thirds of respondents (67%) use weekly fish dishes prepared at home or in a cafe, including one-third (34%) once a week, every fifth (22%) twice, 7% three times 4% four times a week or more. People of older age groups more often prefer fish dishes that require cooking (73% among 45-59-year-olds). Ready fish products every week, eat somewhat less (59%). Among 25-34-year-old this percentage is higher (65%) and older generation (60 years+), on the contrary, less than others use prepared fish products (50%).
Cluster analysis allowed to identify among the Russians four groups with different consumption and attitude toward fish: "fans" (21% - I love the fish, and often buy it), "aesthetes" (23% - I love the fish, but I think that it is difficult to find good quality product, so buy less than would like), "rational" (17% - buy fish sparingly because of the usefulness and affordable prices, don't want to eat more often) and "indifferent" (39% - eat fish often enough, but do not consider it a favourite or particularly important).
The ratio of fish depends mainly on the territorial and age characteristics. "Fans" are more common in the Volga (30%), Northwest (28%) and Siberian (27%) Federal districts, and rarely in the far Eastern Federal district and among young people up to 25 years. "Aesthetes" - in Moscow and St. Petersburg (48%) and among people 25 years and older (24%). Most "rational" consumers in the Siberian Federal district (24%) and 18-24 year olds (27%). The share of "indifferent" in the far Eastern Federal district reaches (69%), and among young people – 47%.
When you choose in the menu between meat, fish, poultry, Russians would rather prefer meat (44%), fish – second place (31%). Women are equally likely to choose and fish (37%), and meat (35%) and respondents over the age of 60 and put it in the first place (39%). For young people under 25 years of age fish is the least preferred choice (11%). "Meat eaters" in the North Caucasus Federal district (57%), UVI (50%) and DFO (51%) appreciate the fish as well as meat – the inhabitants of the northwestern Federal district (would choose meat 38%, fish 37%).
Ideas about fish dishes in baby food mostly negative: 26% of respondents believe that in kindergartens and schools is not enough fish dishes and they have a bad quality. Positively they were evaluated by only 13%, however, involved the audience – among mothers of children under 18 - this figure is higher at 22%.
More results of the survey can be found in the report of the polls, which will be presented at the II International fishery forum 15 Sep 2018
Research data says the President of the VARPE German Zverev: "it was important for Us to understand the current request of the Russians, to properly answer it. The study is a special form of dialogue that will help the fishermen to track trends in consumption of fishery products, and the buyer is to obtain higher quality products that meet its interests. The full results of the study will be presented by experts at the II International fishery forum, which will take place on 14-15 September 2018 in St. Petersburg".
The opinion poll was conducted from 23 to 27 August 2018 by order of the Noncommercial organization "Russian Association of fishery enterprises, entrepreneurs and exporters," in preparation for the II International fishery forum, which will take place on 14-15 September 2018 in St. Petersburg. The survey involved the Russians at the age from 18 years. Survey method – telephone interviews in a stratified random sample of dibasic landline and mobile numbers 1,600 respondents. The sample is based on the complete list of phone numbers involved in the territory of the Russian Federation. Data weighted for probability of selection and socio-demographic parameters. For a given sample size the maximum error with 95% probability does not exceed 2.5%. In addition to sampling errors, the bias in the survey data can make the wording of questions and different circumstances that arise in the course of field work.
How often does Your family buy fish and fish products - like ready-to-eat and requires further cooking? (closed question, one answer, % of all respondents)

All respondents

CFA

SZFO

SFD

Skfo

PFO

UFO

SFO

DFO

About once a week or more

33

33

38

32

28

36

31

29

41

A few times a month

23

24

19

21

20

25

27

26

15

Once a month

25

25

23

20

30

22

24

26

34

Less than once a month

14

14

13

17

21

11

16

13

11

Do not buy fish, fish products

4

3

6

10

0

6

2

5

0

Difficult to answer

0

1

1

0

1

0

0

0

0
Approximately how many times a week do You eat fish dishes prepared at home or in a cafe, dining room? Call the number, considering all the meals, both at home and outside the home (cafes, canteens, etc.). (closed question, one answer, % of all respondents)

All respondents

18-24 year

25-34

35-44 years

45-59 years

60 and older

1 time

34

21

38

35

36

31

2 times

22

26

17

22

25

23

3 times

7

4

9

10

6

6

4 or more times

4

4

4

4

6

3

Less than 1 time per week

27

32

27

26

23

32

Don't eat fish

2

6

3

2

1

2

Difficult to answer

3

7

2

2

2

3
And approximately how many times a week do You eat fish is already cooked fish, fish products (salted, dried, smoked, dried, canned, sushi, etc.)? Call the number, considering all the meals, both at home and outside the home (cafes, canteens, etc.). (closed question, one answer, % of all respondents)

All respondents

18-24 year

25-34

35-44 years

45-59 years

60 and older

1 time

28

34

30

27

28

27

2 times

16

14

16

16

16

15

3 times

9

7

12

13

9

5

4 or more times

6

6

7

8

8

3

Less than 1 time per week

30

27

28

31

32

31

Do not eat fish products

7

7

4

4

6

14

Difficult to answer

3

6

3

2

2

5
People have different attitudes to fish and ryboproduktsii. Someone like fish, some rarely puts the fish into his menu. And what statements I would use to describe Your relationship? Fish for You is ...? (closed question, any number of answers, % of all respondents)

All respondents

Consume fish about once a week or more

Consume fish a few times a month

Consume fish once a month or less

Do not buy fish, fish products

Difficult to answer

Useful product, necessary for a healthy diet

76

81

80

72

61

40

The product that I love

60

70

65

51

34

48

Alternative source of protein

49

51

55

47

35

24

The product I would like to eat more often

48

46

49

53

29

25

Dietary, low-calorie product

42

42

41

45

36

0

The product is available at a price

38

44

38

32

33

24

Product that is hard to find in good quality

36

37

36

34

39

48

The product, which often eat in my family

30

50

31

14

24

8

The best snack for alcohol

18

23

11

16

13

38

The product with high risk of poisoning

14

11

12

16

20

0

The product with an unpleasant odor

12

7

12

14

21

16

Product that hard to make.

7

5

5

8

17

0

Product, often causing Allergy

2

1

1

3

8

0

None of the above

2

1

1

2

15

30

Difficult to answer

0

1

0

0

0

0
The typology of fish consumers (typology constructed on the basis of cluster analysis of the question "And which statements are suitable to describe Your relationship? Fish for You is ...")

All respondents

Dietary, low-calorie product

Useful product, necessary for a healthy diet

Product that is hard to find in good quality

The product I would like to eat more often

The product is available
for the price

Fans (like fish, and often buy it)

21

68

95

56

81

71

Aesthetes (like fish, but I think that it is difficult to find a product of good quality, so pokuyu it less often than I would like)

23

70

92

69

88

33

Rational (buy fish sparingly because of the usefulness and affordable prices)

17

47

75

18

17

90

Indifferent (eat fish often enough, but don't consider it a favorite product or some highly important)

39

10

57

12

21

0
The typology of fish consumers (typology constructed on the basis of cluster analysis of the question "And which statements are suitable to describe Your relationship? Fish for You is ...")

All respondents

CFA

SZFO

SFD

Skfo

PFO

UFO

SFO

DFO

Fans (like fish, and often buy it)

21

15

28

15

18

30

17

27

8

Aesthetes (like fish, but I think that it is difficult to find a product of good quality, so pokuyu it less often than I would like)

23

18

36

18

15

29

23

33

3

Rational (buy fish sparingly because of the usefulness and affordable prices)

17

16

14

18

13

16

15

24

20

Indifferent (eat fish often enough, but don't consider it a favorite product or some highly important)

39

51

22

50

54

24

46

16

69
Imagine that You have come to the regular restaurant, cafe, cafeteria and see a menu where there is a choice of three main dishes – meat, fish, poultry. What product would You choose first? (closed question, one answer, % of all respondents)

All respondents

18-24 year

25-34

35-44 years

45-59 years

60 and older

Men

Women

Meat

44

54

53

50

41

33

54

35

Fish

31

11

21

29

38

39

23

37

Bird

21

34

24

17

17

23

18

24

None of the above

1

1

0

2

0

1

1

0

Difficult to answer

3

0

2

3

4

3

3

2
As You think, the menu of kindergartens, schools of fish dishes presented in sufficient quantity and good quality or not? (closed question, one answer, % of all respondents)

All respondents

There are children up to 18 years

There are children over 18 years

No children

Women with children under 18 years

Fish dishes are presented in sufficient quantity and good quality

13

17

10

12

22

The range is sufficient, and quality - no

13

15

7

17

16

The quality is acceptable, and the number of fish dishes little

19

22

18

18

26

Insufficient in quantity, bad in quality

27

28

25

25

25

Difficult to answer

29

17

40

28

12
Source: VARPE and wciom.ru (VTSIOM)