Home
/
Politics and Geopolitics
/
Sea policy
/
Analytics
MAIN RESULTS OF ACTIVITIES OF SEA AND INLAND WATER TRANSPORT IN 2017 TASKS FOR 2018 AND THE MEDIUM TERM UNTIL 2020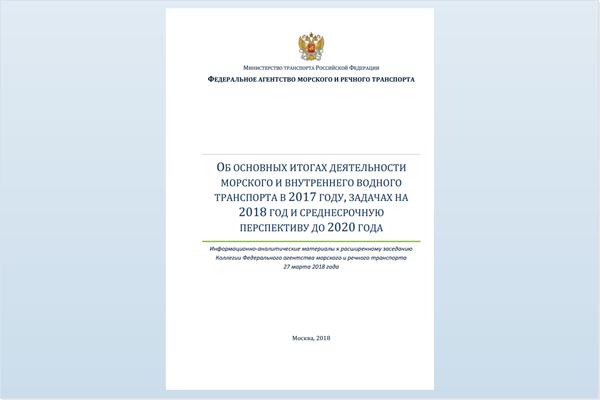 The improvement of transport infrastructure through further development of the core transport network, including infrastructure, sea and inland waterway transport, is one of the strategic directions of state policy in the transport sector, the authority and responsibility of the state.
Performing a significant part of foreign trade transportation, sea transport acts as a tool of economic and political influence of Russia in the international arena. Inland waterway transport ensures the implementation of Russia's transit potential within international transport corridors, plays an indispensable role in providing transport for the remote areas, and the delivery of cargo to the far North.
The Federal Agency of Maritime and river transport (Rosmorrechflot) is a Federal Executive authority performing functions of rendering state services and managing state property in the field of Maritime (including sea ports, sea terminals designed for comprehensive servicing of fishing vessels) and river transport, as well as the functions on rendering state services in ensuring transport safety in this sphere.
Activities of Rosmorrechflot, aimed at the realization of the goals and targets of the Main activities of the Government of the Russian Federation, decisions of the Marine Board under the Government of the Russian Federation and the Ministry of transport of the Russian Federation, Transport strategy of the Russian Federation for the period till 2030, Strategy of development of inland water transport for the period till 2030 and reflected in the annual Public Declaration of Rosmorrechflot.