Home
/
Politics and Geopolitics
/
Sea policy
/
Analytics
Main results of activities of sea and inland water transport in 2018, goals for 2019 and medium term up to 2021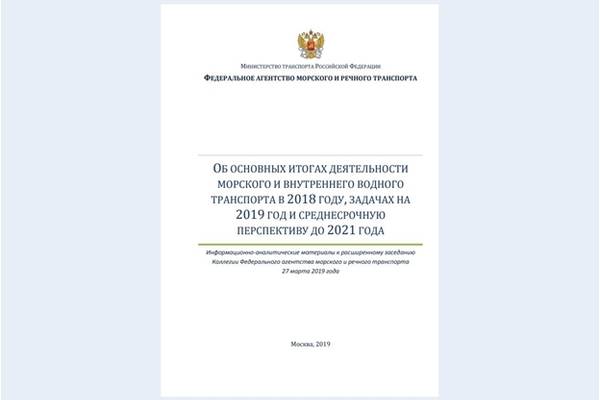 Information and analytical materials of extended meeting of the Collegium of the Federal Agency of Maritime and river transport of March 27, 2019.
2019 for Rosmorrechflot anniversary. In previous years were created conditions for increasing competitiveness of the Russian fleet, solving problems of development of the port infrastructure, ensuring the safety of navigation and the smooth functioning of the infrastructure on inland waterways.
The achieved results clearly say that the industry is steadily developing. Today Russia for the length of operated inland waterway network - 101,5 thousand km, ranked second in the world. For 15 years, has increased the possibility of using inland waterways for transport purposes.
Improvement in the quality of the ship's routes is allowed to increase during this period, the length of inland waterways with guaranteed dimensions 3 936,6 km, the length of the GDP-hour traffic during this period increased by 3 782,2 km.
For all the years of Rosmorrechflot performance in Maritime transport show a steady growth trend. In 2018 the cargo turnover of sea ports amounted to 816,5 million tonnes, more than four times exceeded the volume of cargo handled in all Maritime ports of the USSR in 1990.
---
Source: