Home
/
Politics and Geopolitics
/
Sea policy
/
Events
Russia announced a series of projects in the field of unmanned navigation and implementation of relevant legal norms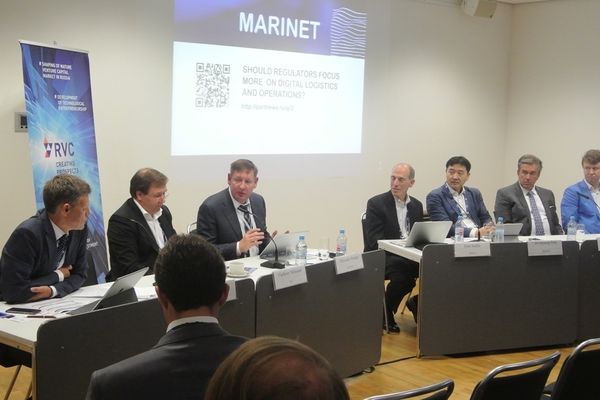 In the framework of the international exhibition SMM in Hamburg, 2018 September 5, 2018 hosted an international conference Marinette, dedicated to the promising technological solutions for the Maritime industry, which was attended by companies and research centers from different countries of the world.
The conference program included a panel discussion on digital navigation, and unmanned vessels, as well as a pitch session on marine robotics.

During the conference, Director of Engineering center of shipbuilding (itss) Alexey Donskoy told about the successful creation of scientific-production enterprise "air and Marine electronics" (NPP AME) unmanned boats and the conversion of technologies developed for the civil courts. Itss in conjunction with the NCE, AME plans to start in 2018 and 2019, the number of pilot projects to test Autonomous vehicles and remote control ship: bulk carrier mixed river-sea navigation, tankers, ferry and icebreaker.

In turn, the head of the United shipbuilding Corporation Alexey Rakhmanov announced the start of construction in 2018, the unmanned innovative vessel at the Sredne-Nevsky shipyard is part of USC.

"To build unmanned court is only deciding the number of key and fundamental issues of international cooperation and compatibility", - said Alexey Rakhmanov. According to him, it is necessary to agree on common principles for the development of coastal infrastructure, to work with prototypes and models.

The representative of Rosmorrechflot, Vitaly Klyuev said that in Russia there is active development of legal regulation in the field of unmanned navigation. According to experts, it can be implemented at the beginning of 2019, and thus Russia will become the first or one of the first countries that created a legal framework for Autonomous and remotely operated vessels.

"Currently, at the international level, defines the concept of the unmanned ship, its categories, however, the existing regulation is based on the existence of people on the ship," - said Vitaly Klyuev.

The panelists concluded that the key factors in the rapid development of unmanned navigation are the relevant legal regulation and infrastructure, where its important role should be played by government agencies and international regulators.
---
Source: http://portnews.ru/news/264018/