Home
/
Politics and Geopolitics
/
Sea policy
/
Articles
Victor Deryabkin: development of inland waterways requires the elimination of discriminatory towards the river tariff regulation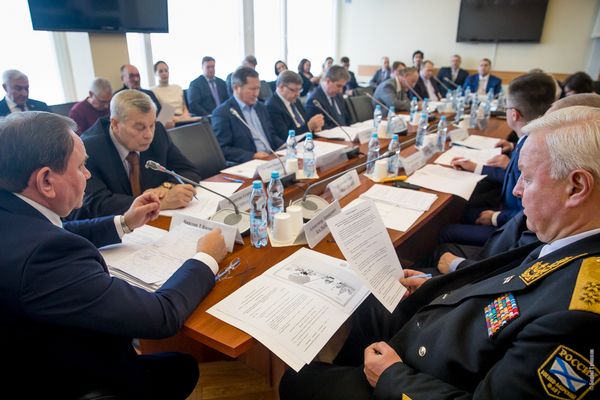 February 20, held a regular meeting of the Section for Maritime and river issues of the Expert Council of the State Duma Committee on transport and construction.
Head of Section, Deputy of the faction "United Russia" Victor Deryabkin summarized the work of the Section for 2017, the company noted that the activities of the Section during the reporting period aimed at solving problems of improving the legislation of the Russian Federation, defines the regulation of relations in the Maritime and river transport.
"The main result of the legislative work of the Section over the past period - the adoption 7 of the Federal laws is an important part of the legislative framework that will enable the Government of Russia, the Ministry of transport to develop the necessary regulations to ensure the safe, uninterrupted operation of water transport and development transport sector as a whole", - said Viktor Deryabkin.
The MP noted that the work of the Section involves the development of proposals, recommendations, draft Federal laws, draft amendments of Federal laws. A detailed treatment of the regions were consulted with experts, taken into account the views of the business and social circles. It should be noted this form of the Section as zero reading of draft laws, draft normative legal acts. It is, in fact, a form of social expertise.
Priorities of the Section in 2018 year identified:
legislative support of the Federal target programs and implementation of major infrastructure projects in the field of Maritime and river transport. Investment projects requires monitoring of the enforcement regulation of many bottlenecks. The priority of the 21st century – the development of the Far East requires the dynamics of lawmaking. River navigation, our inland waterways need today in eliminating discriminatory to the river tariff regulation;
the search for solutions to the problems of implementation of the legislation on transport security, optimization of Supervisory functions at sea and river transport;
interaction with the Executive authorities, business circles and the public in order to find effective solutions to problems of sea and river transport at the legislative level.
Anna Gornova