Home
/
Politics and Geopolitics
/
Sea policy
/
Articles
Victor Deryabkin: Modern alternative to licensing has been the expansion of the state port control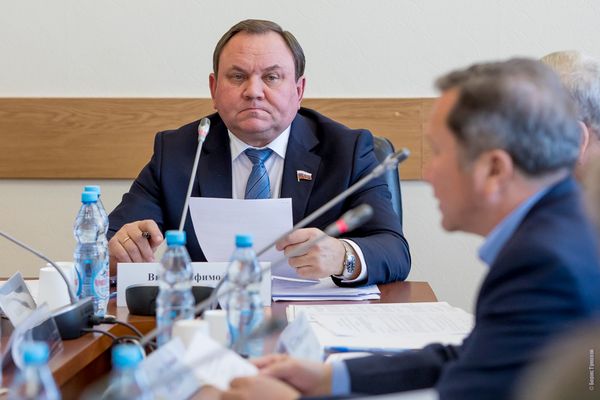 On 20 February a meeting of the Section of Maritime and river transport at the state Duma Committee on transport and construction, dedicated to the optimisation of control and Supervisory activities on sea and inland water transport.
Summing up the discussion, head of Section Deputy Viktor Deryabkin (EP) noted that one of the steps of this optimization can be a replacement of licensing certain types of transportation on sea and inland waterway transport to a notification procedure.
As the MP explained, "the current system of port state control formed on the basis of the international obligations of the Russian Federation. System reglamentary and carries out a comprehensive inspection of vessels out to sea, shall maintain a Central record of results of inspections and identified violations. In respect of the inland water transport operates a similar system of port control, the responsibility for which rests with the administration of the pools.
A modern port control based on risk management, which involves the frequency of inspections and ensures the suspension of the operation of the vessel in relation to which the identified Nonconformance with regulatory requirements. In addition, activity is regulated by rules of sailing, rules of transportation of passengers and cargo. This excludes access to the sea and exploitation of inland waterways vessels not meeting regulatory requirements.
Analysis of law enforcement shows that the presence of a license for certain types of traffic in General does not affect the safety of navigation and shipping, on the level of accidents of ships at sea and inland water transport. Water transport in some types of transportation licensing redundant. The modern efficient alternative to licensing has been the expansion of the state port control.
To date, the port control system is largely improved and debugged. The current system of ensuring safety of navigation today excludes sailing vessels not meeting regulatory requirements. Standards and regulations transportation is subject to the rules of navigation and the rules of transportation of passengers, and in fact licensing has become redundant control and Supervisory function.
Obtaining and waiting for licenses increasingly become a cause of corruption. Replacement of licensing to a notification procedure can be regarded, in relation to both shipping and the handling of dangerous cargo and towing. Then you can think in this part and on passenger transport.
Here is an example: in the Russian province on the inland waterways where navigation takes 3-4 months out of the year, in order to obtain a license, the shipowner or the charterer is obliged to first complete the ship by the crew, and then to bear the daily expenses, waiting in anticipation of obtaining a license. The deadline of the application can last a month and a half. At the same time, for example, in Western Europe the requirement for the licensing of transportations of passengers and dangerous goods missing. The result is that foreign carriers have an advantage over domestic".
---
Source: http://inform-24.com/14856-viktor-deryabkin-sovremennoy-alternativoy-licenzirovaniyu-stalo-rasshirenie-gosudarstvennogo-portovogo-kontrolya.html