Home
/
Politics and Geopolitics
/
Sea policy
/
Articles
A military expert said the reasons for the redeployment of the Caspian fleet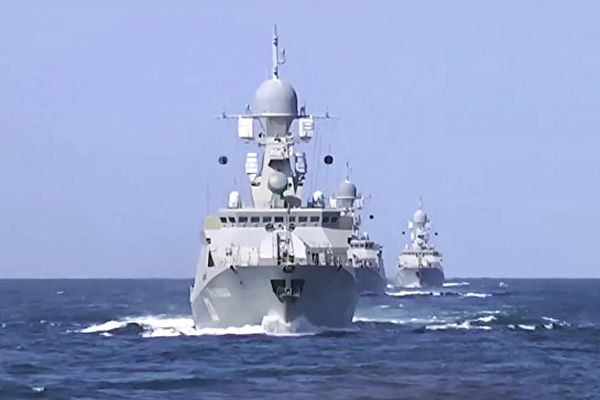 The Minister of defence of Russia Sergey Shoigu said about the upcoming translation of the Caspian fleet from Astrakhan, on the Caspian. Military expert Vladimir Bogatyrev on radio Sputnik noted that the value of this fleet in the recent times has increased significantly.
The Caspian flotilla, moved from Astrakhan to Dagestan Kaspiysk, said the Minister of defence of Russia Sergey Shoigu.
"There we have a vast construction site: piers, wharves, facilities and housing. Will increase the number of our officers and soldiers multiples," said Shoigu at the meeting with the leadership of the defense Ministry.
According to him, the translation of the fleet is a major component of security in the region.
While the main base is Astrakhan. The main objectives of the flotilla – the protection of the southern borders, national interests and countering terrorism. The important role played by the fleet and ensuring the leading role of Russia on the biggest closed sea of the Earth, where for 15 years can not be resolved by a dispute about the division of oil fields and resources.
The Association includes missile patrol ships, small missile and artillery ships, missile and artillery boats, landing ships on air cushion base and inshore minesweepers, naval infantry and coastal artillery troops.
The fleet participated in military operations in Syria. So, in October 2015, ships of the Caspian flotilla was made on 26 launches of cruise missiles sea-based "Gauge" to the terrorists in Syria.
Major General reserves Chairman of the Board of Directors of the National Association of unions of reserve officers of the Armed Forces (MEGAPIR) Vladimir Bogatyrev on radio Sputnik explained the reasons for the redeployment of the flotilla.
"This decision is connected with the implementation of the plan of construction and development of the Armed Forces of the Russian Federation. At the same time, Caspian flotilla with a period of time began to play a very important role as a major operational naval units in this region of the world. In addition, the Caspian basin in connection with the capabilities of the missiles "Caliber" can play a strategic role in the middle East, black sea, Central Asian, and other directions", – said Vladimir Bogatyrev.
He spoke about other benefits of the deployment of the fleet in the Caspian.
"Astrakhan is at the mouth of the Volga river, it is not very beneficial for the action of a large group of ships and other naval forces. The Caspian and previously was appropriate naval base, was located there marine paratroopers. In Kaspiysk once tested the so-called "Sea devil" – a huge flying machine which moved directly over the surface of the sea. In Kaspiysk have the basics to work. From here the ships to operate throughout the Caspian sea and more profitable to organize comprehensive support", – said the military expert.
---