Home
/
Politics and Geopolitics
/
Sea policy
/
Other
Yuri Tsvetkov sent a message of greetings to the Russian chamber of Commerce on the occasion of the 25th anniversary of its activities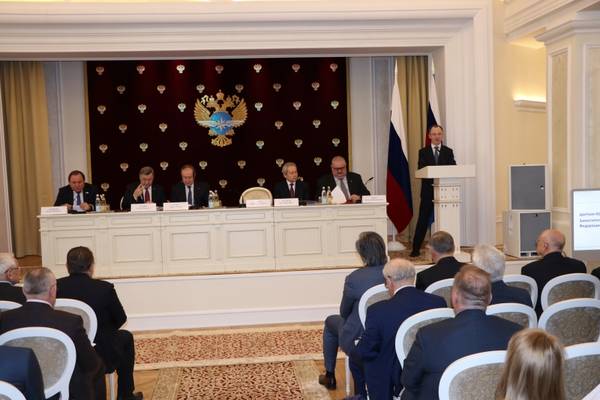 Deputy Minister of transport of the Russian Federation - head of Federal Agency of sea and river transport congratulated the OOOR "Russian chamber of shipping" with the 25th anniversary. In his welcoming address in particular reads:
- Please accept my most sincere congratulations on the occasion of the 25th anniversary of fruitful deyatelnosti all-Russian industry Association of employers "Russian chamber of shipping". Genre greetings involves words, sometimes pleasant to the addressee, regardless of the existence of a factual basis. It's definitely not your case. On behalf of the Ministry of transport of Russia and Rosmorrechflot have the honour to state that the Russian chamber of shipping brings together the leading companies and organizations in the industry as reliable and, importantly, principled and demanding partner States on all key issues of operation, management and future planning in the field of water transport.
A quarter of a century of its history, the Association has become an important, highly skilled area of consolidation and settling of the position of the shipping community in the formation of the legislative base of the industry and made an enormous contribution to the improvement of its competitiveness.
We are witnessing the transformation of the transportation industry from a strategic, but still the services segment, serving the tasks of development of industry, agriculture and utilities, the generators of economic growth and technological renewal of the country, which accounts for almost half of the total cost of national projects.
I'm sure we can shoulder the General task is to make water transport a successful and dynamic participant in this process, to realize the competitive advantages of our industry to ensure the adoption of effective solutions, clear and effective normative-legal acts for the sustained growth of the share of Maritime and river transport of Russia in domestic and international transport systems and increase its contribution to the prosperity of our country.
On Friday, April 19 Y. Tsvetkov took part in the General meeting of members of the Russian chamber of shipping, held at the armorial hall of the Ministry of transport of Russia. The ceremony was also attended by the President of the Russian chamber of shipping Alexey Klyavin, President of the Council chambers, General Director - Chairman of the Board of PAO "Sovcomflot" Sergey Frank, the Deputy of the state Duma Viktor Deryabkin, Deputy General Director - Director of the Directorate of the Northern sea route, state Corporation "Rosatom" Vyacheslav Ruksha, the head of Rostransnadzor Viktor Basargin, President of the United shipbuilding Corporation Alexey Rakhmanov and Chairman of the Russian national fleet support movement Mikhail Nenashev, veterans of sea and river fleet, representatives of the majority of the 83 organizations and companies of sea and river industry included in the OOOR "Russian chamber of shipping".
---