Home
/
Politics and Geopolitics
/
Direction materials
The colonization of Mars, postpreda, #aboussafy: how 2016 changed the world and our future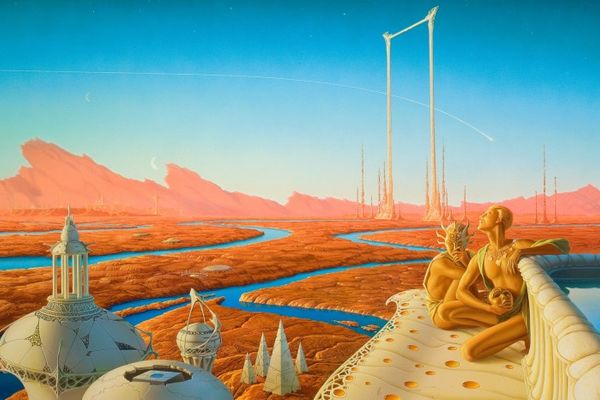 Material posted : Administrator Publication date: 31-12-2016
Nothing will happen if you miss the news that China was born Piglet with two noses, and British scientists have solved the mystery of the disappearance of the second sock. But there are important trends that affect our life, work and entertainment. That they were told by the experts.
About technology
Colonization of Mars — it is the coming years
In the same way as the transfer of heavy industry to space and space tourism. It showed launches of SpaceX, Blue Origin and Virgin Galactic. However, they revealed a lot of problems that need to be addressed before we leave this planet.
And to leave, according to Stephen Hawking, have. The famous scientist believes that one should not put all your eggs in one basket (read: on a fragile planet that we have a little gouging).
Dear, I have improved children
The technology for genome editing captured medical and technological media in the beginning of the year. And in November, Chinese scientists have used CRISPR to treat people. Given the potential of the technology is a fantastic breakthrough, whose security, however, is still in question. The prospects are immense: from fighting previously untreatable diseases, to flawless from the point of view of genetics, "designer" children.
Virtual reality will come in 2017
VR and AR technologies are skidded. Lots of attempts and not a single breakthrough. But all indicates that 2017 will be the turning point for the industry.
VR will capture live broadcasts and, perhaps, to the cinema. Will start experimenting with the corporate VR (complete jobs in a three-dimensional virtual space), and social networks 2.0. The latter is obviously the vector of development of Facebook, remember the October presentation at the conference Oculus Connect.
A quarter century ago, CNN made a small revolution: its reporters covered the Gulf war live. Thus was born the term "the CNN effect". This is when, during high-profile events all attention is focused on the media and "ordinary" life to a standstill.
This year, we crossed another Rubicon: the Iraqi military has shown the operation to liberate Mosul in Periscope. For the first time in the history of the war was stream with such scope and so many likes.
Next year will be enough to let the live broadcast in VR to get not just streaming video, and experience that may well change the way we consume and perceive news.
Word of the year postpreda
Now we officially live in a world where public opinion is formed on the basis of emotions and personal attitudes. The term great captures the essence of InfoSpace: emotional charge ahead of the facts, and the fact serves a totally different sauces. Postprague US presidential election and breaksit — examples that it's hard to imagine a year earlier.
Life or the show? With the development of media technologies increasingly difficult to distinguish one from the other. And we are at the very beginning of this journey.
On the work
You will replace the robots
In England there was a period called by historians "Sheep ate people." Peasants were massively expelled from their lands, to dissolve the liberated areas of sheep. The income from the sale of wool was higher than taxes on peasants.
Now we are on the verge of a period "Algorithms ate people". Most affected occupations that can be algorithmization, and communication to convey the speech recognition systems and chat-bots.
The demand for accountants for that year falls to 30%. It is not in the economic situation, and in the implementation IT-technology: when an accountant may conduct not one, but 3-5 of the companies without compromising quality. Also almost disappeared, the demand for insurance agents. And soon there will be a wave of cuts in the banking sector.
The next stage will dozhevyvaete those who are far from computers and office chairs. He will come when robots will become cheaper. Then they will do physical work. Let's see how the robots-porters in the Amazon warehouse.
Of course, people are not going anywhere. He is the Creator algorithmizing and robotic systems. But our niche of applicability will all already. This provides a huge opportunity for those who want and ready to head to work. But I have a lot of hard study and constantly learn new things, more involved in its development.
Become an indispensable expert, otherwise there will be only low-skilled jobs.
About marketing and public relations
Old age is the new youth
In Russia, a new perspective on old age. Now this is not the "age of survival", as stated in the documents of the Ministry of labor, and the period when it is possible to realize, finally, after being put on his feet.
Declared itself in 2012, the project of Vladimir Yakovlev, the "Age of happiness" develops, and along with it the trends in natural beauty with wrinkles and sport for any age. And social networking audience remember the 89-year-old Lena woman from Krasnoyarsk, traveling the world.
There was interest in the Russian
People are starting to wonder what "modern Russian" without Khokhloma and headdress. The isolation in which Russia is, economically affected adversely. But there is also a positive moment: people took himself in hand and began to do something. For example, the brand LavkaLavka is going to revive the village of Teriberka from "Leviathan"
Appear brands, actively playing on Russian territory. Let it sometimes looks like a carbon copy of Western models (for example, food trucks "Roaster" with Russian burgers), but the attempt to Express something of their own there. People become more interested in its history and for its cities.
So, in December the premiere of the film "Opposite the Left coast". Ordinary residents of Rostov-on-don has made short films, which told heartfelt stories about the city.
Began discussion of taboo and uncomfortable topics
For a long time our country has lived unconsciously, just moving somewhere. To build communism, met a restructuring. Has accumulated a huge amount of things that we slipped, but experience is removed. Because you never stopped and did not speak. And pronunciation is the best therapy.
A recent example is the Facebook flashmob in #aboussafy. He began in the Ukraine, and then caught it in Runet. Women and men — mostly women — talked about the violence faced and muttering, was freed from this experience.
The only way to bring problems to public attention is to call things by their names to acknowledge that they exist. And then somehow to solve them. Now we see how, thanks to social media, there is public debate.
Also during this year, people began more sensibly to respond to manifestations of sexism and gender humiliation in commercials, movies and public life. Began to notice, resent, discuss. This is absolutely the right and healthy step in the future will bear fruit.
Brands no longer focus on immediate benefits
If earlier marketing was considered by people as a source of money, but now brands understand that it is better to build long-term relationships. Even in large companies and institutions begin to recommend to replace the title "consumer" with "person". We the people are more than consumers.
This is especially noticeable in sports brands: Nike, Adidas, Reebok. There are many free training: register and work with a coach. Parks developing are branded area, in which you can do workout, Jogging and so on. And brands not just sell sneakers, but have become the main agitators for a healthy lifestyle and help to start it.
People come together in community
Many people want to have someone with a similar Outlook, with whom you can communicate on interesting topics. Very noticeable, for example, these communities:
Community of mothers. It is women who have a lot of questions and difficulties. The urban environment not designed for them: with the stroller in the subway don't come down, it is necessary to take food with them when leaving the town, and to work and to raise a child. There are local community, even the closed ones, where mums share their experience. The state can not or does not assume the function of providing their lives, and they begin to help each other.
The community of people who adhere to a healthy lifestyle. People who are starting to think about nutrition, over, to move more, maintain a balance of proteins, fats and carbohydrates. And proper nutrition is perceived not as a diet, but as the norm.
About movies and TV series
Hollywood more and more nostalgic
Reborn intellectual property, popular 20-30 years ago. Even in new projects like the series "Very strange things" this intensive look into the past clearly is felt.
As the series grows
We see in the series more and more actors of the first magnitude, large budgets, high quality special effects and expensive production. In 2017, this trend will only intensify what is already evident in a number declared Prime like "Big little lies", "Taboo", "Hunter mind".
On top of still superhero movie
He had his failures and unexpected UPS, but no other genre could not reset the comic book from the pedestal. Superheroine feels fine on the small screen. So next year the number of TV shows to comic books will grow almost twice appears and Comedy projects ("Powerless"), and big-budget mini-series ("Inhumans").
The theme of artificial intelligence gone
It was noticeable trend movie the past three years ("She", "Insurer", "Robocop", "Excellence", "Terminator: Genesis", "car", "the Avengers: age of Ultron", "the Robot named Chappy"), but this year began a lull. Only the lonely, "Morgan", reminiscent of the "machine," researched the topic.
But on television, the topic has received a great development in the "World Wild West" and the second season of "Men."
2016 in terms of the movie looks frighteningly empty
Haunting heart of indie dramas is becoming less intelligent as a quality movie. We received a beautiful "Servant girl", "Silence", "the Arrival" pleasing "Nice guys" and a number of great movies. But I still think that they are too few and no breakthrough in the movie did not happen for the entire year. Masters like Chan-wook and Scorsese continue to shoot the masterpieces, but some new blood, new vision — never come.
Afterword
We live in a very interesting but difficult time. 2016 — a vivid example. But the changes and exit the comfort zone always involves some difficulties that must be overcome to become stronger.
As said Alexander Allhow now need to study a lot and be engaged in the development. I hope that Lifehacker you this helps. Check out the "End-2016". the best advice on leveling the brain, and applications to increase productivity, sports gadgets and more.
I wish you joyful holidays and a good rest. Yes, and what do you feel about 2016? Let's compare!
 
Victor Fomin