Home
/
Politics and Geopolitics
/
Direction materials
Of a mega-Church and their communication strategies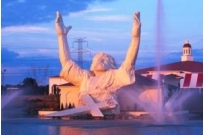 Material posted : Administrator Publication date: 08-01-2014
CNN stressed that the mega-Church is big business. On average, each of them has for the year of 6.5 million dollars. And together they have a few billion. They look different, too. Television screen plasma replaced the cross, presentation in Power Point – instead of singing. All of this fundamentally resonates with the younger generation. And as a result, the average age here is 40 years old, they are 13 years younger than the average in a regular Church.
R. Thaler, who created the theory of boost [1], recalled in a recent interview how his book got into the hands of the future Prime Minister D. Cameron in the reading list for the summer for the British Parliament-conservatives [2]. McKinsey Quarterly calls it a rare academic scholar, whose ideas fall into effective practice. For the Soviet Union and the United States in the same rare was an atomic project, when the government and the science loved each other, allowing, for example, M. Kalashnikov (see about it [3]; [4]) even speak about Lavrenti Beria, who headed the nuclear industry, as an outstanding innovator [5]. Similar developed Soviet and American space, where the authorities were willing to give everything he had country.
A new project in the theory of nudges, which began with Britain, and R. Thaler was his Advisor, was the opening of the personal information collected by businesses about consumers and the broader use of the information on existing products and rates to make the buying process more informed [2]; [6].
In addition to business, politics and public administration, another human, the Institute launched a new communication strategy, receiving new results. This so-called mega-Church. They collect more than 2,000 worshipers weekly, while usually in North America the Church is visited by 200 believers [7]. The appearance of such megatorque explain a new strategy for dealing with believers.
Works here niche marketing, they hire MBA graduates, to raise their share among the believers [8]. There is a large potential market of people who moved away from mainstream churches or have never been to Church. Their Sunday schools are reminiscent of disney world, they open the Church cafe similar to a Starbucks. To facilitate the arrival of newcomers, such churches can move away from the standard religious symbolism. They look like entertainment halls, and not as places for prayer. There may be no crosses, pews.
Of a mega-Church operate as market-based units [9]. They study the demographics of the region, plan marketing scheme linked to local audiences. Spiritual development which they advertise, is characterized by the following parameters:
a lifelong process;
measured by humility;
based on the word of God;
makes me free.
What the religious "market" have United States? Surveys of the Pew Center give the following results for the United States, 2009. [10]: 35% of Americans say they regularly (9%) or sometimes (26%) attend religious service. Interestingly, 24% sometimes go to a religious service of another faith. 25% of Americans believe in astrology (23% among Christians).
Half the population (49%) said that had a religious or mystical experience. It is defined as a "moment of sudden religious enlightenment or awakening". Studies of Gallup in 1962. gave a figure of 22%, i.e. doubled the number of people with such experience. 72% of Americans several times a year are at the religious service.
One more interesting detail. Simple homes are the most common alternative to the churches. 7% of Americans say they attend a service at someone's home. This is more common among Protestants (9%) than among Catholics (4%).
Theological flexibility, for they are not, for example, the Vatican, provides the ability to quickly adapt to modernity [8]. That is not the Church bureaucracy, and the market dictates the rules of conduct. And that is what brings success. Or rather, the opportunity to change to the needs of the audience.
CNN stressed that the mega-Church is big business [11]. On average, each of them has for the year of 6.5 million dollars. And together they have a few billion. They look different, too. Television screen plasma replaced the cross, presentation in Power Point – instead of singing. All of this fundamentally resonates with the younger generation. And as a result, the average age here is 40 years old, they are 13 years younger than the average in a regular Church.
P. Drucker, the famous management guru, as it turns out, is also advised of a mega-Church, and quite active. He belongs to the phrase cited by the Christian Science Monitor in the article with the eloquent title "Megaprogress in megazarak" [12]: "it is the only organization that really works in our society"that she has much to teach other institutions.
But the full statement of P. Drucker even brighter, especially because he often used to recite it (op. CIT. in [13]): "the Most significant sociological phenomenon of the first half of the 20th century was the growth of corporations. The most significant sociological phenomenon of the second half of the 20th century was the development of large pastoral churches to megachurches. It is the only organization that really works in our society.
Rick Warren is one of those pastors of a mega-Church (about him see [14]). His status conveys not only the fact that Time magazine included it in the list of the 25 most influential religious leaders of the country, but the fact that he performed at the inauguration of Barack Obama, for which he then justified these words, that he does not share the views of R. Warren on abortion and stuff, but open to discussion. But he still invited him to the inauguration, even clashing with his views.
R. Warren wonder speaks at a conference [13]: "My favorite performance was once the saying: "you Rick Warren, about which bill said, "Who?" And it immediately caused laughter and excitement in the audience.
R. Warren said that Peter Drucker was his mentor for twenty years, teaching leadership. He sees himself in the business of change, of transformation of human life. As for how he does it, he R. Warren quotes an article from the New York Times about himself, which reads as follows: "Marketing creates a message to sell the product. But Warren is doing the opposite – it creates products to push the message".
D. Brooks, speaking at the same conference, calls the next factor that has led to the development of megatorque is a significant movement of people to suburban areas where they see best for their children [15]. He provides interesting statistics of the election Bush – Kerry. Bush wins in 22 of the 23 States with the highest birth rate, and Kerry – in 17 States with the lowest fertility rates. But at the same time, this statistic tells a different story. She tells about the visit of the churches, because the people who go to Church have more children than people who do not go.
M. Dawood and co-authors wrote a book about new approaches, where among these new trends are considered business, politics, and religion [16]. And R. Warren also becomes its main character, because on micro targeting (in terms of Daoud – a vital target) was clearly shown here.
A different religion or a different view on a famous religious problems should give people new meanings. R. Warren publishes these books with new meanings emerging in the millions. The book "the purpose driven life" was published with a circulation of 25 million, set the record of non-fiction publications. On the Internet it is (although the first seven chapters) [17]. And this is the path that is different from the popular Oriental meditation: it is impossible to find the purpose of life, seeking it in himself.
To quote from his book: "God is not just the beginning of your life, he is its source. To find the purpose of life, you must turn to the word of the Lord, not the world's best guesses. You must build your life on unchanging, eternal truth, not thinking the talk shows, which are constantly changing, fantasies of popular psychology and seminars, built on motivation, success". As you can see, it immediately "kills" competitive ways of delivering alternative of truth.
New pastors talk to people in the language of modern problems. That is what attracts them. Once Christianity also came with new meanings. And so it defeated paganism.
The communicative strategy also requires that new methods of conveying these meanings. His megachurch produces brochures, banners, articles, newsletters, videos, tapes, songs. Sam R. Warren writes: "We believe that if we were to say the same thing in many ways, one of these ways possess the attention of each member. Use as many different media as possible to have this message in front of your people" (op. CIT. by [16, p.114]).
Warren spent the first twelve weeks to study their audience. He went home and listened to all. As a result, he was able to make a list of the flaws of their "competitors". They are:
Church is boring, especially the sermon, this message does not meet people's lives;
Church members are unfriendly, when you go to Church, want to be in a comfortable environment;
the Church is more interested in my money, not me;
all are concerned about the quality of the Church's childcare.
R. Warren also says that people are not looking for a friendly Church, and friends that each member of his Church knows there's an average of only 67 people, while the service visit was from 200 to 2000 [16, p.118]. And it conforms to the rules, which at the time was formulated by R. stark. He stated that people are easier to a new religion, if that keeps the cultural continuation of their previous belief that the entry into the new religious cults goes for friendships and family ties of people [18].
Should pay attention to some of the political consequences of these new steps. Pastor P. Smith published a book on new evangelicalism as the new world order. He remembers there own personal experience, as P. Drucker crossed paths with the leaders of megatorque (op. CIT. in [19]): "Chuck Fromm organized for me a three-day stay at the Hilton hotel in Ontario, California, in the mid-eighties, where Peter Drucker spoke to a group of Church leaders and professors of seminaries. Bob Buford sponsored the meeting. It Buford explained that the society's leaders are small groups of innovators and opinion leaders, with the objectives of a regular Church service, share ideas, develop a strategy and record the results. Network leadership has opened a new Ministry initiatives and carefully invites strategic leaders into these companies comrades that are trying to improve their personal and organizational skills in focused areas".
That is, we see a typical model of training leaders under those forms which they themselves can not realize. But it is well understood by those who are conducting these seminars. For example, the restructuring relied on such groups, among them Chubais, who several times was "spun" at various seminars.
P. Smith traces the role of P. Drucker from Fuller theological Seminary, which originates from 1947. About Rick Warren, he writes the following (op. CIT. in [20]): "Rick Warren owes an outstanding quantitative growth of your Church model, based on the objectives, organisation and marketing strategy, which he was inspired by Peter Drucker" (see Fuller details in [21]).
Peter Drucker put forward the theory sotsiosistem, in accordance with which, except for the state and business, they need churches [22]. Do all of this twist to the new Church are also trying to link the Council on foreign relations and its development of the new world order, i.e. the order of conspiracy [23]. But in any case, here there are not only religious but also political purposes. (See. well as the history of new evangelicalism in [24, 25]).
F. Fukuyama in his new book, 2011. "The origins of political order" lists some of the requirements imposed by the Catholic Church to Christianity from a purely economic purposes [26]. These demands was neither the Christ, nor in the life of the Jews of his times. I.e. there are effects and transitions between political, economic and religious models of the world.
Fuller theological Seminary called the think tank om, where was developed a new methodology of influence and new religious leaders [27-31]. As a result of this new approach to religion was abatilles (and, as a rule, of a mega-Church work with those who or out of the Church, or was there ever) a large number of people. This is 25-30 percent of the U.S. population that is 70 to 80 million people [32]. This is all the people turned to the Church, though new.
Turning to the political component, the creation of new sociosystem can go top, due to the arrival of a new leader (as happened in the case of Hitler, Lenin and others), and from below, it is through such community associations (truly "massive" and truly "associations"), exemplified by the mega-Church.
Last, but very necessary component of such transformations sociosystem, which we see is institutional. In this role, made B. Buford, the owner of a cable TV network, and attracted to networking and educating religious leaders and P. Drucker [33-36].
Sam B. Buford notes [35]: "Peter Drucker is the "intellectual father" of all that guided my approach to philanthropy. I have long refused to look, what thoughts are mine and which come from Peter Drucker". There is one phrase from B. Buford, which was the only one left in the final text of a book about Drucker from a two-hour interview: "He is the brain, and I'm kicking".
Peter Drucker gave him three of the Council, selected as top:
we need to build on Islands of health and strength (that is to recruit leaders from successful churches);
to work only with those who perceive what they are trying to do;
work only on what will bring a big difference when you get the result of success.
Everyone who comes to the house of pastor R. Warren, sees printed and signed by the Drucker text-reminder:
What is our business?
What is our consumer?
What the consumer considers value?
These reminders clearly enough gives us to understand the actions of R. Warren, which we discussed above, and also the fact that he sees his business in the transformation of people's lives.
Peter Drucker advised leadership network, a Union of a mega-Church. And here he saw the following objective: "the Task of management for churches is not that they become like business, and they need to become more like the Church".
Churches working with the firm Percept Group (her website: www.perceptgroup.com). A separate website provides demographic data for any region for churches: www.ministryarea.com. You can look at a sample of the information order for just $239 [37]. There are even options such as potential resistance to change, and, of course, life styles. Fixed family structure, education, what style the Church wants to see people (traditional or modern). Expanded version includes 27 pages of information on the region.
Demographic data may suggest new directions. For example, in one of the regions found that there are a large number of families without children [38]. Not knowing this, they could not plan appropriate communication for this segment of society. E. Healy, head of another firm which is working on the demographics for churches, says: "the Value of demography for churches is to understand what is happening in the population around. As a result, they can better understand what we need to think in terms of programming. The website of the company: www.visions-decisions.com.
Tom Hoyt of the Percept Group said that his company allocates 50 segments with different style of life [16, p 111]. In another case he says these words: "the Use of marketing strategies is a change in approach. Typical of religious structure found the property, bought it, put a Church there and was hoping that there would come people. Today the Church begins in the strategic centers, where they may cover as many as possible of the population" (op. CIT. in [39]).
This transformational effect is called "dialectical process". Critics of these churches describe it as follows [40]: "the Purpose of the group dialectic process is to change the minds and behaviour of group members on the result specified by the group leader. The members of the group come to this pre-determined outcome (consensus group) through dialogue and pressure from other members, which helps the group leader. The fear of exclusion from a group forcing the group members to find a compromise in their standards ??views for the sake of social harmony. [...] When a believer (thesis) reaches consensus with unbelievers (antithesis), then compromise (synthesis) will become the new thesis for the next meeting of the group. The end result of the group consensus process, controlled by the leader, will be the behavioral change and transformation team member".
And this corresponds to the ideas of these processes R. stark, who emphasizes that social movements grow much faster when they are based on pre-existing social networks [18, p.55]. And here it should be emphasized that R. stark does not imply the Internet and real human networks. Another conclusion can be drawn: if on the basis of human networks, intensive construction of social movements, and their ersatz substitutes – Internet-networks – will be even more intense due to the presence of mass audience coverage.
In another work, R. stark leads the dynamics of the growth of Christianity and Islam, relatively speaking, from zero to coverage of half the population [41, p.376]:
The number of years required to pay 50 percent of the population

In Islam

Sirma

252 years

Western Persia (Iraq)

253 years

East Persia (Iran)

200 years

Egypt and North Africa

264 years

Spain

247 years

In Christianity

The Roman Empire

310
Today such a phenomenal success neotserkvey matter to politicians. K. Rove, and that Bush's adviser, twice "made" him President, in his memoirs underlines the importance of addressing Bush's creation of a separate office in the White house who worked with organizations of believers [42, p 239–240]. Bush also gave the opportunity to these religious structures to use grant funds from 11 Federal agencies, totaling $ 20 billion. Bush was criticized for it's opponents, believing that thus he "pays" for his support of Christianity on the right side. But the fact remains. Obama has retained in his administration of this office, created by Bush.
The new communication strategy brought these churches into a new orbit. Relying on the life styles here have been implemented even earlier than in politics, where on micro targeting was the "chip" over the last decade. That is, the occurrence of this methodology was as follows: first, the business then religion and politics. But on the other hand everywhere this methodology, knowing the mindset of your customer, reduce the opportunities for negative response. It's just wherever it is necessary and where scheduled. However, each technology, blocking factors which prevent the desired movement.
Of a mega-Church give people the meaning of life [16, p.96]. And this is another fairly serious function. No politics, no business is not able to do it. People want to be human, not a machine for earning and expenditure of funds, as it sees the business, or voting machine, how it sees policy.
New meanings only expected in modern politics, after all, the last decade, we live by the old ways. Discarding their old (Soviet), we just took other people's old (Western). But if you look to the ideological search, for example, of the conservative government of great Britain, it rather can be understood as a departure from the ideological model of capitalism, which we are aggressively trying to build. There is a paradoxical feeling that when we will finish its construction, the West will no longer be capitalism, which we will build.
Literature
Thaler RH, Sunstein CR, Nudge. Improving decisions about health, wealth, and happiness. – New York, 2009.
Nudging the world toward smarter public policy: an interview with Richard Thaler //

www.mckinseyquarterly.com/Nudging_the_world_toward_smarter_public_policy

...
Maxim Kalashnikov // ru.wikipedia.org/wiki /% CC% E0% EA% F1% E8% EC_% CA% E0% EB% E0% F8% ED% E8% EA% EE% E2
Kalashnikov Maksim // forum-msk.org/author/18.html
Kalashnikov M. Innovative oprichnina Lavrenty Beria // Kalashnikov M. and others New oprichnina, or Modernization in Russian. – M., 2011.
Thaler R. Show us the data (It's ours, after all). – New York Times. – 2011. – April 23 //

www.nytimes.com/2011/04/24/business/24view.html?_r=1–

Megachurch // en.wikipedia.org/wiki/ Megachurch
Symonds WC ao Earthly empires. How evangelical churches are borrowing from the business playbook //

www.businessweek.com/magazine/content/05_21/b3934001_mz001.htm

H. Baber Face to faith. – Guardian. – 2010. – January 22 //

www.guardian.co.uk/commentisfree/belief/2010/jan/22/popular-evangelical-

...
Many Americans mix faiths multiply // pewforum.org/uploadedfiles/Topics/Beliefs_and_Practices/Other_Beliefs_and_Practices/multiplefaiths.pdf
Mega churches mean big business // articles.cnn.com/2010-01-21/world/religion.mega.church.christian_1_mega-churches-worshippers-joel-osteen?_s = PM: WORLD
J. Lampman Mega-progress at a megachurch. – Christian Science Monitor. – 2006. – February 9 //

www.csmonitor.com/2006/0209/p13s02-lire.html

Warren R. // Pewforum.org/Christian/Evangelical-Protestant-Churches/Myths-of-the-Modern-Megachurch.aspx
Rick Warren // en.wikipedia.org/wiki/Rick_Warren
Brooks D. // Pewforum.org/Christian/Evangelical-Protestant-Churches / Myths of the Modern Megachurch.aspx
DB Sosnik, Dowd MJ, Fournier R. Applebee's America. – New York etc., 2006.
Warren, R. What on Earth I'm here for? // Docs.purposedriven.org:8088/docs/pdl/samplechapters/woeaihf.pdf
Stark R. The rise of christianity. – San Francisco, 1996.
New evangelicalism: the new world order. A book review // herescope.blogspot.com/2011/04/new-evangelicalism-new-world-order.html
Ice T. New evangelicalism: a review //

www.worldviewweekend.com/worldview-times/article.php?articleid=7164

Fulller and new evаngelicalism //

www.seekgod.ca/fuller.htm

When the 3 legs interwine // herescope.blogspot.com/2007/01/when-3-legs-intertwine.html
The CFR and the social gospel: part 1 // herescope.blogspot.com/2006/12/cfr-and-social-gospel-part-1.html
Harold Ockenga and the new evangelical movement he founded //

www.wayoflife.org/files/33b21b071cdf321981cb365b2c0b2668-363.html

Evangelicalism // en.wikipedia.org/wiki/Evangelicalism
F. Fukuyama The origins of political order. – New York, 2011.
The Fuller evangelical 'think tank' //

www.seekgod.ca/fuller2.htm

Fuller's evangelical 'think tank continued //

www.seekgod.ca/fuller2b.htm

The orogonal five //

www.seekgod.ca/fuller1.htm

Jay Gary & The World Futures Society //

www.seekgod.ca/jaygary.htm

Early networks // herescope.blogspot.com/2007/04/early-networks.html
How many evangelicals are there? // Isae.wheaton.edu/defining-evangelicalism/how-many-evangelicals-are-there/
Bob Buford // en.wikipedia.org/wiki/Bob_Buford
Bob Buford and Peter Drucker //

www.crossroad.to/Quotes/Church/Conway/buford_drucker.htm

Drucker''s impact on Leadership Network //

www.pursuantgroup.com/leadnet/advance/nov05o.htm

Bob Buford and the Leadership Network // herescope.blogspot.com/2005/12/bob-buford-and-leadership-network.html
First view 2009. Sample // docs.perceptgroup.com/MinistryArea/PDF/FirstView-Sample.pdf
Know thy neighbor: church demographics key to outreach, programming //

www.churchcentral.com/article/1355/Know-thy-neighbor-Church-demographics

...
Holmes KE Where the flock goes, churches are using the following marketing skills, they target sites with the desired profiles; families // articles.philly.com/1996-06-30/news/25630253_1_new-church-church-leaders-philadelphia-presbytery
Johnson B. The transformation of John MacArthur's Grace Community Church (GCC). How change agents are transforming GCC in the New World Order //

www.despatch.cth.com.au/Books_V/transformationAhoBob.pdf

R. Stark Discovering God. – San Francisco, 2007.
K. Rove Courage and consequence. My life as a conservative in the fight. – New York etc., 2010.
George Pocheptsov
Source: http://risu.org.ua/ru/index/projects/masmedia/43059/