Home
/
Search
Found:
1
Author:

Arzumanyan Rach'ya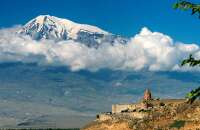 Armenia is Russia's key partners in carrying out a balanced foreign policy, not only in the Caucasus, but also in several other regions of the world.
Significant role of the Armenian diaspora in Russia's domestic politics.
In this context, the question of cooperation between Russian and Armenian experts, exchange of views between them is essential to deepen mutual understanding.
This project actually involves a reflection of results of joint research of Russian and Armenian experts on topical issues of modern society.