Home
/
Our team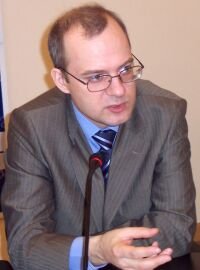 Date of registration:
31-03-2012
Total materials:
300
Personal page:
Перейти...
Was born in 1972. In 1994 has with distinction ended Military engineering-space academy of a name of A.F.Mozhaisk in St.-Petersburg, and in 1997 - adjunkturu at this academy. Till 1999 served on scientific posts in scientific research institute of the Minister of Defence. With 2000 for 2005 - the leading research assistant of Centre of strategic researches of Joint Staff VS of the Russian Federation. In 2003 has defended a thesis on competition of a scientific degree of a Dr.Sci.Tech. In 2005-2007 headed analytical Control at RTS stock exchange. Since 2010 on the present - general director NPO "Centre of strategic estimations and prognoses".
Scientific interest is concentrated in information security field, information wars, and also application of artificial intelligence techniques to a control problem solving at the incomplete and unsharp information. In these directions it is published more than 100 operations, including - two monographies.